Naomi's Village
Kenya
Carol Nderi
Director of Caregiving and Administrative Assistant
Carol Nderi
Director of Caregiving and Administrative Assistant
Carol recently joined Naomi's Village in the position of Director of Caregiving and Administrative Assistant. She holds a Bachelor's Degree in Religion and Philosophy from Egerton University and is also trained in sign language use/interpretation. She previously worked in children's ministry for over 9 years at a Compassion, Intl. funded Child Development Center. Carol's passion lies in working with those who are underprivileged in Kenya. Nothing gives her greater joy than seeing toddlers grow into spiritually mature, disciplined and confident young adults. Carol's life philosophy is "IPOS- integrity, piety, objectivity and stewardship". In her free time, she likes taking road trips, listening to music and reading inspirational stories.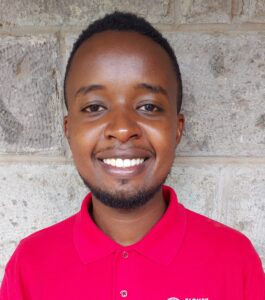 Simon Njaria
Spiritual Care, Activities and Outreach Coordinator
Simon Njaria
Spiritual Care, Activities and Outreach Coordinator
Simon officially joined Naomi's Village in January of 2020, but he has been pouring his heart into the children for much longer. Before coming to Naomi's Village, Simon was a Program Coordinator for Scripture Union South Rift Region where he trained teachers and mentors, organized children's activities, and maintained ministry partner relationships. He attended St. Paul's University in Kenya and pursued a Bachelor's in Communication with an emphasis in Mass Communication and Public Relations. Simon also has a Diploma in Holistic Nurturing of Children from Presbyterian University of East Africa. In addition, he has a Certificate in Leadership from African Leadership Institute. At Naomi's Village, Simon coordinates all spiritual care, activities, and outreach. Simon is passionate about sharing the truth of God's Word with children, teens, and families and that shows in all that he does. He is loving and caring toward the Naomi's Village children and is passionate about helping them to tell their stories.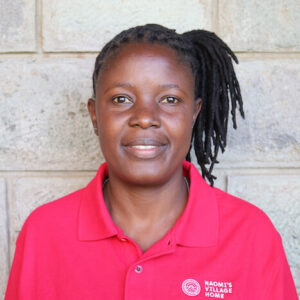 Flo Ouko
Director of Social Work
Flo Ouko
Director of Social Work
Flo has been at Naomi's Village since January 2011. She started as a house mom, then became a house mom supervisor, and eventually the Director of Social Work for Naomi's Village. She says for such a time as this, God has called her to be among the many destined helpers of our loving, adorable children.
Zakayo Oyula
Catering Supervisor
Zakayo Oyula
Catering Supervisor
Zakayo is a qualified chef who serves as the supervisor of the catering department at Naomi's Village. He takes special care to ensure that the children and staff of Naomi's Village receive a balanced diet. Zakayo also prepares all meals for visitors to the NV Guesthouse, and sees to it that guests have a safe and comfortable stay there. He is a father to one girl, J'Lean. In his spare time, he enjoys reading the Word of God.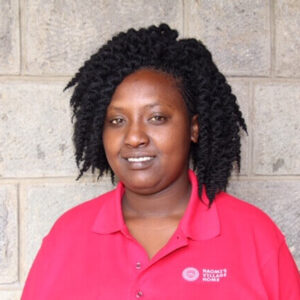 Peris Wambui Machaga
Social Worker
Peris Wambui Machaga
Social Worker
Peris is an ardent social worker with a heart for children. She joined Naomi's Village as mom and worked for five years in the baby room – the greatest place on earth. She holds a Diploma in Social Work and Community Development and a Bachelor's degree in Business Administration / Human Resources from St Paul's University. Her greatest passion is serving the adorable children at Naomi's Village by guiding and nurturing them. During her free time, she loves traveling.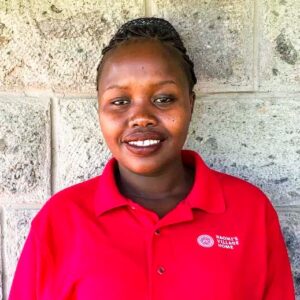 Gaudencia Jebichii
MTOTO Program Coordinator
Gaudencia Jebichii
MTOTO Program Coordinator
Gaudencia is a RN with a Bachelor of Science and Midwifery degree from Masinde Muliro University of Science and Technology. She previously worked at Kericho County Referral Hospital, Jacaranda Hospital, and Nairobi Women's Hospital before joining Naomi's Village.
Gaudencia serves as MTOTO Program Coordinator at Naomi's Village. MTOTO connects trained nurses like Gaudencia with pregnant mothers, shepherding them through pregnancy, birth and infancy via routine home visits. These nurses provide valuable, one-on-one counsel about and resources for:
Prenatal care
Childbirth
Breastfeeding
Infant nutrition
Child developmental stages
Healthy parenting
MTOTO's vision is to empower mothers with the knowledge and resources to raise healthy babies and toddlers, who will one day grow into the leaders Kenya needs to thrive.
Mothers enter the program after their first trimester of pregnancy and the above needs are met throughout the prenatal period until delivery. After delivery, babies join their mothers in the program, becoming part of MTOTO until they reach the age of 3. These children are then admitted to LEAP Preschool and later move on to attend K-12 Cornerstone Preparatory Academy.
Gaudencia is passionate about maternal and child health. She derives motivation as a nurse from seeing the mothers and babies she cares for being happy and content. Gaudencia says that her joy comes from seeing the MTOTO Program making a positive impact in our community.
She like to swim and go on road trips during her free time.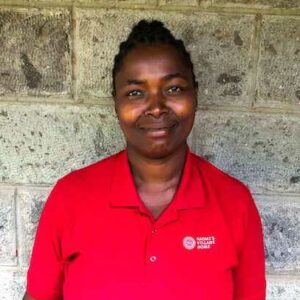 Mary Mwendia
LEAP Director
Mary Mwendia
LEAP Director
Mary Mwendia earned a bachelor's degree in Education- Early Childhood Development and Education and also a master's degree in the same. Mary serves at Naomi's Village as the Director at LEAP Preschool. She has a wealth of knowledge and extensive experience in early childhood development and education. Mary is also trained in project management. She has lectured at the university level, where she trained early childhood education teachers. Mary has both taught at and managed elementary schools, and she knows very well that successful students become successful adults. She endeavors to educate the whole child and believes that intelligence plus character is the goal of true education. Mary's passion in the effective management and supervision of LEAP's activities is evident in her daily encounters with students, colleagues, parents and the community at large. Her belief is that children are gifts, each one possessing diverse talents and capabilities. Her educational philosophy is to work to create a welcoming and safe environment where all students can develop a love for learning.
Cornerstone Preparatory Academy
Kenya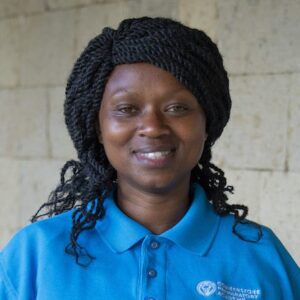 Zipporah Wataro
Head Teacher
Zipporah Wataro
Head Teacher
Zipporah Wataro serves as head teacher at Cornerstone Preparatory Academy. She is one of CPA's pioneers, having been a faithful teacher at Cornerstone since its inception in 2013. Zipporah has long been one of Cornerstone's most passionate and skillful teachers. Besides having a big heart for children, Zipporah is also very qualified and has attended numerous additional trainings in areas such as assertive discipline, play therapy, trauma-competent care and the new Kenyan Competency Based Curriculum.
Zipporah is a children's ministry leader at her church. Her hobbies are singing, writing songs, swimming and reading novels.
Anthony Kariuki
Chaplain
Anthony Kariuki
Chaplain
Pastor Tony, as he is commonly known, is a highly dedicated young pastor with the call to lead our students to participate fully in the word of God. He joined our ministry in 2017. He began his calling as a youth pastor and chaplain at KAG Church upon graduation from Gospel Garden Bible College. In the Children's Ministry there, he taught both small children and teens about the word of God. He is a counselor for young kids and youth in the community, and actively participates in organizing Vocational Bible Study (VBS) and motivational talks. He helps lead interdenominational camps, and conducts outreach programs for secondary schools into the surrounding communities. Tony is married with one child. His main hobbies are sharing the word of God to young people and playing soccer.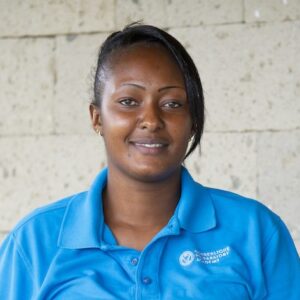 Sarah Wambui Mwangi
Nurse
Sarah Wambui Mwangi
Nurse
Sarah is a nurse by profession, having graduated from nursing school in 2016. She has four years of work experience, both in hospital and school settings. She previously worked at St. Philip Neri Hospital and then came to Cornerstone in Jan 2021, where she does an excellent job caring for our students' health needs.
Sarah describes nursing as not just a job, but a passion that has continued to grow over time. Nursing to her is a rewarding career where she is able to touch and change lives in special ways and learn more each day.
Daisy Akinyi
Community Liaison
Daisy Akinyi
Community Liaison
Daisy joined Cornerstone's staff in February 2021. She graduated with a bachelor's degree in linguistics, media, and communications from Moi University. Her passions are corporate social responsibility, communication, and working with marginalized children.
In her free time Daisy enjoys swimming and cooking, especially exploring new recipes. She is adventurous and loves getting to meet different kinds of people.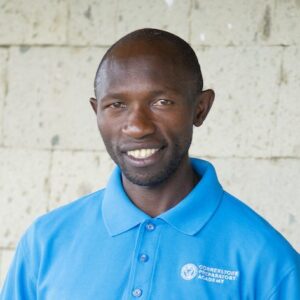 ERICK Waweru
Maendeleo Assistant
ERICK Waweru
Maendeleo Assistant
Erick has a passion for developing and improving the wellbeing of individuals so that they reach their full potential in society. He is currently working with the Maendeleo Initiative at Cornerstone. Erick previously worked as a volunteer around Maai Mahiu in organizing sports, events, seminars and workshops to educate, sensitize and bring awareness about drug abuse, HIV/Aids, gender-based violence, sexual assault, FGM, child marriages, STD's, etc. Erick later joined the Kenya National Youth Service to acquire more skills in service and particularly community development. During 5 years of volunteering with the KNYS, he participated in basic paramilitary training for endurance and discipline, youth mentorship programs, agriculture and environment conservation, disaster management, firefighting and first aid, construction training, and leadership training. He also holds a Diploma in Food and Beverage Management. Erick spends his spare time on kid's talent projects, reading books, and coaching and playing soccer.
Jimford Omollo
Sports Coach
Jimford Omollo
Sports Coach
Jimford is a passionate sports coach and certified physical education expert. Prior to working for Cornerstone, Jim was a fitness coach and he worked as a personal trainer at Adidas Health and Fitness.
Jim played three years of rugby in high school before joining Kenyatta University where he played for four years as a flanker for the varsity team. In addition, he coached and trained young kids in basic rugby skills during breaks from university. He is also a professional cyclist, having participated in local tour races and individual time trials (ITT). During his free time, Jim likes working out, participating in individual and team sports, doing charity work, and travelling.
Coaching Philosophy: I am always open to new and innovative ideas while combining past experiences to provide guidance to my athletes. I hope to enhance their leadership skills and work ethic to create well rounded individuals on and off the pitch. I believe having a positive attitude is everything.
Field Workers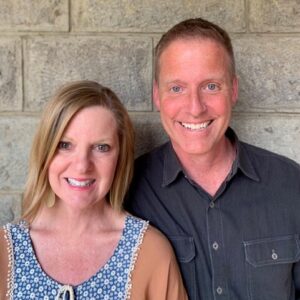 Bob and Julie Mendonsa
Bob and Julie Mendonsa
Founders of Naomi's Village
Bob and Julie Mendonsa met in 1987 while attending Baylor University in Waco, TX. They graduated the next year, Bob with a B.S. in biology and Julie with a B.S. in secondary education. Bob was accepted to medical school at UT Medical Branch in Galveston, TX, and Julie took a job teaching middle school math in Garland, TX. They married in 1991 and Bob went on to complete a 5-year orthopedic surgery residency at UT Medical Branch in 1997. During Bob's training in Galveston, Julie become the chairperson of the math department at La Marque High School.
After residency, Bob joined Orthopedic Associates of Flower Mound and Lewisville, where he served in private practice for 11 years. Bob's practice focused on arthroscopy and sports medicine.
Bob and Julie had two children, Emily and Will, and bought a home in Flower Mound. Emily and Will attended Coram Deo Academy in Flower Mound.
In 2003, the Mendonsa family started taking yearly trips of one to two months to Kijabe, Kenya, for Bob to work as a volunteer orthopedic surgeon in a mission hospital. During that time they developed a vision and plan to move to Kenya and build a children's home.
The Mendonsas moved to Kenya in 2008 and broke ground on Naomi's Village Children's Home in 2009. Bob and Julie both retired from their full-time jobs as surgeon and teacher, respectively, in July 2010. They now work full-time at Naomi's Village in daily administration, intake of children, employee training, and continued fundraising. They plan to live in Kenya indefinitely to help raise Naomi's Village's children as future leaders of their nation.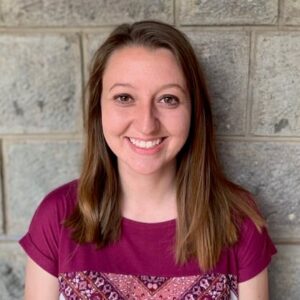 Allison Fassinger
Allison Fassinger
Missionary
Allison moved to Kenya full-time as a caregiver to the teenage girls at Naomi's Village Home in 2018. In 2022, she transitioned to a new role as the Child Sponsorship Coordinator in Kenya. She also serves as the Team Liaison for visitors to Naomi's Village.
Allison graduated from Grand Canyon University in 2015 with a Bachelor of Science in Nursing. She is passionate about working with children and is looking forward to all that God still has in store for her in Kenya!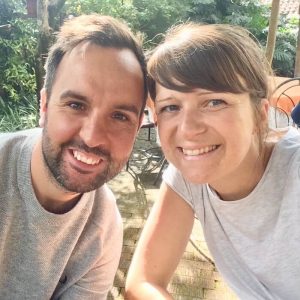 Sean and Rachel Macnamara
Sean and Rachel Macnamara
Missionary
Sean and Rachel met and married during their time at University in Sheffield, UK. They are joining Naomi's Village in 2020 with their two sons, Jonah and Caleb. They have both taught and led in various areas of school life in London over the last decade and as educators they are well aware of the difference education can make in creating pathways out of poverty. They long to see children educated, equipped and empowered to change their communities.

Having been a Deputy Headteacher in London and with a Masters degree in Effective Teaching and Learning, Sean will spend most of his time leading on professional development at Cornerstone Academy; coaching, training and developing staff. Rachel has worked in several schools in London and more recently has looked after children in their home as a child minder. She will help to facilitate the early childhood development programs.
U.S.A. Administration
Bill McMillan
Executive Director
Bill McMillan
Executive Director
Bill served in local church ministry for over 20 years as a teaching pastor and director of counseling ministries. For the past 18 years, he has worked with the local church in the areas of stewardship and generosity development. Bill has a passion to help resource the local church through effective stewardship programs that enable the church to reach more people with the message of Christ. His strong desire to see individual Christ followers grow in the grace of giving has helped him serve churches in stewardship journeys and see many lives transformed through this process. A gifted leader, strategist and inspiring communicator, Bill is able to connect with church leaders and staff to create a stewardship process that fits their culture, leads to growth in ministry, and strengthens their spirit of generosity. Bill has also worked with other faith-based nonprofits in the area of donor development, staff alignment, and communication strategies. Bill co-authored the book The Ministry of Giving with Joel Mikell and Kimberly Stewart. The Ministry of Giving has helped many churches effectively disciple their financial leaders outside of a campaign process. A resident of McKinney, Texas, Bill is the husband of Denise and the father of Erin, Kari, Chase, and Blair. Bill and Denise also have six incredible grandchildren. He is an active member and volunteer at The Parks Church in McKinney.
Contact: Bill@naomisvillage.org or 214-763-8311
Kim Ramsey
Director of Operations
Kim Ramsey
Director of Operations
Kim has known Bob and Julie Mendonsa since 1997. She helped Bob start his new orthopedic surgery practice in Lewisville, TX that year, and continued to work side by side with him as his Orthopedic PA for the next 10 years. She went on to serve as the Clinical Supervisor for a large ob/gyn practice in Denton for 6 years, before being hired as a private software consultant in 2014. She accepted a position with Naomi's Village as its US Operations Manager in 2016, feeling that God had called her to do so. Kim has 2 grown boys, 5 grandchildren and a German Shepherd. She loves to spend time cooking, being with family and friends, and serving at her church.
Contact: Kim@naomisvillage.org or 972-979-4836
Allie Travis
Director of Marketing & Communication
Allie Travis
Director of Marketing & Communication
Allie graduated from Anderson University with a B.A. in Public Relations & Marketing. She has nearly 2 years of experience in Marketing with nonprofits. Spending the summer of 2021 at Naomi's Village opened her eyes and heart to a God-given desire from years before, that much of her heart belongs in Kenya. With a passion for writing, serving in the stateside office to represent the remarkable children she considers family is a perfect fit.
A lover of all things yellow, an early morning french press, saying hello to every person she passes, a window seat on a long plane ride, and tight hugs - she pursues joy in every corner of her life.
Contact: allison@naomisvillage.org
Olivia Hurst
Director of Volunteer Services
Olivia Hurst
Director of Volunteer Services
Olivia graduated from The University of Texas at Austin in December of 2020 with a B.S.A. in Biology. After working as a pediatric medical assistant for over a year and spending the last three years involved with a nonprofit, God called her to join the NV stateside office. Olivia has volunteered on a team at Naomi's Village twice and is eager to share her experience with others. Her heart for the nations and love of travel make her the perfect go-to-girl for teams and interns eager to serve at Naomi's Village. Olivia loves all things food, books, and puppies (especially her Aussie, Harper). She spends her time exploring with friends, going on bike rides, and spreading the love of Christ everywhere she goes.
Contact: Olivia@naomisvillage.org
Maddie Millsap
Channel Marketing Coordinator
Maddie Millsap
Channel Marketing Coordinator
Maddie graduates from the University of Texas at Arlington with a B.B.A in Management and Marketing in May of 2022. She first visited Naomi's Village in the summer of 2018 and every aspect of the trip captured her heart, from the kids to the culture. Returning twice more, she discovered a deep desire to work with Naomi's Village in some capacity. She longs to spread the joy and positivity she experienced in Kenya with everyone she encounters. Maddie has a love for all things autumn, a breezy walk with her dogs, three wick candles, and an intense game of cards. She tries to be present in each and every moment.