Fred Muiruri Chege
Operations Manager
Fred Muiruri Chege
Operations Manager
Fred M. Chege worked as admin asst. at Naomi's Village Home from Jan. 2014 to May 2016. After a period working in local government, he was rehired as operations manager at Cornerstone in August 2020. Fred is a trained computer software and hardware engineer (Infotech Training Institute) and has a certificate in database administration from the Vision Institute of Professionals. He is a graduate of Kenya Methodist University with a degree in Business Administration and IT. Fred has also recently started pursuing a Master's in Business Administration at the University of Nairobi.
Fred is married with 3 children. His hobbies are reading science fiction and AI books, hiking, and riding bikes.
James Ndenga
Human Resource Manager
James Ndenga
Human Resource Manager
James is in his final year at Kenya Methodist University, where he is pursuing a Bachelor of Business Administration (Human Resource Management). He is also a qualified chef who holds a Higher Diploma in Hotel and Restaurant Management. Prior to working for Cornerstone, James worked in various management roles with leading fast food restaurants and hotels in Kenya for over 5 years. He has gained additional experience in management and leadership by successfully running the Cornerstone catering department as its catering supervisor. Due to his outstanding performance, he was appointed to Human Resource Assistant in 2020. James is married to Leah and they are blessed with a son, Ethan. During his free time, he loves playing volleyball, swimming and reading the word of God.
Rebecca Atieno
Accountant
Rebecca Atieno
Accountant
Rebecca is a certified public accountant and holds a Bachelor of Commerce degree in Finance from Kenya College of Accountancy University.
She joined Cornerstone in 2020. She prepares all the accounting work for Cornerstone, oversees grants management analysis, and provides financial reports to the Cornerstone Senior Management Team. She is a qualified accountant with various skills in bookkeeping, financial management and reporting with over five years' experience of working in non-governmental institutions.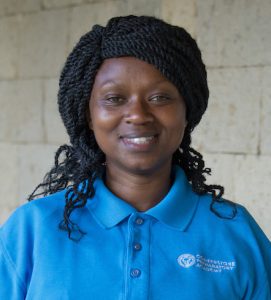 Zipporah Wataro
Head Teacher
Zipporah Wataro
Head Teacher
Zipporah Wataro serves as head teacher at Cornerstone Preparatory Academy. She is one of CPA's pioneers, having been a faithful teacher at Cornerstone since its inception in 2013. Zipporah has long been one of Cornerstone's most passionate and skillful teachers. Besides having a big heart for children, Zipporah is also very qualified and has attended numerous additional trainings in areas such as assertive discipline, play therapy, trauma-competent care and the new Kenyan Competency Based Curriculum.
Zipporah is a children's ministry leader at her church. Her hobbies are singing, writing songs, swimming and reading novels.
Anthony Kariuki
Chaplain
Anthony Kariuki
Chaplain
Pastor Tony, as he is commonly known, is a highly dedicated young pastor with the call to lead our students to participate fully in the word of God. He joined our ministry in 2017. He began his calling as a youth pastor and chaplain at KAG Church upon graduation from Gospel Garden Bible College. In the Children's Ministry there, he taught both small children and teens about the word of God. He is a counselor for young kids and youth in the community, and actively participates in organizing Vocational Bible Study (VBS) and motivational talks. He helps lead interdenominational camps, and conducts outreach programs for secondary schools into the surrounding communities. Tony is married with one child. His main hobbies are sharing the word of God to young people and playing soccer.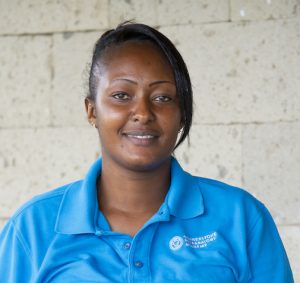 Sarah Wambui Mwangi
Nurse
Sarah Wambui Mwangi
Nurse
Sarah is a nurse by profession, having graduated from nursing school in 2016. She has four years of work experience, both in hospital and school settings. She previously worked at St. Philip Neri Hospital and then came to Cornerstone in Jan 2021, where she does an excellent job caring for our students' health needs.
Sarah describes nursing as not just a job, but a passion that has continued to grow over time. Nursing to her is a rewarding career where she is able to touch and change lives in special ways and learn more each day.
Judy Musisia
Projects Manager
Judy Musisia
Projects Manager
Judy has over five years of professional experience in the construction industry. She holds a bachelor's degree in Construction Management from Jomo Kenyatta University of Agriculture and Technology and has worked on a wide variety of projects including residential camps, commercial complexes and educational facilities.
Judy says that working in this male dominated industry has not only challenged her physically but also intellectually. She adds that the best part about the construction industry is the constant innovations of building designs and materials, which encourage ingenuity by presenting each project with its own unique challenges and solutions. This fuels her passion for creating and building even more.
Judy's favorite quote to live by is, "Your time is limited, so don't waste it living someone else's life. Don't be trapped by dogma- which is living with the results of other people's thinking. Don't let the noise of other people's opinion drown you out of your own inner voice. And most important, have the courage to follow your heart and intuition. They somehow already know what you truly want to become. Everyone and everything else is secondary."- Steve Jobs
Teddy Gachoki
Facilities Manager
Teddy Gachoki
Facilities Manager
Teddy is passionate about construction of buildings and civil structures. His key role is managing and overseeing building maintenance, renovations and repairs and ensuring these are completed on time. He also ensures that the institution meets high health, safety and environmental standards. During his free time, Teddy loves playing football and reading books.
Purity Ngari
Activities/ Sponsorship Liaison
Purity Ngari
Activities/ Sponsorship Liaison
Purity holds a Diploma in Film and Animation. She has more than 5 years' experience serving in different children's ministries. Her desire is to find daily opportunities within Naomi's Village/Cornerstone's ministry to share the stories of our children, thereby using her media platform to create an impact.
Purity also loves engaging and playing with our children. During her free time, she enjoys traveling and reading.
Daisy Akinyi
Community Liaison
Daisy Akinyi
Community Liaison
Daisy joined Cornerstone's staff in February 2021. She graduated with a bachelor's degree in linguistics, media, and communications from Moi University. Her passions are corporate social responsibility, communication, and working with marginalized children.
In her free time Daisy enjoys swimming and cooking, especially exploring new recipes. She is adventurous and loves getting to meet different kinds of people.
Mark Fundia
Catering Supervisor
Mark Fundia
Catering Supervisor
Mark first developed his passion for cooking after starting as a volunteer at a 4-star hotel in Mombasa in 2006. Later he worked with an Italian restaurant and private cottages before joining Naomi's Village in 2013.
He passionately served Naomi's Village and Cornerstone for 4½ yrs. before leaving to become a head chef and provide corporate catering for the next 3 years. Mark recently returned to Cornerstone in April 2021 as catering supervisor.
Mark is married with two kids, Sheryl and Rodney. He is known for his enthusiasm and his love for developing new culinary skills.
ERICK Waweru
Maendeleo Assistant
ERICK Waweru
Maendeleo Assistant
Erick has a passion for developing and improving the wellbeing of individuals so that they reach their full potential in society. He is currently working with the Maendeleo Initiative at Cornerstone. Erick previously worked as a volunteer around Maai Mahiu in organizing sports, events, seminars and workshops to educate, sensitize and bring awareness about drug abuse, HIV/Aids, gender-based violence, sexual assault, FGM, child marriages, STD's, etc. Erick later joined the Kenya National Youth Service to acquire more skills in service and particularly community development. During 5 years of volunteering with the KNYS, he participated in basic paramilitary training for endurance and discipline, youth mentorship programs, agriculture and environment conservation, disaster management, firefighting and first aid, construction training, and leadership training. He also holds a Diploma in Food and Beverage Management. Erick spends his spare time on kid's talent projects, reading books, and coaching and playing soccer.
Jimford Omollo
Sports Coach
Jimford Omollo
Sports Coach
Jimford is a passionate sports coach and certified physical education expert. Prior to working for Cornerstone, Jim was a fitness coach and he worked as a personal trainer at Adidas Health and Fitness.
Jim played three years of rugby in high school before joining Kenyatta University where he played for four years as a flanker for the varsity team. In addition, he coached and trained young kids in basic rugby skills during breaks from university. He is also a professional cyclist, having participated in local tour races and individual time trials (ITT). During his free time, Jim likes working out, participating in individual and team sports, doing charity work, and travelling.
Coaching Philosophy: I am always open to new and innovative ideas while combining past experiences to provide guidance to my athletes. I hope to enhance their leadership skills and work ethic to create well rounded individuals on and off the pitch. I believe having a positive attitude is everything.
Charles Waweru
Storekeeping Supervisor
Charles Waweru
Storekeeping Supervisor
Charles holds a diploma in procurement and supply from the Chartered Institute of Procurement and
Supply. He also holds a diploma in Business Administration from Eldoret National Polytechnic, and he is
a member of the Chartered Institute of Procurement and Supply (CIPS-UK).
Prior to joining Cornerstone's staff, Charles worked for Unilever Kenya Limited, Nairobi Java House, and
Sankara Nairobi.
As the storekeeping supervisor, Charles oversees the process of receiving, storage and issuance of items.
He also ensures customer satisfaction, material accuracy and seeing that goods are procured at
advantageous prices.