Veronicah Kageche
Director of Human Resources and Caregiving
Veronicah Kageche
Director of Human Resources and Caregiving
Veronicah Kageche earned a Bachelor of Arts in Business Administration - Human Resources. Veronicah serves as Naomi's Village Deputy Director of Administration and has a wealth of experience in human resources and program management. Her passion for the smooth execution of Naomi's Village administrative tasks and staff welfare is evident in her day to day interactions with the staff and people of the village. Veronicah is married and blessed with three children and enjoys spending her free time with her family.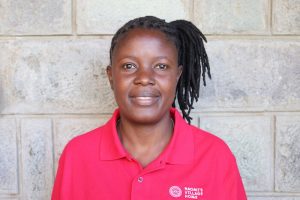 Flo Ouko
Director of Social Work
Flo Ouko
Director of Social Work
Flo has been at Naomi's Village since January 2011. She started as a house mom, then became a house mom supervisor, and eventually the Director of Social Work for Naomi's Village. She says for such a time as this, God has called her to be among the many destined helpers of our loving, adorable children.
Zakayo Oyula
Catering Supervisor
Zakayo Oyula
Catering Supervisor
Zakayo is a qualified chef who serves as the supervisor of the catering department at Naomi's Village. He takes special care to ensure that the children and staff of Naomi's Village receive a balanced diet. Zakayo also prepares all meals for visitors to the NV Guesthouse, and sees to it that guests have a safe and comfortable stay there. He is a father to one girl, J'Lean. In his spare time, he enjoys reading the Word of God.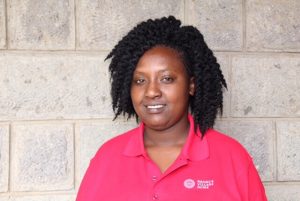 Peris Wambui Machaga
Social Worker
Peris Wambui Machaga
Social Worker
Peris is an ardent social worker with a heart for children. She joined Naomi's Village as mom and worked for five years in the baby room – the greatest place on earth. She holds a Diploma in Social Work and Community Development and a Bachelor's degree in Business Administration / Human Resources from St Paul's University. Her greatest passion is serving the adorable children at Naomi's Village by guiding and nurturing them. During her free time, she loves traveling.
Gaudencia Jebichii
MTOTO Program Coordinator
Gaudencia Jebichii
MTOTO Program Coordinator
Gaudencia is a RN with a Bachelor of Science and Midwifery degree from Masinde Muliro University of Science and Technology. She previously worked at Kericho County Referral Hospital, Jacaranda Hospital, and Nairobi Women's Hospital before joining Naomi's Village.
Gaudencia serves as MTOTO Program Coordinator at Naomi's Village. MTOTO connects trained nurses like Gaudencia with pregnant mothers, shepherding them through pregnancy, birth and infancy via routine home visits. These nurses provide valuable, one-on-one counsel about and resources for:
Prenatal care
Childbirth
Breastfeeding
Infant nutrition
Child developmental stages
Healthy parenting
MTOTO's vision is to empower mothers with the knowledge and resources to raise healthy babies and toddlers, who will one day grow into the leaders Kenya needs to thrive.
Mothers enter the program after their first trimester of pregnancy and the above needs are met throughout the prenatal period until delivery. After delivery, babies join their mothers in the program, becoming part of MTOTO until they reach the age of 3. These children are then admitted to LEAP Preschool and later move on to attend K-12 Cornerstone Preparatory Academy.
Gaudencia is passionate about maternal and child health. She derives motivation as a nurse from seeing the mothers and babies she cares for being happy and content. Gaudencia says that her joy comes from seeing the MTOTO Program making a positive impact in our community.
She like to swim and go on road trips during her free time.
Teddy Obonyo
Procurement and Stores Officer
Teddy Obonyo
Procurement and Stores Officer
Ted is a supply chain and operations professional. He serves as the Procurement and Stores Officer at Naomi's Village. His key role is to ensure that the children's material needs are met through purchasing of items/services and storage of stock. Ted loves music ministry and he is an Arsenal football fan.
Mary Mwendia
LEAP Director
Mary Mwendia
LEAP Director
Mary Mwendia earned a bachelor's degree in Education- Early Childhood Development and Education and also a master's degree in the same. Mary serves at Naomi's Village as the Director at LEAP Preschool. She has a wealth of knowledge and extensive experience in early childhood development and education. Mary is also trained in project management. She has lectured at the university level, where she trained early childhood education teachers. Mary has both taught at and managed elementary schools, and she knows very well that successful students become successful adults. She endeavors to educate the whole child and believes that intelligence plus character is the goal of true education. Mary's passion in the effective management and supervision of LEAP's activities is evident in her daily encounters with students, colleagues, parents and the community at large. Her belief is that children are gifts, each one possessing diverse talents and capabilities. Her educational philosophy is to work to create a welcoming and safe environment where all students can develop a love for learning.
Augustine Thuo
Media Coordinator
Augustine Thuo
Media Coordinator
Augustine is a passionate branding and corporate image professional with vast experience in graphics, IT and marketing. He coordinates all media needs and functions at Naomi's Village, helping to ensure that the world at large gets to know about the wonderful work going on at NV and the delightful generation of children we are raising.
Augustine also serves with the MTOTO Program as the Program Editor.
In his free time, he enjoys playing piano and guitar and travelling