A dog is the only thing on earth that loves you more than you love yourself. 
– Josh Billings
Some or our earliest memories include our dogs crawling around on the carpet with us, licking our baby faces, barking curiously at things we also found humorous or uncertain in the tall world all around. Our Father left something of Eden behind in them, a certain sweet connection that is different than any other animal can make with a human being.
They come and they go, lasting a decade or so, patient and steadfast companions who tie together our memories of past days in our minds. From childhood to college days, living single, getting married, living those heart years with your own family, growing older as empty nesters, and finding yourself alone again…they remain a source of comfort and love. Each one may be different, yet will always be special to you in its own way.
At the end of it all, we should be counted lucky if we had a dozen of them, strung together in ones or twos over our 80 or so years of life on this glorious and messy ball. Dogs will wait for us, follow us, believe the best in us, stay by our sides, protect us, love us back when we feel unlovable, and forgive us immediately when we step on their foot or their tail. Heck, they'll usually apologize to us for the offense of getting in our way! If we all behaved like the best of our canines, the world might cease to be so productive (see 7 billion people lying around in side-spud position for hours per day doing zero except for occasionally licking themselves inappropriately). But man, might we quit barking at one another over literally everything from dog breed to body habitus to who we sleep with!
On to the sad news – our 10-year-old, "big-boned" dog Macey died last week. She arrived with her litter mate Abigail when Naomi's Village was not quite one, around Christmas 2011. I remember the scene like it was yesterday. Two dozen NV kids sat cross-legged on the lawn at rapt attention, wondering what was in that big box. After a brief moment of suspense, out popped two yellow lab puppies, with squishy golden fur and oversized paws. They ran towards the throng of shouting kids, who took them in like new family members. Sometimes moments in time sear themselves like happy brands into our memory banks, disallowing melancholy its full hold during the worst of tougher days ahead. For me, this is one of hundreds of such pictures that God has painted for me, helping to substantiate His goodness by filling in when all the questions cannot be answered (and they never can be).
She spent the past decade wagging her whole chubby body upon the arrival of each kid home from school in the afternoons, gobbling up leftovers from the kitchen, and chasing any form of livestock that dared approach our fence. In her entire life, she never once suffered a bath. But that didn't seem to affect her self-esteem a bit. Macey's main character trait was sweetness – she wouldn't bite anyone. And she surely helped heal the broken hearts of our children in ways that can't be understood.
Some of our kids helped bury Macey last Friday afternoon near the banana trees in the center of our 5 acres, a spot that used to be dry and dusty ground before this all began. We began to search for a replacement puppy.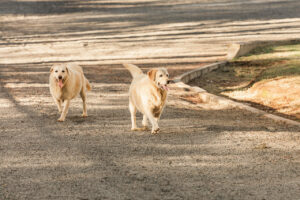 God had even bigger plans for consoling us.
On Wednesday Dec 22, we got the news from NV social worker Flo of a new baby at the Safe House in Naivasha. Just 5 months old, the little boy had been found after dark the evening before on the ground outside the gates to Lakeview Estates. A concerned citizen had taken him to the Naivasha Police Station for processing before he was referred to the nearby Safe House, arriving at 10 p.m.
Julie suggested we call him Gabriel, meaning "God is my strength." All it took was to see his strong face, covered in mosquito bites, but sweetly resolute nonetheless, and we knew the name fit. His arrival at Naomi's Village made him only the second child we took in during 2021, with abandoned infant Matthew landing in our baby room in early January. Their additions served as fitting bookends to a wonderfully vibrant year in the life of Naomi's Village Home.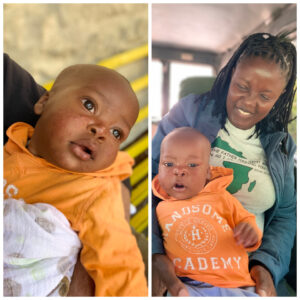 As we stood in the midst of the uproarious din of the dining hall, with staff and children singing and dancing in joy at this unexpected Christmas blessing, it hit me again. Really, if truth be told, that bittersweet sense never leaves me. We live under so many incredible blessings every day, but they can easily be drowned out by heartaches and trials. Heaven remains open, pouring down what we can never deserve, on land and people and animals and circumstances that are broken and imperfect. His love – in waves of color and song and dancing – might be missed if we don't listen in and sing along from time to time.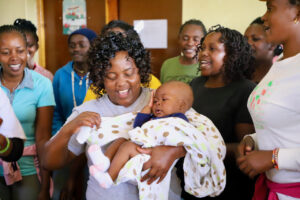 Consider the words of Austrian poet Rainer Maria Rilke, who proclaimed over a century ago, "Everything is blooming most recklessly; if it were voices instead of colors, there would be an unbelievable shrieking into the heart of the night."
I'm satisfied that there are still two sides to life's coin, and I hope you are too. We should recall and embrace what Christmas really meant, the necessity for a divinely perfect baby to enter enemy territory in the dark of night, intent on rising one day to rescue His own. The bravery and blood, the terrible pain and suffering of a secretive childbirth… those darker realities mingled with angels singing and Mary's motherly caresses, as the pleasure of God the Father overshadowed our fallen Earth. Dichotomies followed Jesus for 32 more years and he faced them all, until he hung on a cross, beautiful and battered, and crushed them forever. We may not see His victory fully yet, but it is surely finished.
So even when dogs come and go, and your loved ones too, remember this. He is the Way and he is still making all things new. Babies and weddings, mountains and streams, and the sound of justice filling a room are but a few of the proofs. Don't let despair win in your own heart, my friends. Let's press on in 2022 and beyond. There is joy to be had in the 365 days to come.