____________________________________________________________________________
The world is a book, and those who do not travel read only a page.
St. Augustine of Hippo
____________________________________________________________________________
Weeks of planning, prayer, and preparations finally ended on Monday, Nov 25, 2019. At 3:30 a.m., lights flickered on, and 62 groggy but excited children began dressing, washing faces, brushing teeth, and boarding Naomi's Village buses. Within half an hour, 82 people, adults included, were headed southeast from the Great Rift Valley towards Nairobi. Two hours later, the ebullient crowd settled in seats aboard Kenya's Nairobi–Mombasa Standard Gauge Railway (SGR), also known as the Madaraka Express.
The SGR got this moniker when its first fare-paying passengers rode in its speedy electric train cars on June 1, 2017 (Madaraka Day), the 54th anniversary of Kenya's attainment of self-rule from Great Britain.1 Since then, millions of Kenyans have safely traversed Kenya using the new railway, which boasts a 5-hour transit time between the country's capital Nairobi and the large Indian Ocean city of Mombasa (roughly half the normal driving time).
The SGR runs beside the now obsolete narrow-gauge Kenya–Uganda Railway, once known as the "Lunatic Express" for the colossal waste of resources and human life suffered during its construction. Completed for $9M from 1896 -1901 under British colonial rule, the railroad was constructed by 37,000 British Indian laborers and skilled artisans who immigrated solely for the project. Over 2,500 of them died from diseases, animal attacks, work injuries, and violent encounters with Kenyan tribesmen displeased with the passage of the railway through their land. On the other hand, the Nandi tribe lost thousands of men fighting against the advance of this "iron snake" before they finally laid down their arms. On completion, the Kenya–Uganda Railway stretched from the port at Mombasa to the eastern shore of Lake Victoria, the source of the Nile River. This helped connect commerce between the Indian Ocean and Uganda and also gave strategic control of the Nile River to the Brits.2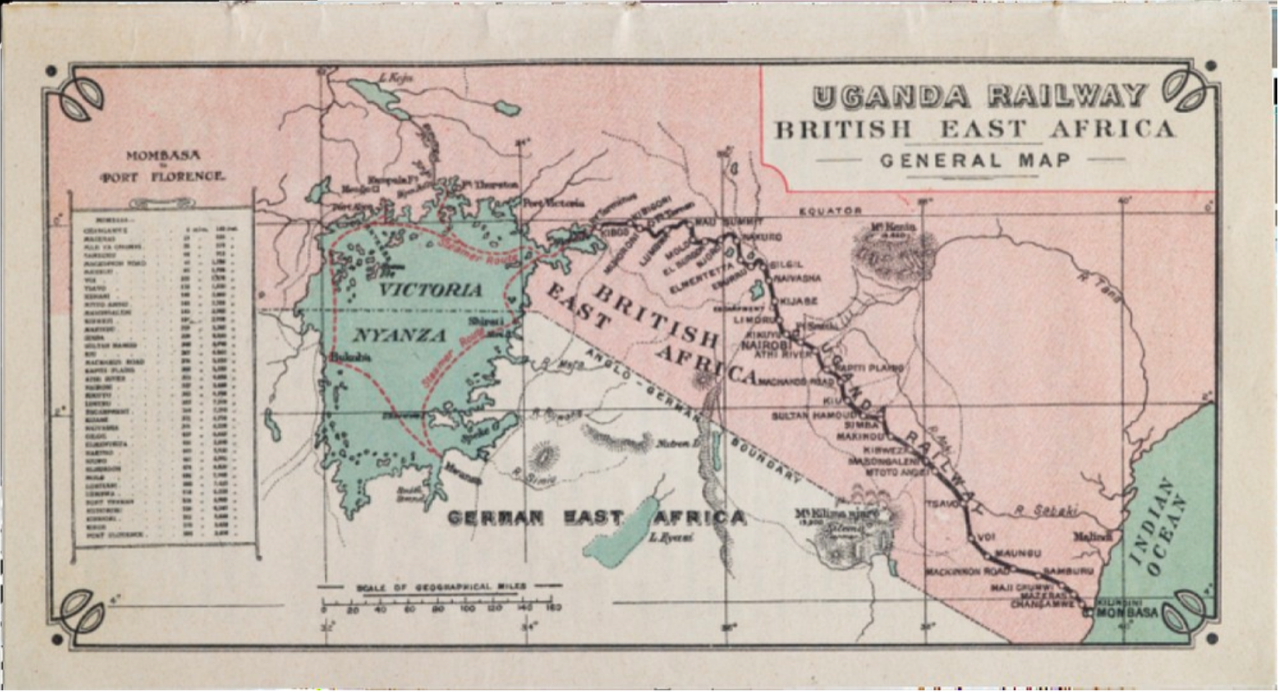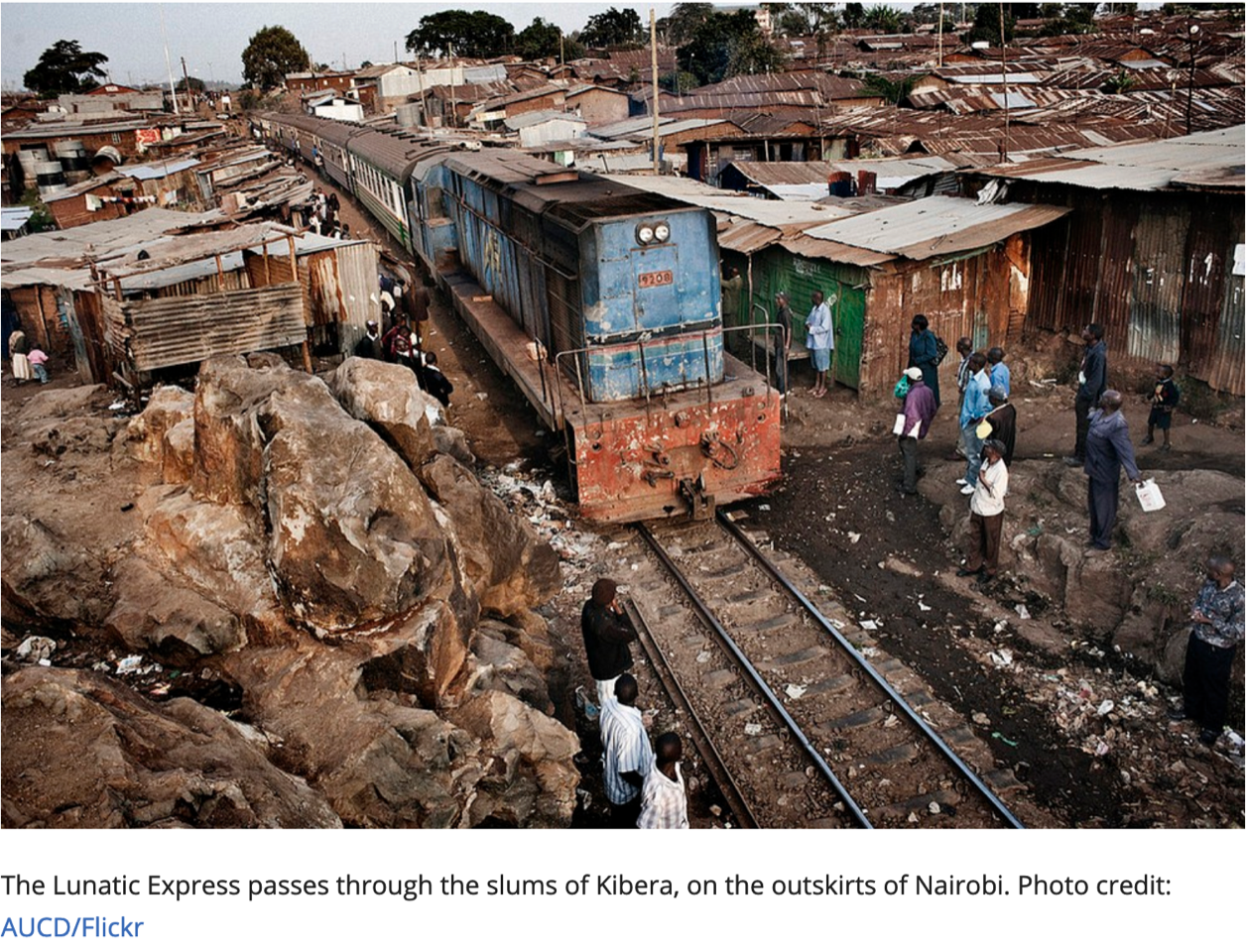 Today, the East African Railway Master Plan calls for Kenya's modern SGR to link with other SGRs being built in neighboring countries in East Africa. At $3.6 billion, the SGR is Kenya's most expensive infrastructure project since its independence from Britain in 1963. China Road and Bridge Corporation, the primary contractor this time, hired 25,000 Kenyans to complete the railway.3
Our children watched the beauty of their nation's countryside roll past from the comfort of coach seats costing $10 apiece, a small price to pay for the experience of seeing elephants and other wildlife. None had ever ridden a train before, and most had not seen elephants in their natural habitat. Had they been told the sad and colorful history of how the first railroad had torn a terrible swath of destruction and death across their land just 120 years before?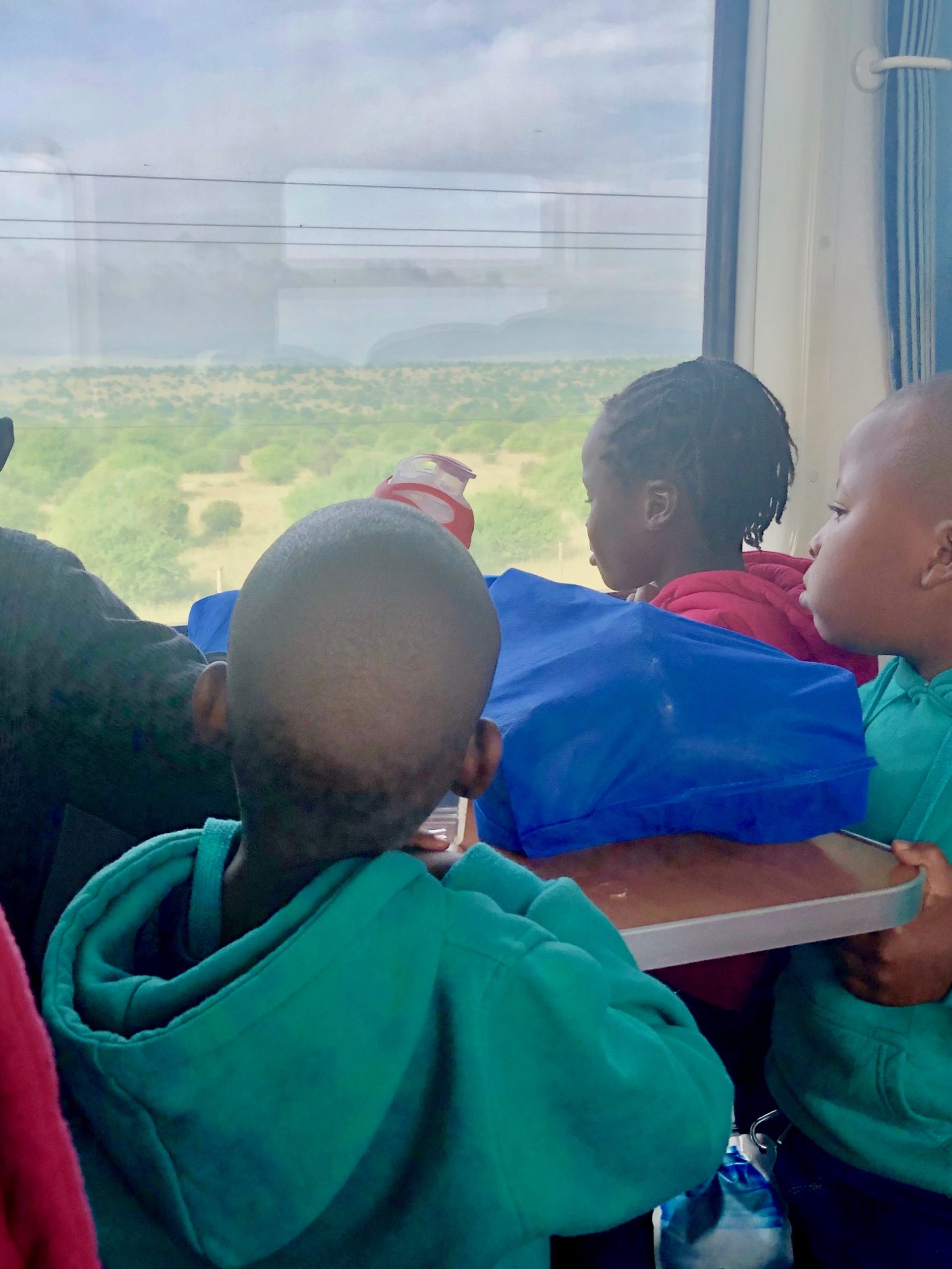 By midafternoon, the happy throng pulled up in front of the sprawling Flamingo resort in Mombasa, a city now known as much for its tourism as for the still vital port it surrounds.
Because of careful planning and discussions with the kids to prepare them, they adapted quickly to their room assignments and roommates. Each received loving supervision, a comfortable bed, warm showers, plenty of clean clothes for the 4-night stay, new swimsuits, and a daily devotion time including worship and a short lesson. The resort was all-inclusive, with hearty buffet meals including lots of fun new foods, a variety of tropical fruits and desserts, sodas, and twice daily snack times. But the biggest draw, according to almost every child, was the swimming. Flamingo sports a huge pool with slides and a waterfall, an activities staff, and music pumping from poolside speakers. The white sandy beach and warm tropical water of the ocean provided a second place to swim, play games, and search for seashells. For some of our children, this was their first time to see an ocean, and the excitement was palpable.
Some small ones started out with floaties and stayed on the pool steps in the shallow water at first. But little by little, day by day, they grew braver, gaining confidence as they learned to stay afloat, put their heads under water, and ultimately swim independently. Squeals of "Uncle Wamai!" or "Auntie Allison!" preceded demonstrations of newly gained levels of skill, feats of bravery, or just plain silliness.
Special things happen at eye level between an adult and child in a pool that don't happen elsewhere. Buoyancy equalizes heights, we tune out everyone else for a time, and we see each other more clearly somehow. Adults bond with children and gain their trust while supporting them in water – in the process imparting love, exhibiting faith in their ability to succeed, and showering them with joy over small but not insignificant victories. It shouldn't surprise us that the water is an ideal place for healthy bonding, considering a baby's attachment to its mother begins underwater during a 42-week long gestation in the womb. A preborn infant feels her movements, smells her, and even hears her voice, beginning the critical process of brain wiring.
For previously traumatized, neglected, and developmentally delayed children, healthy play and safe relationships with nurturing adults can make a world of difference in helping them to heal, to catch up, and to reach milestones they might otherwise never attain.
Seven-year-old James Kibet lives with a significant shortening of his left femur bone, the result of a prior infection that destroyed the growth center near his hip and fused the hip joint. These differences mean a leg length discrepancy of about 4 inches, a severe limp, and a compensatory curvature of his lower back. Despite his challenges, James never complains or avoids opportunities to gain new skills. Watching him fight with his whole heart to learn to swim, grimacing at times and grinning at others, made us all stronger and more resolute. He embodies the words of former polio sufferer and later Olympic athlete Wilma Rudolph, who said, "The triumph cannot be had without the struggle."4 If James has that kind of fight, then we shall never give up until every stepping stone has been placed in front of his eager feet and a road is laid to the doorstep of his success.
On the last day, we rented out 5 glass bottomed boats for a short cruise around the bay and a visit to an offshore sandbar near a coral reef. The kids saw dozens of exotic species of fish and other tropical wildlife, swam in the perfectly azure waters of the Indian Ocean, and made memories that will last a lifetime.
Christine Rebecca somehow managed to catch a tiny clownfish, not unlike the Nemo character in the Disney film. She proudly carried it around in a small bit of water for an hour or so, showing everyone its gorgeous colors before setting it free again as we headed up the beach for lunch. Later, she said wistfully to Julie, "This has been the best day I've ever had" with a twinkle of sincerity and soft smile that made all of our love efforts worthwhile.
For didn't we all say such things when we were young and innocent, and not just once? To be there for one of those unadulterated moments in time, a snapshot reminding us that Eden once was and will be again, was to take in a fresh breath of new life.
The days passed quickly, the tide coming in and out each morning, inexorably and beautifully, welcoming new horizons with it. We all grew closer, like grains of sand clumped together, His thoughts of love for us too many to count. I suppose my days and my years are lessening in number while theirs blossom and take preeminence. Yet I have so much left to impart to them before they take off into the world. Precious times away from school and work, opportunities to see and learn new things, and to be with each other like we have been on these trips…these are the vital cords that bind families and childhoods together, substantiating them as more than the sum of their parts.
Julie and I had planned to stay on another day after they left for home. As they loaded in buses headed for the SGR station, I marveled again at the glory of it all. God has given us a rich and colorful family, full of life and excitement, challenges and blessings, and enough love to last a lifetime.
As you and yours celebrate this coming Christmas season, may you slow down to see in the faces of your children and grandchildren the things that remind you that life is precious, wonderful, and worth swimming in. And may you draw closer to them and to the God who invented joy and perhaps remember at least one of those "best days you ever had". I'm thinking of at least one right now and it has already made my heart feel lighter.
Thank you, Christine Rebecca, James Kibet, and the rest of my kids at Naomi's Village. For in your inimitable way, you have taught us all something deeply valuable once again.
By Bob Mendonsa
Founder and E.D. – Naomi's Village, Inc
www.naomisvillage.org
___________________________________________________________________________________
Bibliography
1Wikipedia contributors. (2019, December 2). Mombasa–Nairobi Standard Gauge Railway. In Wikipedia, The Free Encyclopedia. Retrieved 12:58, December 2, 2019, from https://en.wikipedia.org/w/index.php?title=Mombasa%E2%80%93Nairobi_Standard_Gauge_Railway&oldid=928825347
2Patowary, Kaushik. Lunatic Express: The Railway that Gave Birth to Kenya (Feb 2019), Retrieved from https://www.amusingplanet.com/2019/03/lunatic-express-train-that-gave-birth.html
3Wikipedia contributors, ibid.
4Keenan, Marney Rich. Wilma Rudolph (from an essay by Wilma Rudolph edited by Keenan in the Chicago Tribune, Jan 8, 1989). Retrieved from https://www.chicagotribune.com/news/ct-xpm-1989-01-08-8902230553-story.html