Originally posted June 2016
It almost ended there, in a dark cylindrical shaft, not two feet across, and fifteen feet below Earth's sweeter surface.
Floating in raw sewage, the Kenyan baby boy survived because of a simple misunderstanding of buoyancy. By wrapping him in a plastic bag that miraculously trapped air around his tiny newborn frame, his mother unintentionally saved his life. He had only recently departed one watery milieu inside her womb, attached and warm, nurtured by every maternal heartbeat… safe. Then after sensing warm light and briefly hearing her voice, he was jarred by a sudden splash as he landed in human waste, having been dropped down a pit latrine. He now lay confused and alone in a dark hell, an unforgiving vertical tomb with no relief in sight.
The reason she left him there to die may never be known. Some candles, when lit in storms, blow out quickly before brightening any scene.
At least six hours passed that night from the time the latrine had last been used until another woman came to relieve herself. Getting positioned, she heard distinct whimpers from the damp hole beneath her and began screaming in horror at the thought. Baby cries, a human child in need… how could it have gotten down there, in such a terrible place? A clamorous crowd quickly surrounded the outhouse, at first unable to accept such news from her without coming to a quiet to hear for themselves. Distant pained screams welled up from underneath their feet. A cellphone flashlight confirmed the truth. Someone caught a glimpse of his flesh, a tiny eye peeking out of the foul darkness now wrapped in fearful suspense.
A man of uncommon bravery stepped forward and volunteered to attempt a rescue. Someone found a rope and quickly tied a butcher's hook to the end. He leaned in headfirst as far as he could, fighting the rush of blood to his head, uncertain darkness, and sewer gas. With his ankles supported to prevent him from plummeting further into the pit, shoulders scratching against earthen walls on either side, he strained to see.  "Pole, pole! (Slowly!)", he yelled as the infant came into focus. Within seconds, he managed to snag the shopping bag by its handles with the butcher's hook.
Angels must have celebrated the moment, as an unwanted baby boy was cradled by his hero and brought skyward, to thrive in the hopeful light of day again. There could have been no worse odds against being rescued, and all the more when he was so utterly helpless and weak. Parallels exist for we who also once lay dirtied, unable to save ourselves, and who were suddenly plucked and brought up to live in the brightest place, full of wonder and solidity. Only God does such things – sends saviors into bleakest night to rescue the dying.
His first name, given by the hospital in Narok, was Abandoned. Within a half hour of hearing about this boy, I knew that he was to be called David. Later, we looked up the name and discovered that it meant "beloved", confirming that this was to be the handle that defined his new identity.
Twenty-one days passed, marked by prayers and worries, as he lay in a hospital bassinet undergoing treatment. And then he finally came home one sunny Wednesday, as sure as the happy ending of a perfect play.
The NV gates opened and we smiled and cheered until our faces hurt. We sang and danced and passed him around before sharing his celebration cake. We remembered our own stories and what it felt like to be clean again, to start over with a forever-fresh slate in a crowd of the redeemed.
We worshipped God, who finds the hopeless in deep narrow pits of despair and brings them home to live in wide-open places, full of love and song and purpose. And we did so, aware that even the best of these places is shadowy at times, unable to compare to the home that awaits us on that Day, farther up and brighter still.
Life and color, loving touch, early literacy, healthy attachment, nutrition, and the riches of a giant worldwide family will fill David's future. For the next two years our baby moms will give him their expert attention, caring for every aspect of his babyhood. There will be those glorious toddler years to follow, bounding around the hallways of Naomi's Village, singing in the dining hall, heading to the beach every December, and opening Christmas gifts with his siblings. He will begin at Cornerstone Preparatory Academy in 5 years, and we will put a solid stone under every one of his dream steps.
And perhaps one day, by the grace of God, this beloved boy will stand tall and tell his story to thousands. If so, it will be one that is too awful and too beautiful to be true at the same time, a vivid echo and a reminder of the greatest story ever told.
By Bob Mendonsa
____________________________________________________________________________
The world is a book, and those who do not travel read only a page.
St. Augustine of Hippo
____________________________________________________________________________
Weeks of planning, prayer, and preparations finally ended on Monday, Nov 25, 2019. At 3:30 a.m., lights flickered on, and 62 groggy but excited children began dressing, washing faces, brushing teeth, and boarding Naomi's Village buses. Within half an hour, 82 people, adults included, were headed southeast from the Great Rift Valley towards Nairobi. Two hours later, the ebullient crowd settled in seats aboard Kenya's Nairobi–Mombasa Standard Gauge Railway (SGR), also known as the Madaraka Express.
The SGR got this moniker when its first fare-paying passengers rode in its speedy electric train cars on June 1, 2017 (Madaraka Day), the 54th anniversary of Kenya's attainment of self-rule from Great Britain.1 Since then, millions of Kenyans have safely traversed Kenya using the new railway, which boasts a 5-hour transit time between the country's capital Nairobi and the large Indian Ocean city of Mombasa (roughly half the normal driving time).
The SGR runs beside the now obsolete narrow-gauge Kenya–Uganda Railway, once known as the "Lunatic Express" for the colossal waste of resources and human life suffered during its construction. Completed for $9M from 1896 -1901 under British colonial rule, the railroad was constructed by 37,000 British Indian laborers and skilled artisans who immigrated solely for the project. Over 2,500 of them died from diseases, animal attacks, work injuries, and violent encounters with Kenyan tribesmen displeased with the passage of the railway through their land. On the other hand, the Nandi tribe lost thousands of men fighting against the advance of this "iron snake" before they finally laid down their arms. On completion, the Kenya–Uganda Railway stretched from the port at Mombasa to the eastern shore of Lake Victoria, the source of the Nile River. This helped connect commerce between the Indian Ocean and Uganda and also gave strategic control of the Nile River to the Brits.2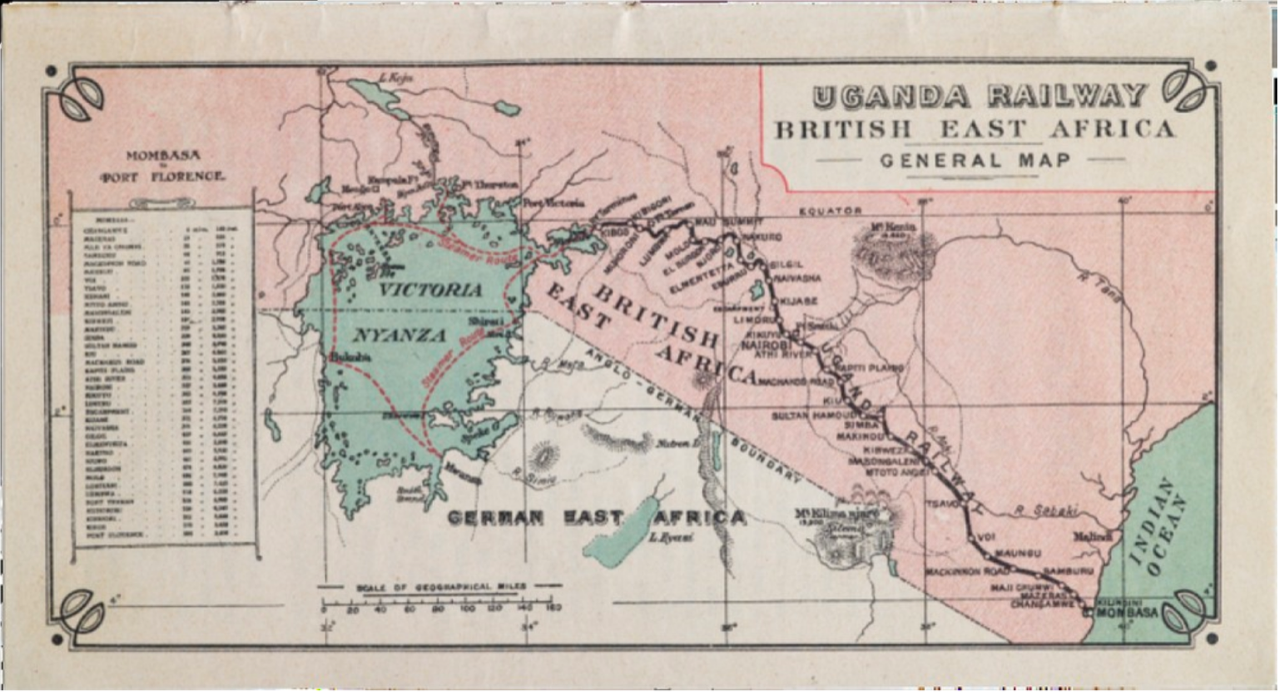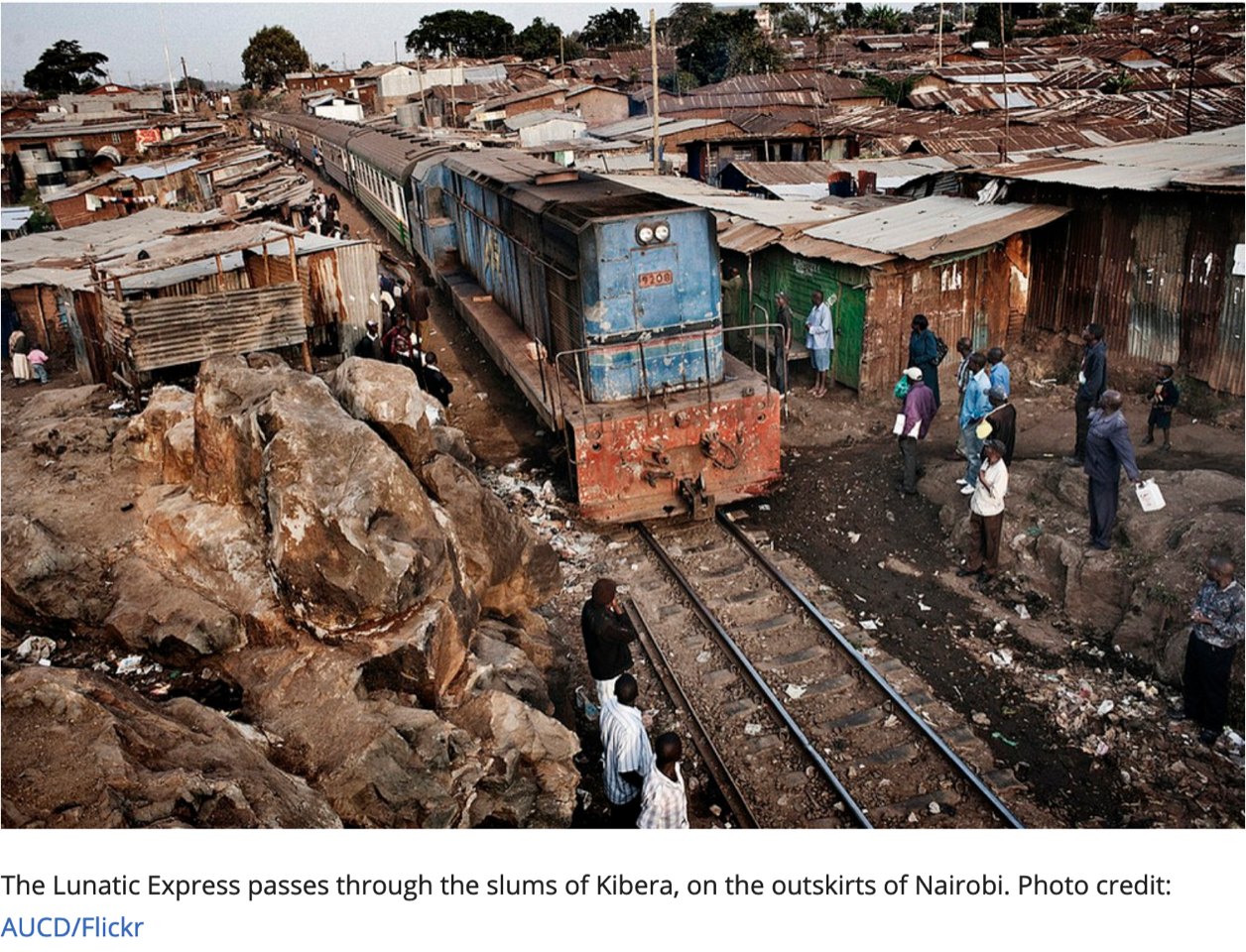 Today, the East African Railway Master Plan calls for Kenya's modern SGR to link with other SGRs being built in neighboring countries in East Africa. At $3.6 billion, the SGR is Kenya's most expensive infrastructure project since its independence from Britain in 1963. China Road and Bridge Corporation, the primary contractor this time, hired 25,000 Kenyans to complete the railway.3
Our children watched the beauty of their nation's countryside roll past from the comfort of coach seats costing $10 apiece, a small price to pay for the experience of seeing elephants and other wildlife. None had ever ridden a train before, and most had not seen elephants in their natural habitat. Had they been told the sad and colorful history of how the first railroad had torn a terrible swath of destruction and death across their land just 120 years before?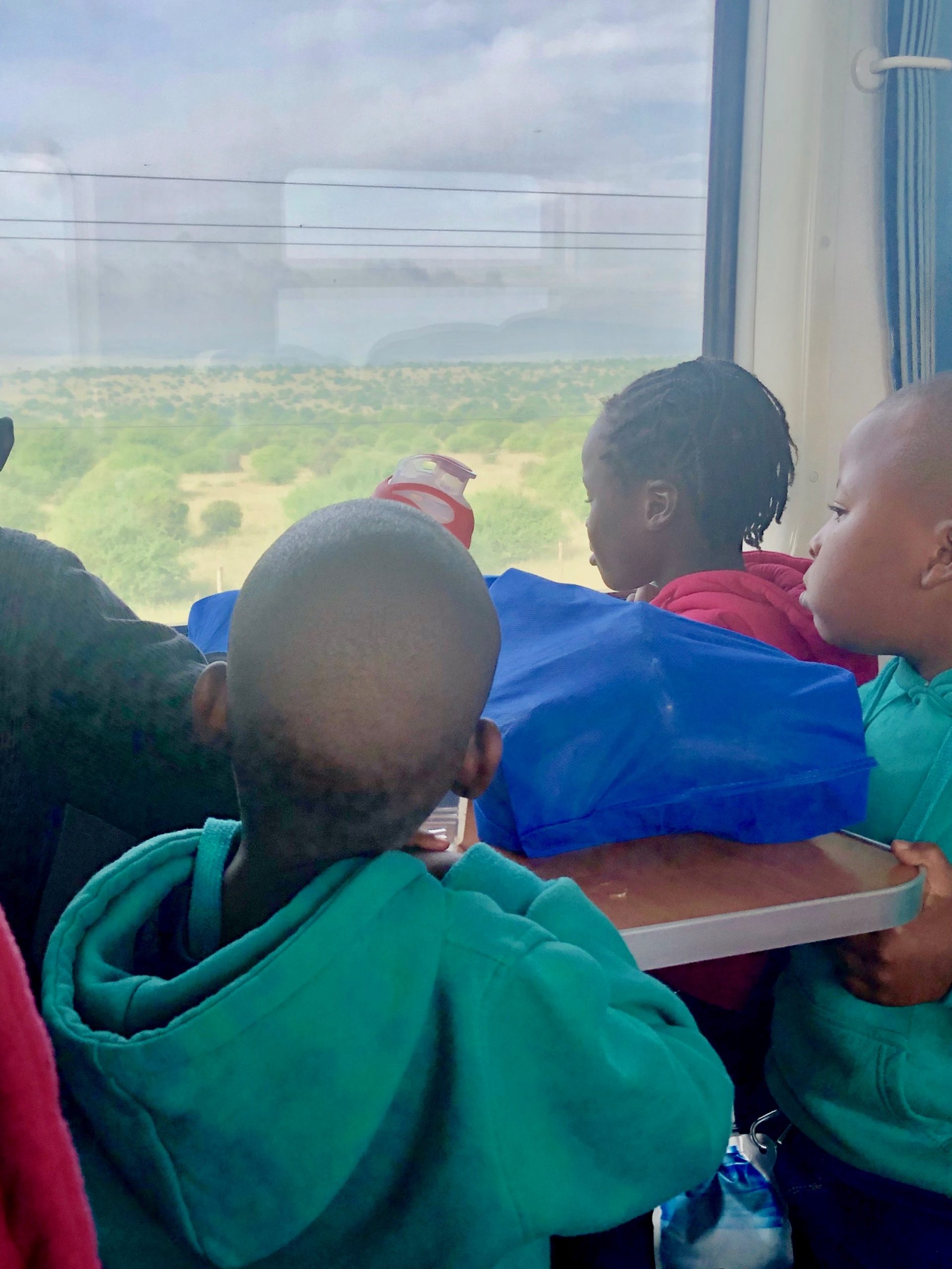 By midafternoon, the happy throng pulled up in front of the sprawling Flamingo resort in Mombasa, a city now known as much for its tourism as for the still vital port it surrounds.
Because of careful planning and discussions with the kids to prepare them, they adapted quickly to their room assignments and roommates. Each received loving supervision, a comfortable bed, warm showers, plenty of clean clothes for the 4-night stay, new swimsuits, and a daily devotion time including worship and a short lesson. The resort was all-inclusive, with hearty buffet meals including lots of fun new foods, a variety of tropical fruits and desserts, sodas, and twice daily snack times. But the biggest draw, according to almost every child, was the swimming. Flamingo sports a huge pool with slides and a waterfall, an activities staff, and music pumping from poolside speakers. The white sandy beach and warm tropical water of the ocean provided a second place to swim, play games, and search for seashells. For some of our children, this was their first time to see an ocean, and the excitement was palpable.
Some small ones started out with floaties and stayed on the pool steps in the shallow water at first. But little by little, day by day, they grew braver, gaining confidence as they learned to stay afloat, put their heads under water, and ultimately swim independently. Squeals of "Uncle Wamai!" or "Auntie Allison!" preceded demonstrations of newly gained levels of skill, feats of bravery, or just plain silliness.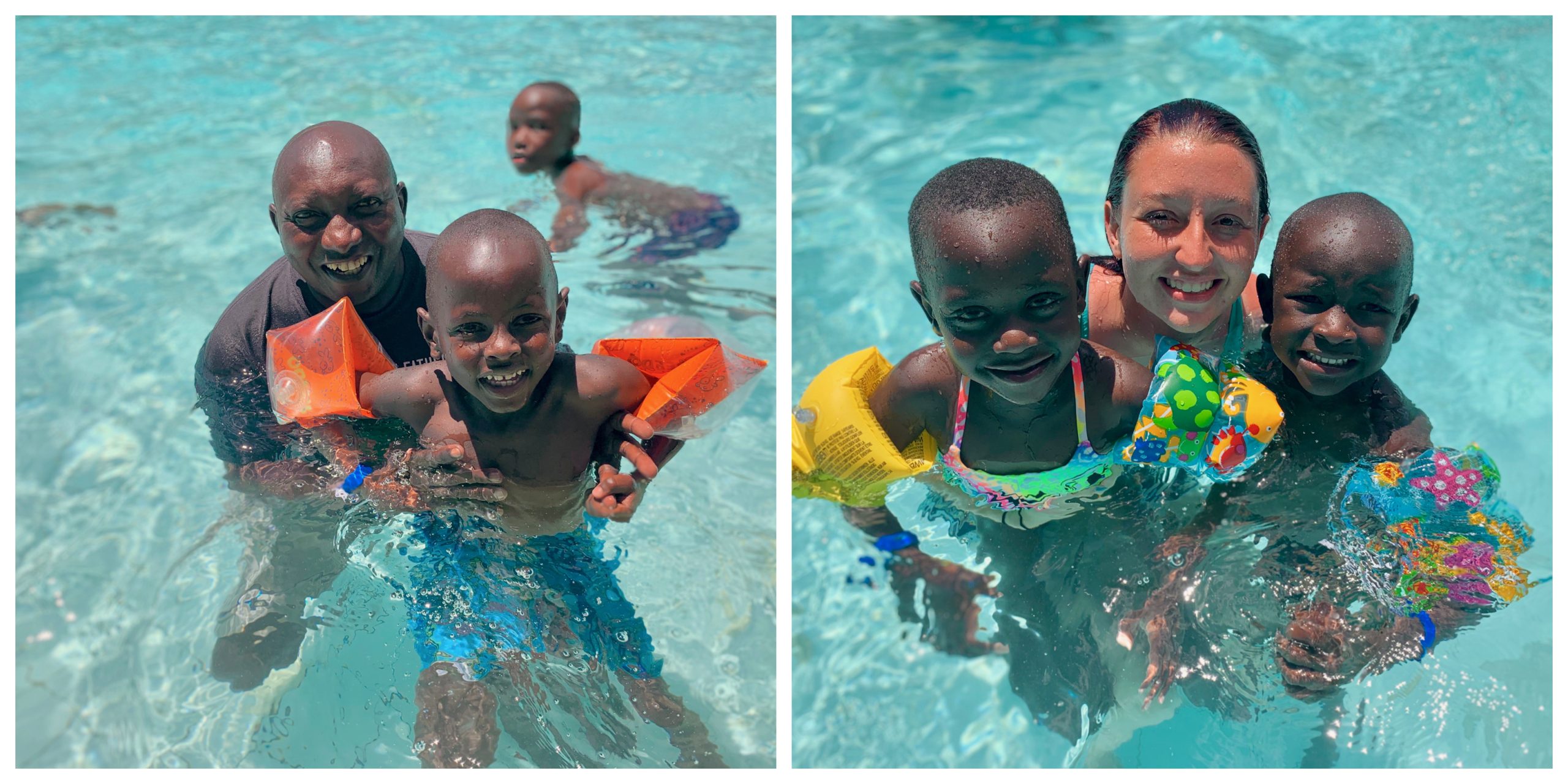 Special things happen at eye level between an adult and child in a pool that don't happen elsewhere. Buoyancy equalizes heights, we tune out everyone else for a time, and we see each other more clearly somehow. Adults bond with children and gain their trust while supporting them in water – in the process imparting love, exhibiting faith in their ability to succeed, and showering them with joy over small but not insignificant victories. It shouldn't surprise us that the water is an ideal place for healthy bonding, considering a baby's attachment to its mother begins underwater during a 42-week long gestation in the womb. A preborn infant feels her movements, smells her, and even hears her voice, beginning the critical process of brain wiring.
For previously traumatized, neglected, and developmentally delayed children, healthy play and safe relationships with nurturing adults can make a world of difference in helping them to heal, to catch up, and to reach milestones they might otherwise never attain.
Seven-year-old James Kibet lives with a significant shortening of his left femur bone, the result of a prior infection that destroyed the growth center near his hip and fused the hip joint. These differences mean a leg length discrepancy of about 4 inches, a severe limp, and a compensatory curvature of his lower back. Despite his challenges, James never complains or avoids opportunities to gain new skills. Watching him fight with his whole heart to learn to swim, grimacing at times and grinning at others, made us all stronger and more resolute. He embodies the words of former polio sufferer and later Olympic athlete Wilma Rudolph, who said, "The triumph cannot be had without the struggle."4 If James has that kind of fight, then we shall never give up until every stepping stone has been placed in front of his eager feet and a road is laid to the doorstep of his success.

On the last day, we rented out 5 glass bottomed boats for a short cruise around the bay and a visit to an offshore sandbar near a coral reef. The kids saw dozens of exotic species of fish and other tropical wildlife, swam in the perfectly azure waters of the Indian Ocean, and made memories that will last a lifetime.
Christine Rebecca somehow managed to catch a tiny clownfish, not unlike the Nemo character in the Disney film. She proudly carried it around in a small bit of water for an hour or so, showing everyone its gorgeous colors before setting it free again as we headed up the beach for lunch. Later, she said wistfully to Julie, "This has been the best day I've ever had" with a twinkle of sincerity and soft smile that made all of our love efforts worthwhile.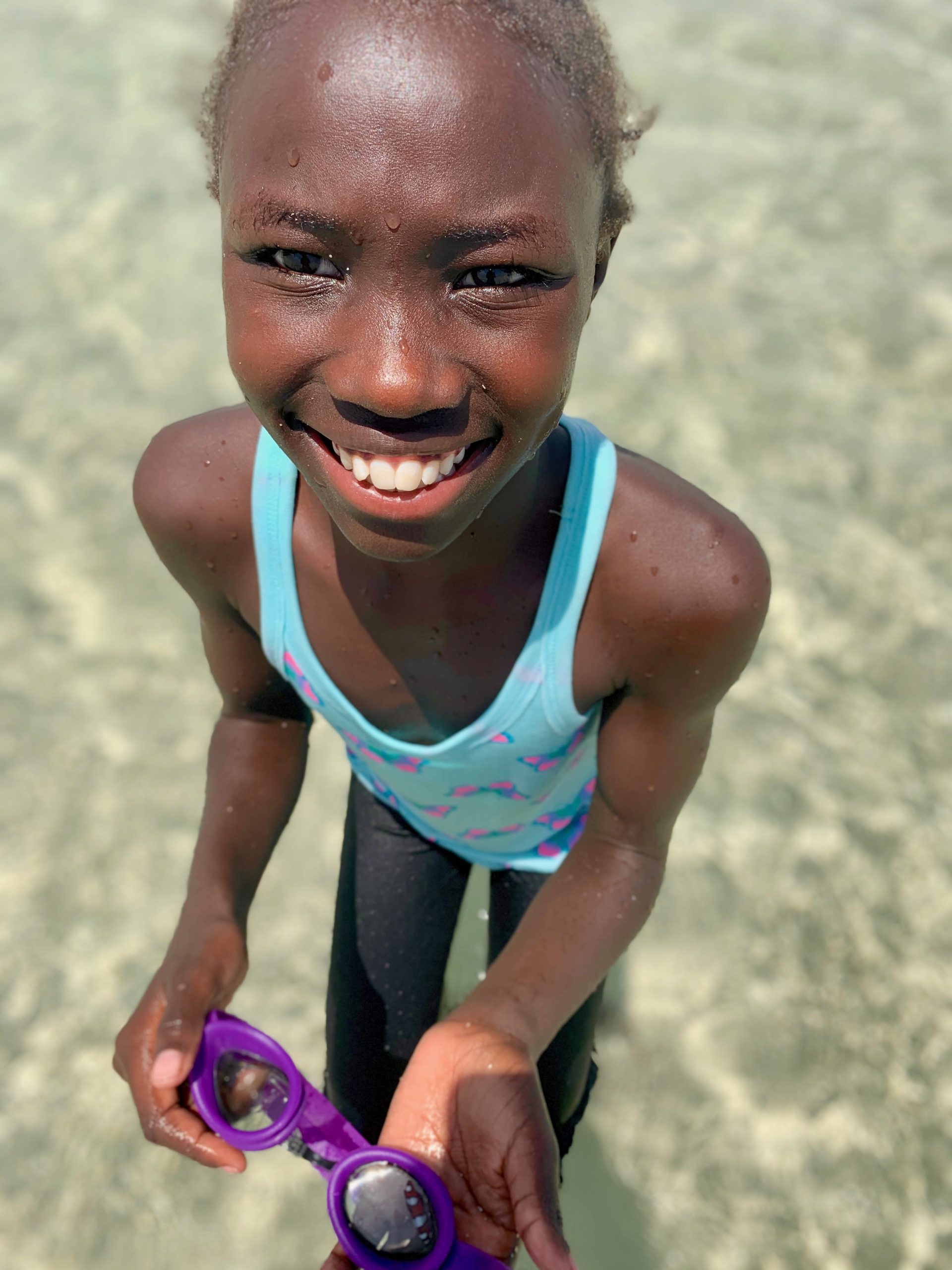 For didn't we all say such things when we were young and innocent, and not just once? To be there for one of those unadulterated moments in time, a snapshot reminding us that Eden once was and will be again, was to take in a fresh breath of new life.
The days passed quickly, the tide coming in and out each morning, inexorably and beautifully, welcoming new horizons with it. We all grew closer, like grains of sand clumped together, His thoughts of love for us too many to count. I suppose my days and my years are lessening in number while theirs blossom and take preeminence. Yet I have so much left to impart to them before they take off into the world. Precious times away from school and work, opportunities to see and learn new things, and to be with each other like we have been on these trips…these are the vital cords that bind families and childhoods together, substantiating them as more than the sum of their parts.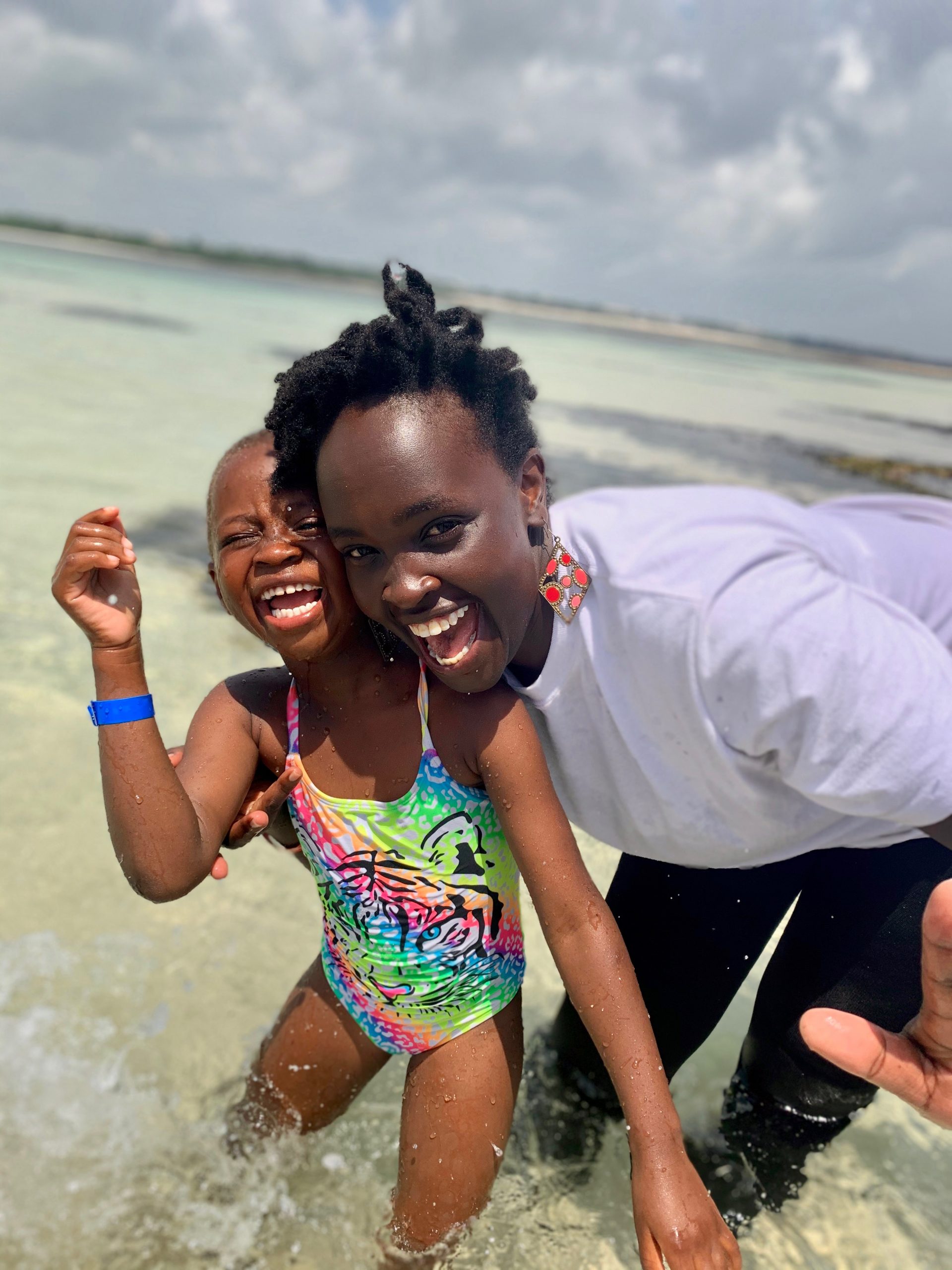 Julie and I had planned to stay on another day after they left for home. As they loaded in buses headed for the SGR station, I marveled again at the glory of it all. God has given us a rich and colorful family, full of life and excitement, challenges and blessings, and enough love to last a lifetime.
As you and yours celebrate this coming Christmas season, may you slow down to see in the faces of your children and grandchildren the things that remind you that life is precious, wonderful, and worth swimming in. And may you draw closer to them and to the God who invented joy and perhaps remember at least one of those "best days you ever had". I'm thinking of at least one right now and it has already made my heart feel lighter.
Thank you, Christine Rebecca, James Kibet, and the rest of my kids at Naomi's Village. For in your inimitable way, you have taught us all something deeply valuable once again.
By Bob Mendonsa
Founder and E.D. – Naomi's Village, Inc
www.naomisvillage.org
___________________________________________________________________________________
Bibliography
1Wikipedia contributors. (2019, December 2). Mombasa–Nairobi Standard Gauge Railway. In Wikipedia, The Free Encyclopedia. Retrieved 12:58, December 2, 2019, from https://en.wikipedia.org/w/index.php?title=Mombasa%E2%80%93Nairobi_Standard_Gauge_Railway&oldid=928825347
2Patowary, Kaushik. Lunatic Express: The Railway that Gave Birth to Kenya (Feb 2019), Retrieved from https://www.amusingplanet.com/2019/03/lunatic-express-train-that-gave-birth.html
3Wikipedia contributors, ibid.
4Keenan, Marney Rich. Wilma Rudolph (from an essay by Wilma Rudolph edited by Keenan in the Chicago Tribune, Jan 8, 1989). Retrieved from https://www.chicagotribune.com/news/ct-xpm-1989-01-08-8902230553-story.html
These are the days of miracle and wonder. And don't cry baby, don't cry, don't cry.
– Paul Simon, The Boy in The Bubble (Graceland, Warner Bros. Records, 1986)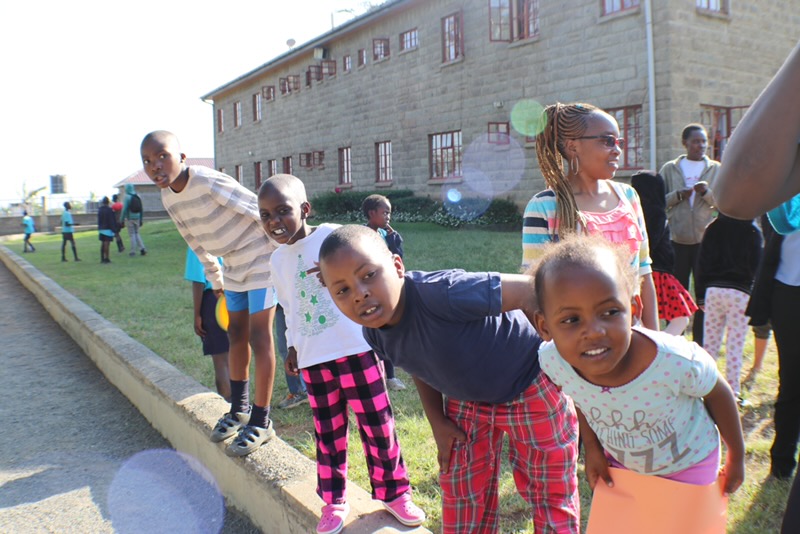 Our memorable and dichotomous day began on the winding mountain road up to Eburru, a remote town perched above Kenya's Great Rift Valley. Potholes and dust, ruts and rocks, and the occasional darting wild animal made driving seem more like an arcade game. My Land Cruiser lurched and roared, swerving around obstacles and bouncing its passengers like popcorn in a pan. Despite that, happy chatter filtered forward from the back. Our son Will had arrived home in Kenya just 3 days before, fresh from an internship with the Hudson Institute in Washington, D.C. Naomi's Village administrator Veronica and boys' teen house parent Patrick had also joined us, adding to the fun. They were all catching up after a year apart.
Yet uncertainty dampened our mood, mixed with a tinge of heaviness and fear. We felt uneasy about what was coming, as when distant rumbles sometimes portend a gathering storm.
We were headed to two of our boys' grandmother's home to visit, unsure of how we'd be received. The younger of the two had been relocated there in June because of some unhealthy behavior dynamics between him and some other Naomi's Village children. His older brother, now 18, left in anger and hurt a week after his brother. The whole matter had been heartbreaking, because these two had been living at Naomi's Village since 2011. Our family seemed incomplete with them gone. We were still trying to pick up the pieces and ensure that all our beloved children were being cared for properly. It felt at times like sifting through the aftermath of a sudden accident, trying to salvage what had been shattered.
After miles of climbing and a few missed turns, we finally located the boys' rural family homestead, a cluster of modestly built wood and metal houses set in the verdant hills near Eburru's iconic peak. Sadly, we discovered the older boy had absconded the day before. The younger one and his relatives were more receptive than expected. We hugged the 16-year-old boy, greeted the others, then sat and took turns sharing our news. He had been doing chores, herding livestock, and helping harvest his family's crops. Humorously, he casually mentioned toting a large machete around to defend himself against lions and cheetahs in the surrounding forest. This typified our young man, who had always been strong and unbowed in the face of danger. We chuckled, imagining lions would be no match for him.
His older brother, however, had been taking actions that indicated he was running away from his issues and reacting out of fear and pain. After talking with his family, Patrick learned that he had been getting some unwise counsel from a disgruntled former NV employee and his wife, who had even come there recently to visit.
Over a hearty bowl of rice and potatoes and a hot cup of chai, we encouraged the younger boy with the news that we were considering building some housing for him closer to NV so that he could come back to school soon. His countenance brightened even further at hearing this. We also passed off some new athletic shoes for him and his brother, gifts from some dear friends in Wilmington, NC. Rebuilding trust with him after the tough decision we had to make will be like this – one crucial stone at a time, laid in love.
After promising to return in a week and leaving a phone number for the older boy to call us, we said our goodbyes. We left in a hurry, because we had a second major purpose to fulfill by day's end.
Reversing course, I dropped the nose of the Toyota hardtop downhill, reaching almost twice the speed at which we had ascended. Navigating consisted of mostly controlling its momentum on turns and harnessing gravity's power on straightaways. Julie held on for dear life and lobbed her usual warnings, but they went hopelessly unheeded. I had a glimmer in my heart's eye for what lay ahead. Less than an hour later, I practically skidded the truck sideways into the dirt lot outside the Safe House, a festively painted transition home for abandoned children in central Naivasha.
Everyone piled out and the fun began. Violet Najuma (meaning "flower" and "abounding in joy"), a pinch sweet, undersized 2-year old came first. A team of housemothers and our social worker Peris had already arrived, beating us to her. She got plenty of kisses and passing around, despite her sleepiness. We heard how she had been abandoned near Mount Suswa, and was battling tuberculosis. Having been on anti-TB meds for 2 months already, she was not contagious.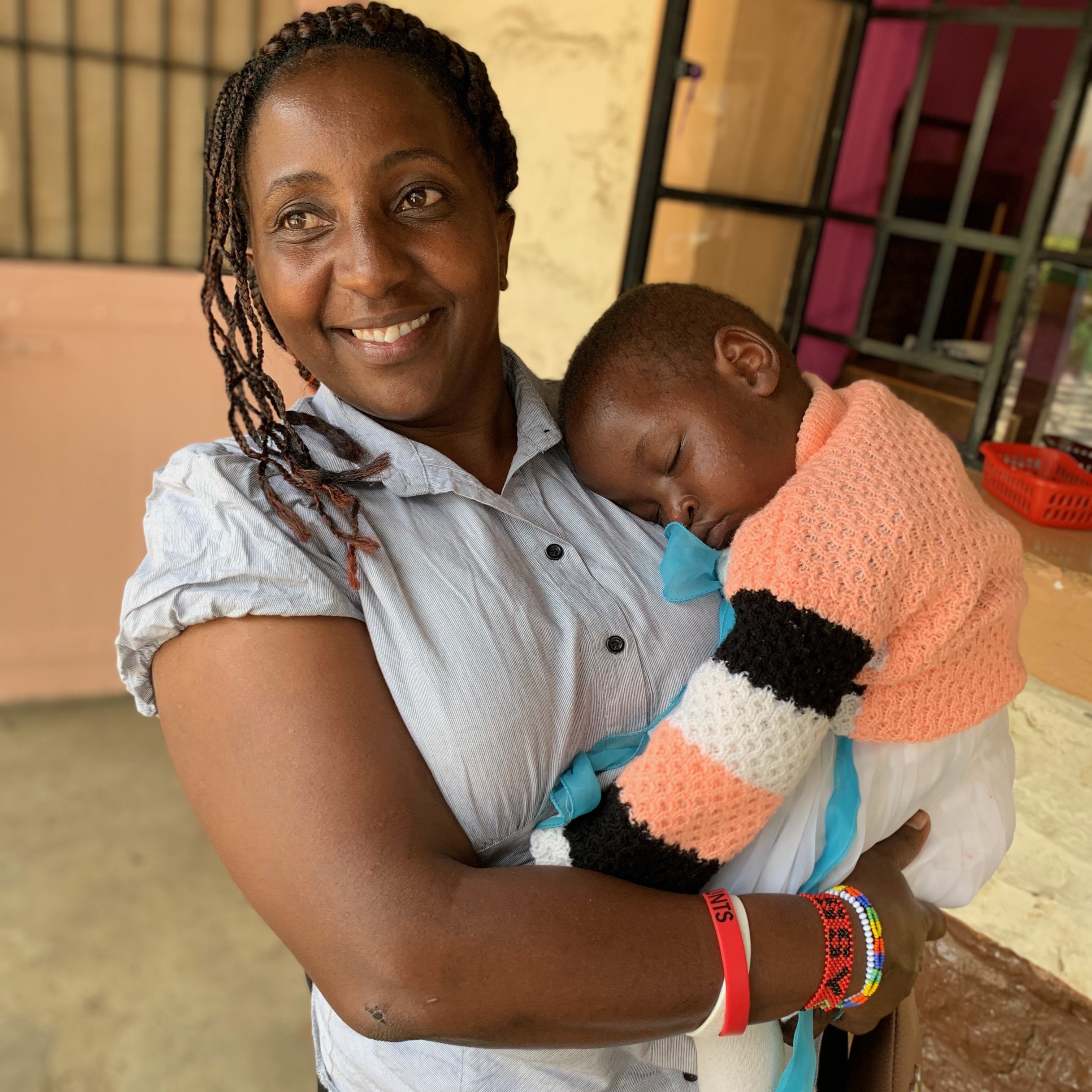 Kim Ramsey had sent us a photo the night before of a 3-year-old girl named Stella (meaning "star"), left by her aunt at the Safe House 6 months back. We were told that Stella's mentally incapacitated mother kept dropping her off at her sister's, then returning later to reclaim her for short periods. After dealing with this disruptive pattern for almost 3 years, Stella's aunt finally brought her to the Safe House, hoping that a more stable home could be found.
After inquiring, not only did we get to meet and spend time with Stella, but we were offered the opportunity to take her home to Naomi's Village too. Nobody batted an eye about saying yes after spending a minute with her, marveling at her sparkling eyes, soft features, and tender personality. Whoever characterized love as something you fall into had it dead right.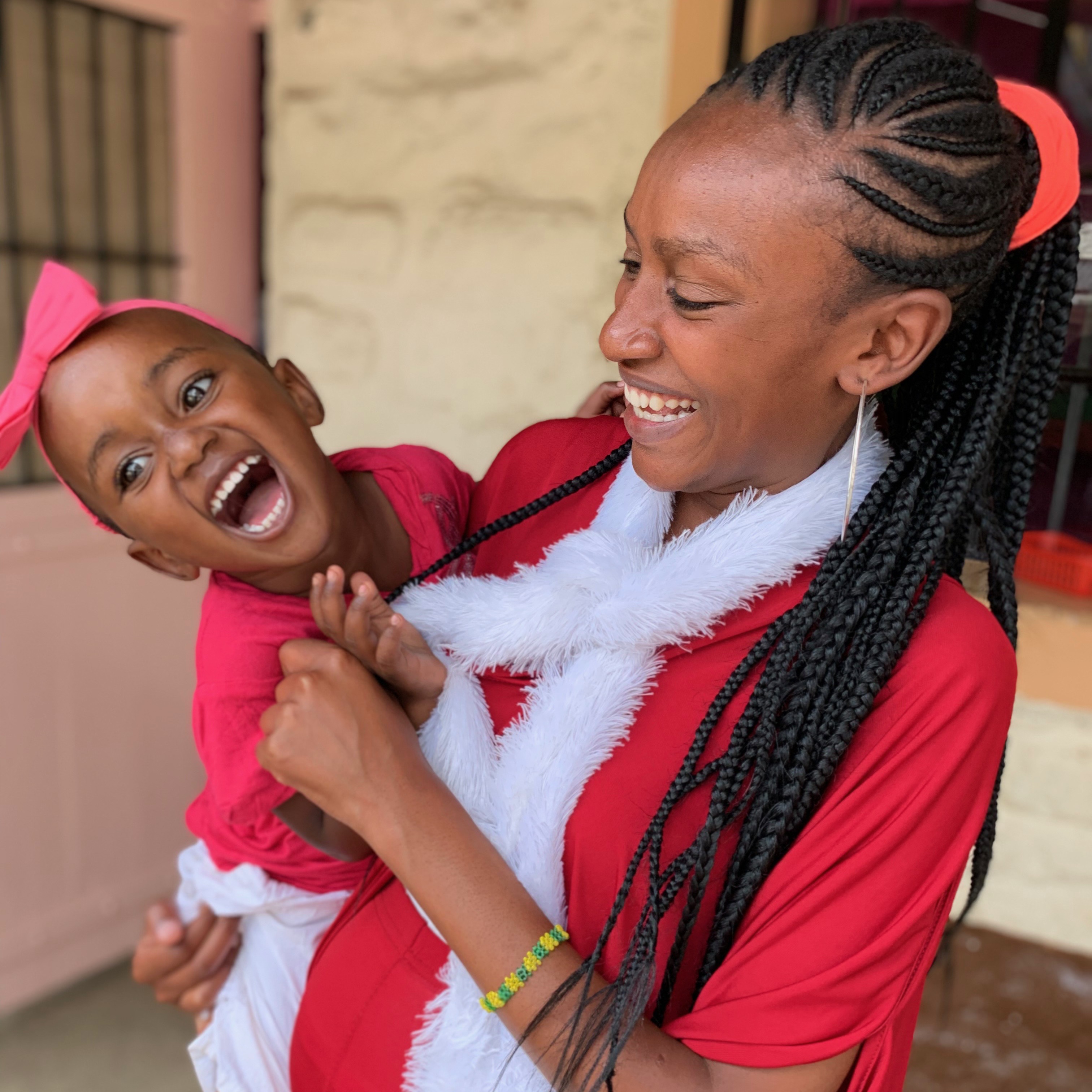 As we stood there marveling at this blessing, a caregiver walked by carrying a sad faced baby boy with a big chubby head. As a chorus of "awwww's" filled the courtyard, we began to murmur the same questions simultaneously. "How old is he?" "What is his story?" "Do we have enough cribs in the baby room?"
We were informed that his name was Leon Taji (meaning "Lion" and "Crown"). Leon was 18 months old and had been abandoned by both his mother and father in a nearby rental apartment. The landlord found him alone and crying in an empty room, with no clues as to the whereabouts of either parent. After a month of fruitless attempts to reach both parents' cell phones, Leon had been officially declared an orphan.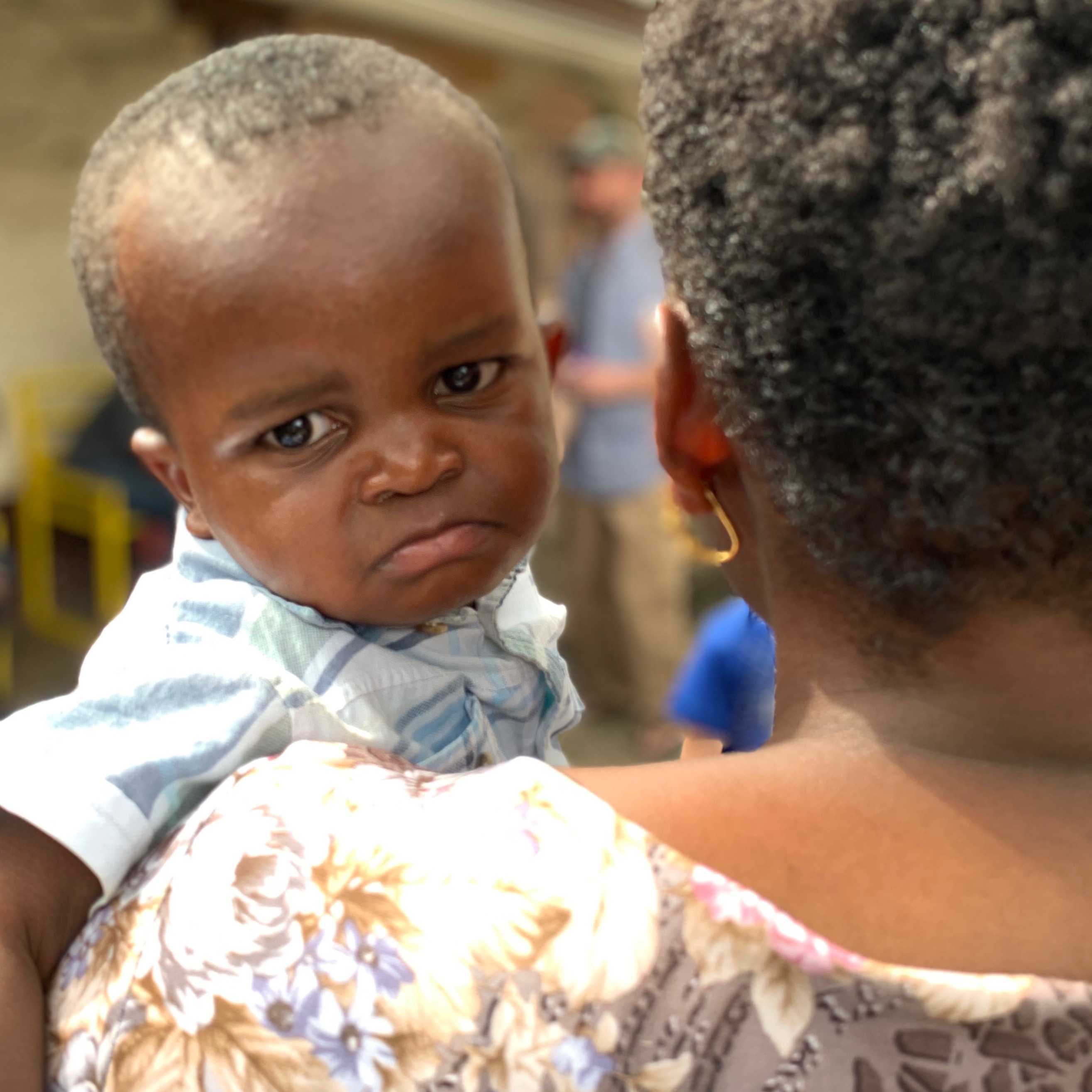 I know right then that God spoke to me, because the day's date suddenly entered my mind – August 8. Taking all three children home that day meant we would have 88 kids living at Naomi's Village. God isn't random, and the Bible contains numerous examples of Him giving incredibly specific instructions to His children. But I rarely get to understand His will quite so clearly. When I do, obedience follows with much more confidence and joy. Secondary confirmation came from the fact that the Bedwell family from Grace Community had been praying for months for a baby to arrive during their trip. All three Bedwells were standing there in that courtyard at the Safe House as God fulfilled their prayers in triplicate – a baby for each Bedwell!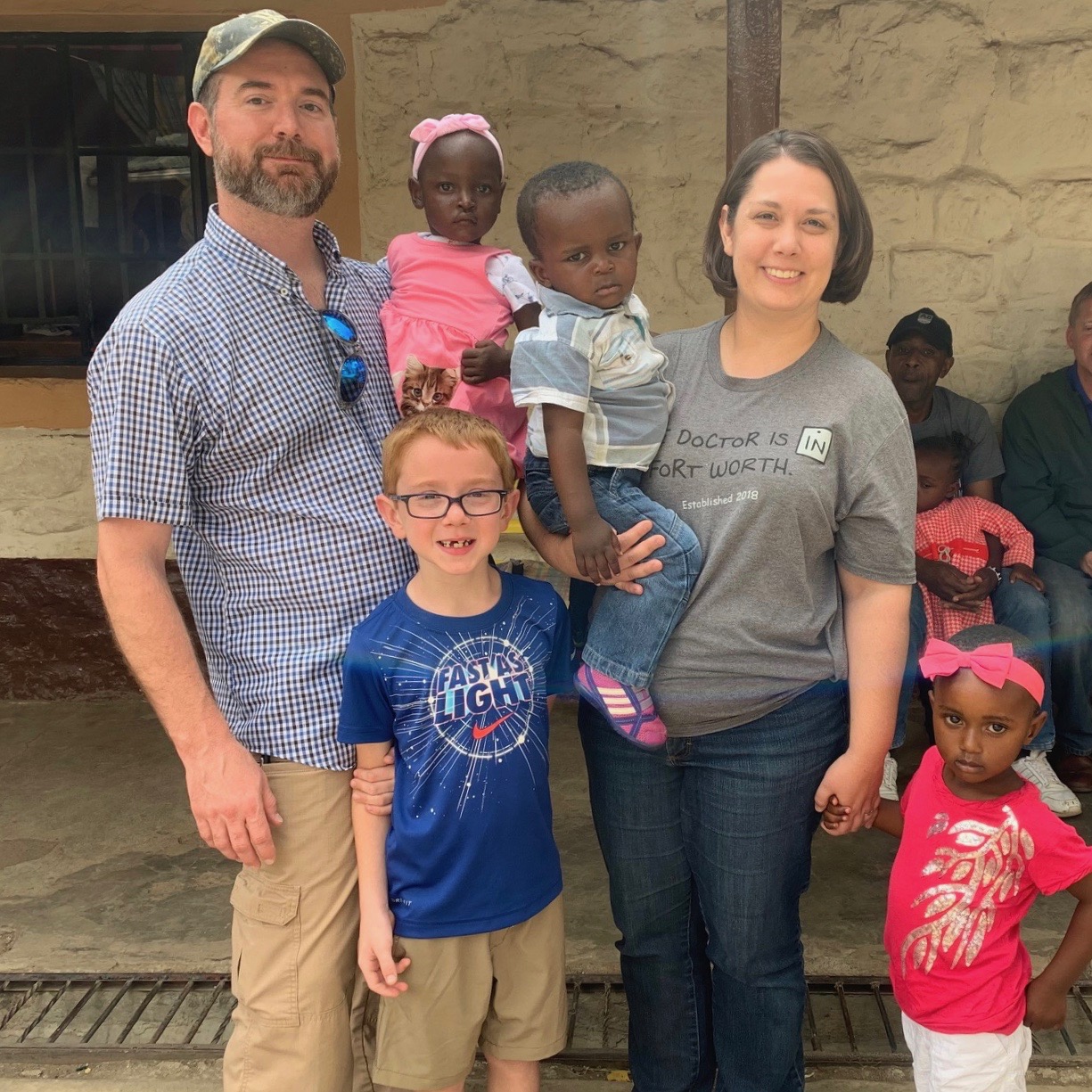 Passing these simple little nudges from God on to the rest only validated their collective desires. Everyone wanted Leon Taji with a holy kind of ache that didn't need but a whiff of confirmation to fan it into action. After that the excitement became even more palpable, because we all knew the surprise the other 85 were in for. They had been preparing fervently for Violet Najuma all afternoon, and we were about to roll in with triple the blessing.
However, once again the reality of this perfectly beautiful and terribly violent world came crisply into focus again, catching us all by surprise. In retrospect, we should have expected a reminder that this isn't Heaven and the work of love will never be enough to shed the undercurrent of pain and death here on Earth.
She came wandering up, all of 3 years old, broken. Her mother had only departed from a short visit a few hours ago, and her face told us she had been hurt deeply. She wore a vibrant red dress and her sad frown did a poor job of hiding her innocent beauty. Jane, the administrator, recounted her story, filling our eyes with bitter, even angry tears. We heard that the little girl could never safely return home to her family again after what had happened. A court case loomed, limiting her release from the Safe House for the meantime. We hugged her, held her, and gave her some candy. Nothing we did melted that pain mask she wore.
As we filed out with our 3 new children a half hour later, she began to wail. Jane said that her tears were over seeing her friend Stella leaving. All of us vowed to come back for her, to take her hand and her heart, to make her life and ours one. Scanning the fields flanking the Children's Department Office, the Judicial Law Courts, and the Safe House, I remarked that this section of Naivasha always reminded me of the word "bittersweet". Several of our babies had been abandoned within a mile of this lot over the last 6 years. Each one had been both a sad reminder of the fallen state of this planet and a joyous gift that alluded to a better Place beyond the pale. Daniel had been plucked near nightfall from the field across the road last year, his placenta still attached. His name means "justice", a reminder to press on with this work that is so near to God's heart. As St. Augustine once said, "Charity is no substitute for justice withheld."
The crowd of 15, new tots included, began celebrating early as we streaked across the floor of the Great Rift Valley on the Trans-African Highway back to Naomi's Village. Thirty minutes later our gates swung wide in welcome and the three little ones trickled down that long and scenic driveway for the first time. Under a serenade of horns, drums, and cheers, they fell into the arms of a loving new family, never to be unwanted again. We could not have been prepared for the eruption of joyful worship triggered by the arrival of three children when just one had been expected.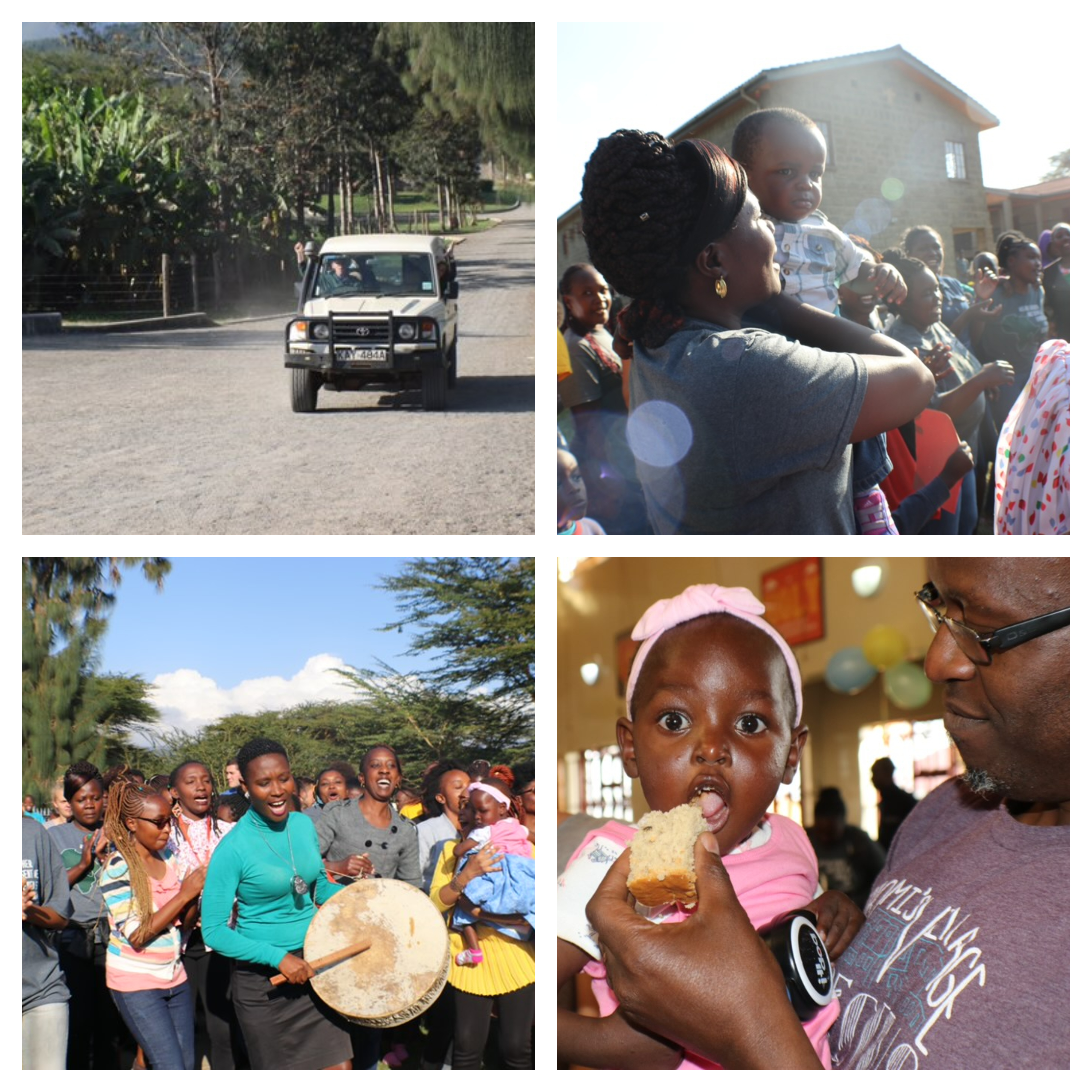 The party went on for over an hour – singing in Swahili and English, jumping, dancing, high fives, hugs, cake, prayers, and blessings spoken over the three. Standing in the din of the assembly hall, with all five of my senses set on happy, I looked up again at that cypress ceiling, imagining God in the heavens beyond. Was He speaking to us, drawing back the curtain slightly to give us a glimpse of our own arrival day in the Place He has prepared for us? I can say for sure that after 53 years of vibrant living – including visiting 30 countries on 5 continents – being in that room on homecoming days has no comparison.

Abounding in Joy, Star, and Lion now belong in our family, each made in the image of God. The meaning of each child's name reminds us of the Savior and His coming for them and for us. God loves them, loves me, and loves you. Despite our hurts and our failures, he isn't finished yet. He is a God who chases the lost, changes sad tales to fairy tales, and allows both joy and sorrow to weave a brilliant fabric all around us. We might wish it otherwise, but He hasn't ordained another plan. The Gospel is about redeeming what is broken, and we all qualify. Until every hill is climbed (or descended), the last child comes home, or we take in our final breath, there will be love to give and work to do. Let us not be discouraged.
Oh, and little girl. We are coming for you too, very soon. Count on it, sweetheart.
By Bob Mendonsa
-By Steve Sisler, Director Maendeleo Initiative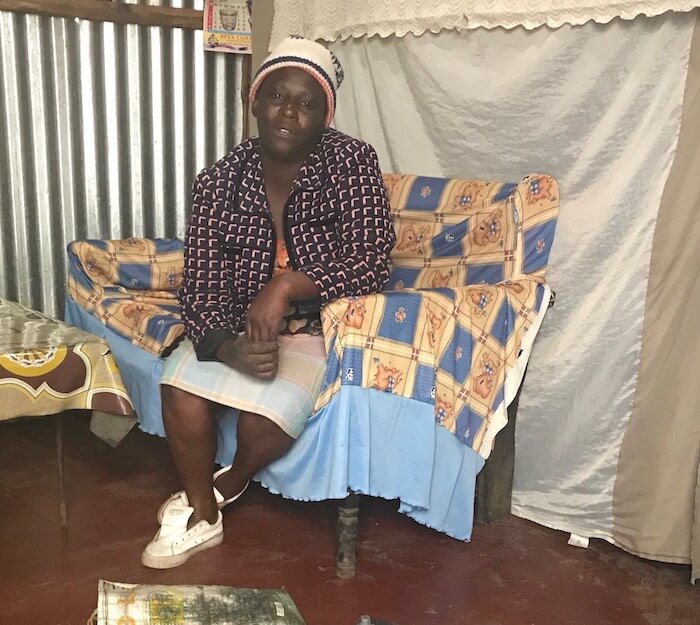 What is courage? Sometimes a word just can't capture the essence of the reality. Courage is the choice and willingness to confront emotional agony, pain, danger, uncertainty, or intimidation.
I'm sharing a story with you of what I consider true courage. I have never needed to be, and hopefully will never need to be as truly brave as Mama Kahato.
Life in rural Kenya is full of difficulties, but there may not be anything more intimidating than life here as a woman with little to no education. Prevailing culture makes having a husband necessary for survival because you have few opportunities or rights of your own, and often, little to no help from your birth family after you become an adult. So what happens when this very life support turns against you? When it turns against your child? Circumstances require a choice: stay and be beaten, abused, humiliated and demeaned, or throw yourself into the emptiness of uncertainty, knowing only that failure could literally mean death.
This is where we found Mama Kahato – taking a courageous step away from domestic abuse and her cultural "safety net". She left knowing that with her fourth grade education, no family to rely on, and no marketable skills, she was stepping off into a void without anyone to catch her fall. Mama Kahato and her son traveled to Longonot, a small, run-down truck stop town along the 500-mile stretch of highway from the coast of Kenya into Uganda.
When our social workers found her, she was struggling to earn the few shillings needed for their daily bread. Relying on the occasional manual labor job, usually working a field, she had managed to rent a small shack for $10 a month. But even then, she refused to give up hope.
Her son, Samuel Kahato, was admitted into Cornerstone Preparatory Academy. This meant the assurance of both an education through high school, and a holistic support system to allow Samuel to blossom into his full potential. Suddenly breakfast, lunch, and two snacks a day filled Samuel's shrunken belly 6 days a week. Laughter with his fellow classmates filled his days as he embraced this new environment, learning character traits that will shape his future self.
Through Cornerstone's community development project, Mama Kahato was given the opportunity to secure a better safety net for her family. She joined Cornerstone's local table banking group, contributing $1 a week from her manual labor jobs. These groups, guided by Cornerstone's Maendeleo team, create a savings and loan system in which contributing members build a group capital that can be loaned to the same members for various purposes. Mama Kahato applied for, and received, a $50 loan to start a business. Startup capital in hand, she purchased large sacks and a hanging scale with a hook. She ventured out on foot to knock on doors in Longonot and the surrounding villages. At every stop, she would inquire if the house had any scrap metal she could purchase for 5 cents/pound. No amount of metal was too small, and eventually, as the days and miles passed, one sack would fill, and then another. Carrying several full sacks of metal, she boarded public transportation on the crowded, hour-long trip to Nairobi. Her destination? A scrap metal market where her scrap metal would be purchased for 13 cents/pound.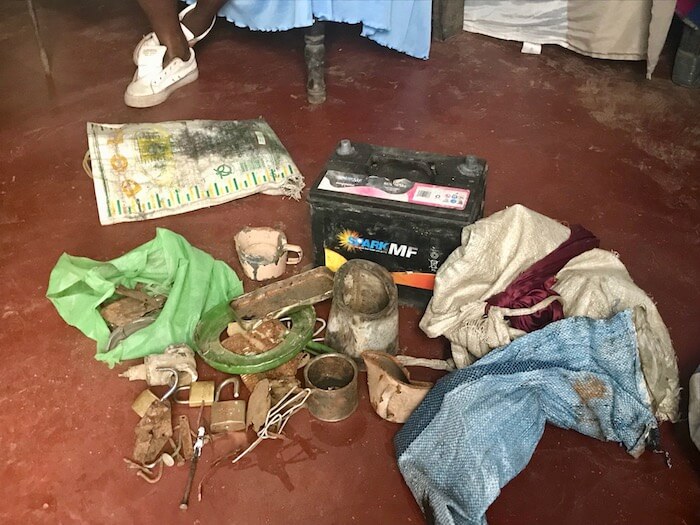 Now, because of her perseverance and true courage, Mama Kahato earns $70 to $100 each month. She is excited about growing her business and is already looking into renting storage space and sharing the expense of hiring a pickup truck for transporting scrap metal to Nairobi. She is creating a sustainable future and watching her dreams for her family become a reality.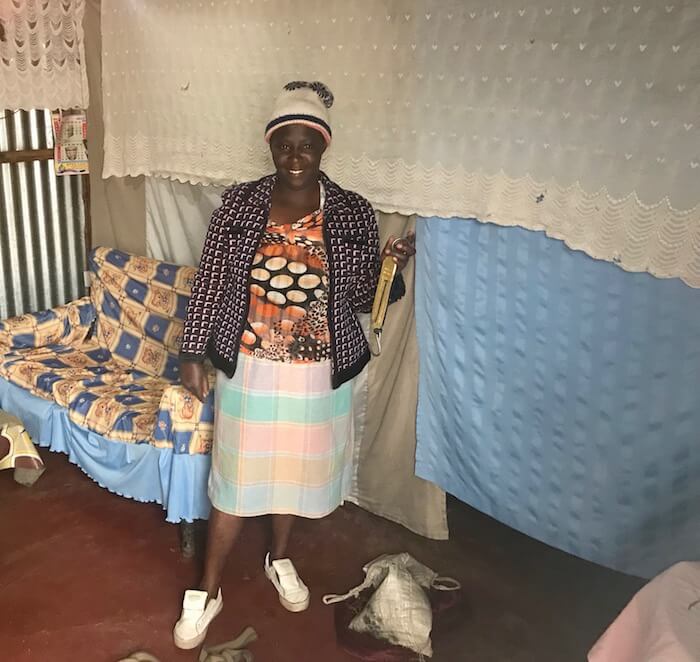 For more information about Maendeleo and how you can be involved with our community development projects, click here or contact Steve Sisler at Ssisler@naomisvillage.org.
We may never know her reason for leaving. Did her mother run in fear, in desperation, or simply out of selfishness? In the end, it doesn't matter anymore.
Found crying, hungry, and alone in a vacant rental in Naivasha, the 6-week-old beauty needed a home and a name. Staff at the local hospital in town fed her and held her regularly for 10 days and had begun to see her as one of their own, according to Stacy, the young Kenyan nurse on duty when we arrived. Seeing her for the first time, we understood what all the fuss was about.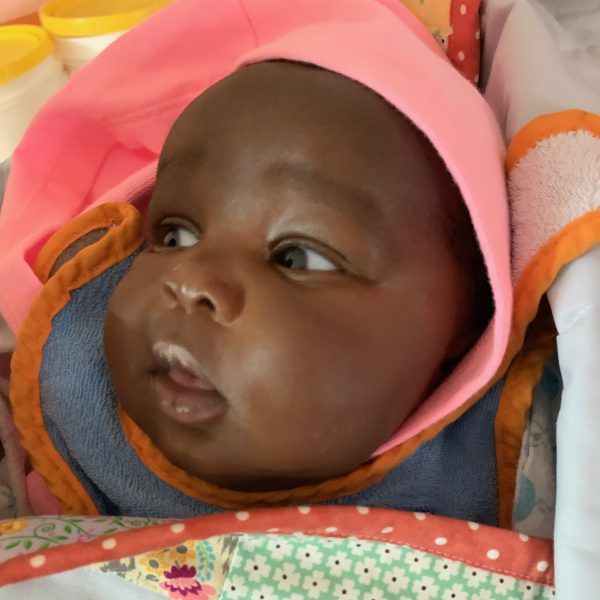 Eyes bright and purposeful, cheeks full of chub, and soft downy hair crowning a forehead made of silk…she had a look that makes one gasp at first sight. We were in love. Her name came easily – Trinity Joy Dhahabu, the last of the monikers meaning "gold".
Treasures may be built, bought, received, or given. But the best ones are those we stumble upon unexpectedly, and joyfully claim before someone else does first. We simply couldn't understand how such a valuable and matchless prize had been surrendered for the taking. At times like these, it feels like the best kind of grace to be sitting on a well-prepared baby room and a loving cadre of trained baby moms, like holding a handful of aces at a poker table.
She really was going home to Naomi's Village with us! Michael and Mary Bennett Pickens had come along for the ride, as had a few of our staff. Notably, so had Evelyn Mbugua, our dear friend and NV Board member. But most importantly, 16-year-old Millicent rode along, the first child to ever attend a baby pick up. Seeing Joy's rescue through their varied perspectives made the day all the more special.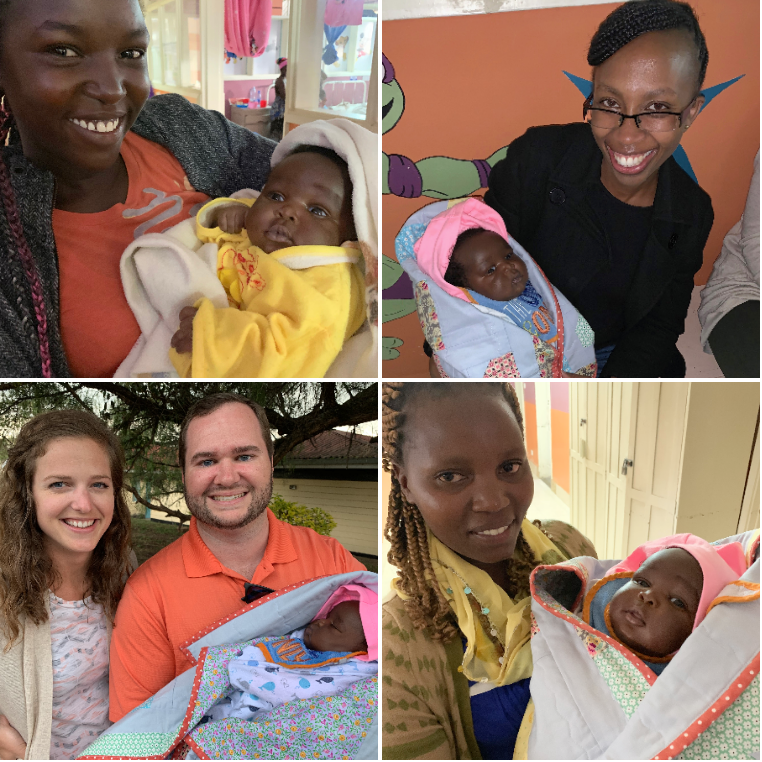 Driving down the driveway at the end of the day, horn blaring and crowd shouting, I couldn't help but be overwhelmed with the glory of it all. God loves us and He loves the unwanted and the lost. The manifestations of His glory in the colorful garden, the acacia trees, the inexplicably beautiful buildings, and the radiant faces of dozens of redeemed children made me new inside again.
The doors opened for the Lion King baby presentation moment, and the din of the loving crowd swept her in, saying in every one of the five senses, "We love you! Welcome to Naomi's Village, sweet baby Joy! It's going to be OK!"
And a few hours later, she settled into a warm crib and slept the first of many nights with her six new friends in a place beyond the pale of even our wildest imagination, a place God invented.
Grace is messy and it is hard to swallow sometimes, but in the end we must accept that it is good. Our Savior willingly climbed onto a cross and suffered when we ought to have, so that we could go free. And babies sometimes are left adrift and alone, that they may be discovered and treasured by others, setting them on a course to things far better in the years to come. I don't like that Joy's mom left her, because I love Joy already and I hate that it hurts her. But I accept that God's grace is better than all my fist shaking and frustration, all my questions that lack His perspective, and all my humanity. I hold her and accept that He has given her to us to love as a treasure and a joy, and I settle into the blessing once again.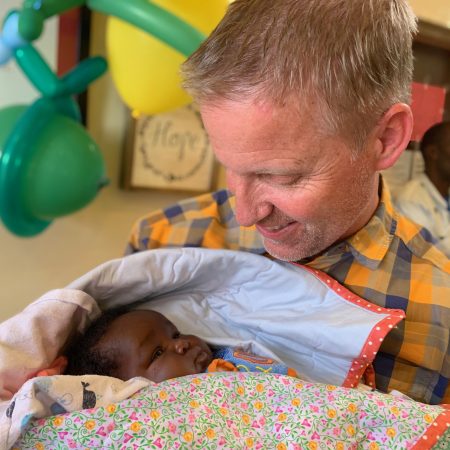 "The kingdom of heaven is like treasure hidden in a field. When a man found it, he hid it again, and then in his joy went and sold all he had and bought that field." – Matthew 13:44
By Bob Mendonsa
How great is the love the Father has lavished on us, that we should be called children of God! – 1 John 3:1a
After 10 weeks away from them, it felt like taking a bath in grace just to see our Naomi's Village kids for a few minutes on our laptop screen. The genuine fervor and innocence of their childlike love always takes me by surprise. Perhaps their love is special, partly because it has not been checked by the cynicism of a chaotic world and tainted by the hesitancy born of unmet hopes. But that love has also been cultivated as a well-watered seed should, soaking in all the right nutrients of the rich soil surrounding it, and bearing fruit and flowers that testify to its health. As Audrey Assad said, "Love planted deeply becomes what it ought to be."
Some credit our world-class facilities and intentionally holistic programs and the loving Kenyans who care for our children every day. But the kids' healthy love is also a reflection of the hundreds of child sponsors whose love-in-action funds the total care they need to flourish.
Our sweet kids were 8,800 miles away, yet we tried to hug them and feel their warm skin as we exclaimed aloud, saying every name with heartfelt joy. Our dear friend Allison Fassinger and the loving housemoms helped usher them into a small room in manageable numbers until we had shared time with everyone but the babies. Eighty exuberant children took turns telling us about their new bicycles, recent swimming excursions, infant Mabel and the other 5 babies, a pet cat named Precious who now lives in the girls' teen house, and countless other anecdotes. Each individual kid responded with genuine warmth and pride to hear us speak their name, answered our questions, and then allowed the rest to receive their attention and time too. And every one of them extended affection to us in some way – with loving words, attempts to touch us through the screen, blown kisses, mimicked hugs, and promises to pray for us. Several asked about Emily and Will, who they consider as their older siblings for life.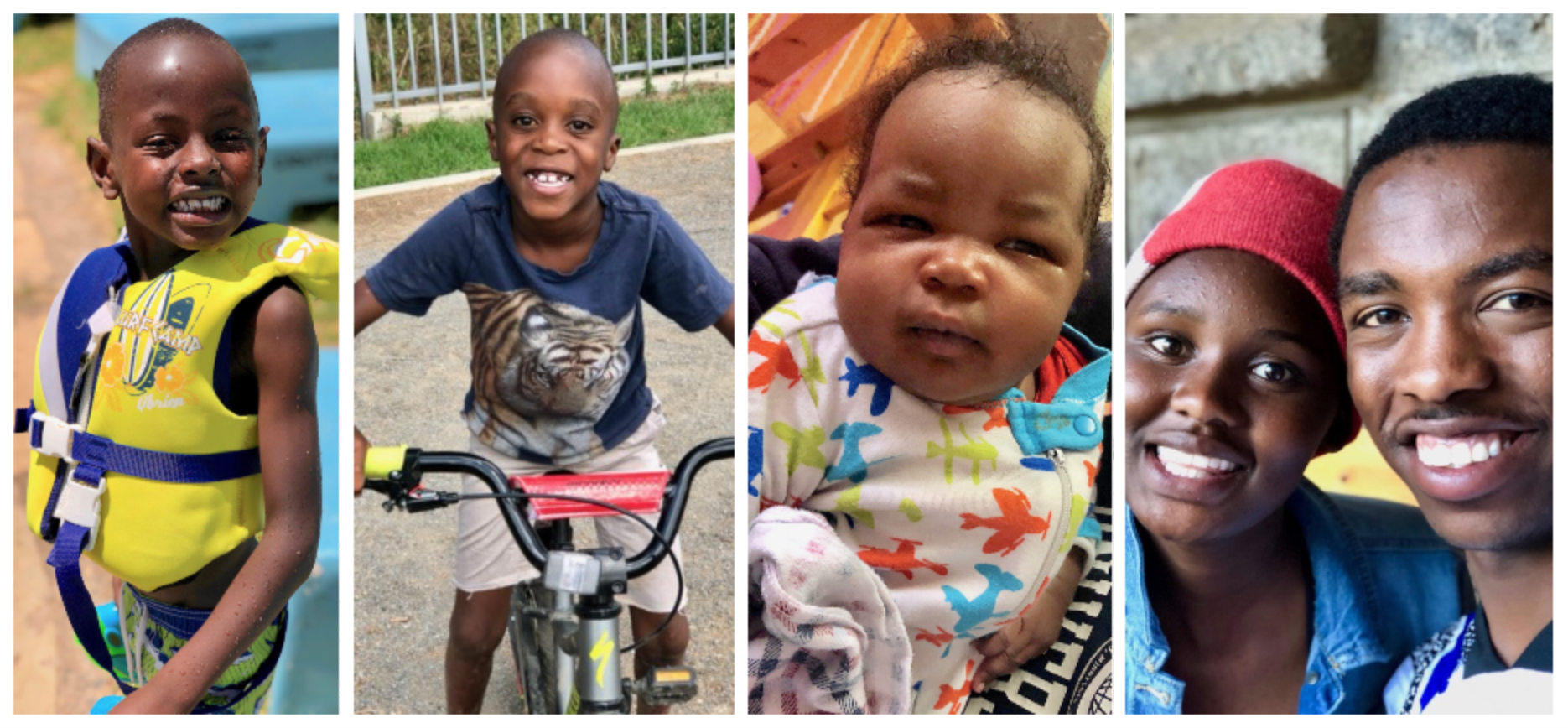 To love another and receive love back is to find a bit of something glorious that lives in the center of God's being, that which constitutes His heart. God is love, according to His word, but we can also know that wonderful love experientially. Although it might seem intuitive to lean into this truth and spend our lives on love, we often waste years and focus precious attention on filling barns and chasing shadows. In Ephesians 5:2, we are exhorted to, "Follow God's example, therefore, as dearly loved children and walk in the way of love, just as Christ loved us and gave himself up for us as a fragrant offering and sacrifice to God."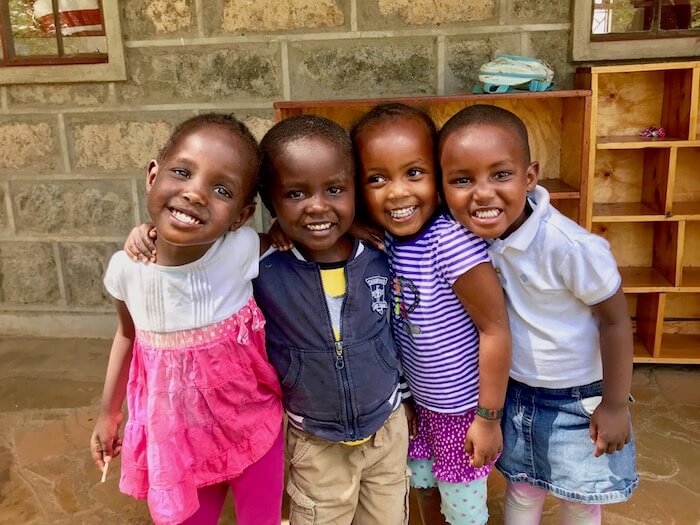 Dearly loved earthly children, like the ones at Naomi's Village, seem to follow this path almost naturally. Sure, they still have struggles with themselves and others at times. But perhaps the most refreshing surprise of many in our 8 years as a children's home has been watching these children from broken backgrounds become wells of love, the kind that is infectious, life changing, and capable of impacting the world. We never could have expected to witness the shattered pieces of their lives reassemble into whole vessels, uniquely beautiful and filled with God's love. Our beloved kids, from Joshua to Mabel, have gone from adrift to deeply and furiously wanted, from downcast to joyful, and ultimately from recipients to givers of love.
Julie and I have been here in the US for most of the past 6 months raising awareness and sponsors for Naomi's Village, Cornerstone, and LEAP Preschool. We will have been in 16 states by the time we go back to Kenya for a few weeks in May to see the objects of our labor and affection – over 290 children in all 3 programs, not to mention 125 Kenyan staff we count as friends. They have become our extended family, a wellspring of vital love that spurs us on to finish what God has called us to do for them and for those yet to come.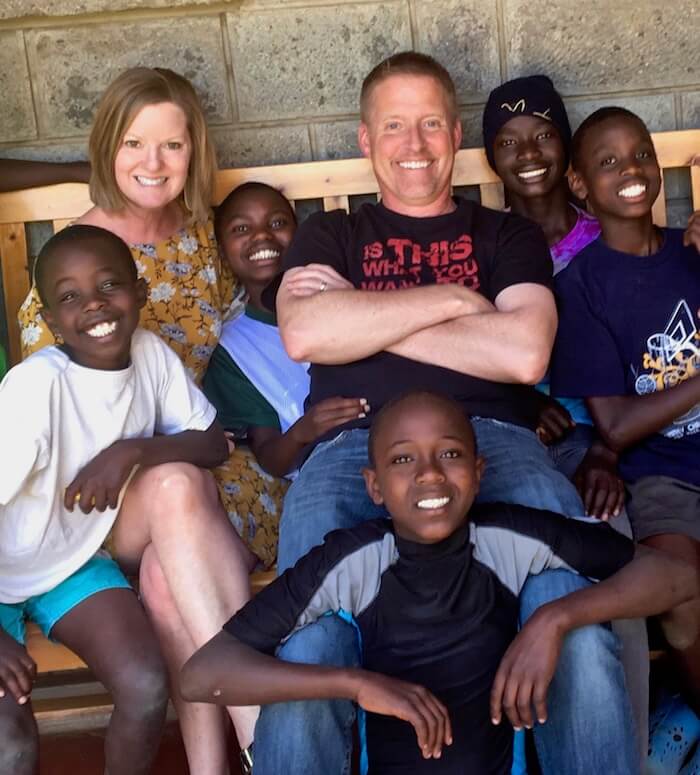 Someday the Great Rift Valley will shed its mantle of generational poverty and leave it behind on the trash heap of history. When that day comes, the arbiters of that phenomenal accomplishment will be Kenyans. They will have been catalyzed and empowered by the love of God and His people, given the resources they needed, and provided with the traction that hope always provides.
If you haven't yet visited us in Kenya and you are able, come soon. God's handiwork cannot be overlooked, whether it is seen in the sunsets, the wildlife, or the joy of a beautiful child. We have plenty of room in our guesthouse, as long as you don't try to book during the ever-competitive summer months. You can sit in a rocker and hold Mabel and drink in her tender smile. Or perhaps you'd rather help teach a class, serve in the community, or help with construction of our middle and high school blocks at Cornerstone. Maybe like me, you will find yourself choking back tears as the sound of children's voices fill the chapel during Sunday morning worship. God only knows.
Along with whatever else you plan to pack, bring plenty of love with you. But expect to go home with more in your account than you came with, and maybe a new outlook on the way things ought to be.
By Bob Mendonsa
To sponsor a child, click here.
Each of us is born with 100 billion relatively unconnected brain cells, all that we will ever possess. These separate during fetal development into different domains in the brain, areas that later specialize for receiving inputs from our 5 senses, controlling automatic functions like our heartbeat and breathing, processing emotions, formulating speech, and a host of other critical functions. By adulthood the average human brain has wired itself, with 100 billion living neurons connecting through a quadrillion chemical synapses. This entire complex process is tied to a carefully scripted DNA code found at the microcellular level, too small for an eye to see. That script, a 20th century discovery, only further betrays the identity of a Writer, as does the glorious complexity of His ongoing work inside every hardened skull.
I have often found divinity in the simple exercise of slowing down to marvel, to wonder at how it all comes together in magical experiences that make life more than Darwin's hollow arguments. And when the worship center in my cerebrum lights up in vivid yellow, His loving thoughts endow mine once again. Perhaps that is the physiological expression of salvation, a thing just below the surface, ready to well up at any time in tears and longing and song.
Hearing his name at the same instant that it escaped my mouth triggered a mental connection that aroused pangs of dormant grief. I knew immediately to look across the table at her, expecting she would mirror my emotions. Fathers share inexplicable emotional bonds with their children. Synapses connect over space and time, neurochemicals mingling with each other despite the laws of science. Sure enough, Emily's face was twisted by a bittersweet expression, her skin flushed red and eyes brimming with tears.
In February 2018, Sam Baisden, my dear nephew and Emily's cousin, died suddenly from the catastrophic effects of an accidental gunshot injury at age 25 in Kingwood, TX. When my sister Leslie came to my med school graduation in Galveston in June 1992, she was so excited that he was growing inside her. Sam came into the world the day after Christmas that same year, the first grandchild on my side of the family. He grew up strong and rambunctious, an athlete with a soft heart. Sam ran track and starred in baseball at Kingwood High School. When Hurricane Harvey devastated his community, he and his father Barry spent weeks together as a two man volunteer team doing demolition and restoration work for friends and neighbors in Kingwood. Sam bought his own home in late 2017, only a few miles from his parents.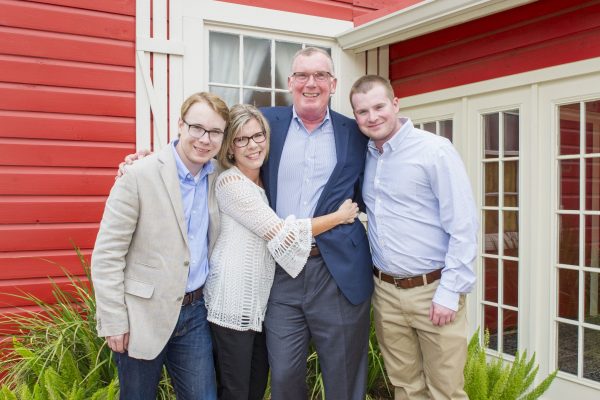 Just a few months later, he was gone forever. We didn't get to tell him goodbye. The void Sam left has not been filled, and may remain as an ache for years to come. Pictures of him and the things he once possessed do him no justice. We want to be with him again, but cannot. He has been taken away for now, his death a jarring reminder of life's impermanence.
I, like the cheerful Stanford team members and a collection of Naomi's Village and Cornerstone staff, had been listening to Julie deliver some wonderful news over lunch at Ubuntu Café in Maai Mahiu, Kenya. She recounted how Susan Brown, a Christian Union leader on this Stanford team, prayed for a baby to come to Naomi's Village long before her trip. Then, just that morning, Julie had heard from social worker Flo about an abandoned 15-month-old baby boy named Samuel at the Safe House in Naivasha. We were asked to consider taking him at Naomi's Village, and our leadership team agreed to do so.
As she mentioned his name, Julie added that she felt Samuel didn't sound right for a baby, but we already had a toddler named Sammy. The obvious next choice then popped into my head and out of my mouth – "Sam".
And that is when I knew God had done this. Choking back my emotions, I stepped away and called Leslie, waking her up at 5:30 a.m. in Texas to tell her the news. God had brought us a little Sam, by His grace, as a blessing. Our loving Father, always intentional and perfect, does not leave us alone and hopeless in our brokenness. He intended for us to know through this act that life was not over, though mourning may last for a time.
The rest is mere icing on a joy cake, the usual stuff of Naomi's Village fairy tales. Sam turned out to be a chunky, warm, lovable boy who fit right into our family. In all the days since Jan 27, 2011 when the dream began, I can scarcely remember a happier one than his arrival day, when our 84 kids and a dancing crowd of adults paraded Sam across the lawn and into the great room. He seemed to love every minute of the revelry, showing no signs at all of stranger anxiety, despite his age.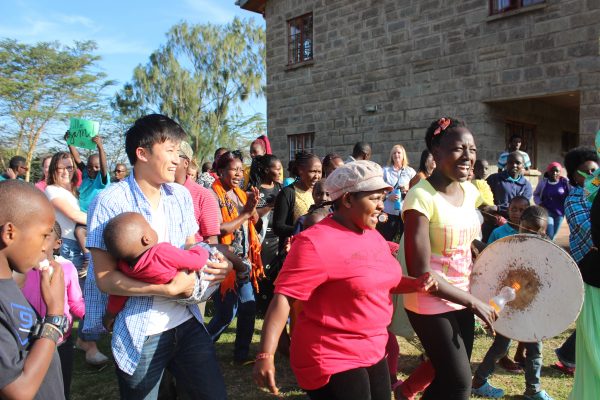 Yet beneath all that newfound joy was an undercurrent of melancholy, a reminder that life's losses can never fully be swallowed up by these triumphs. I tried hard to hold them back, but tears still fell for Sam Baisden, a boy I missed every bit as much as the day I last hugged him in November 2017.
Standing there in a room swirling with frenzied excitement and colors, I realized anew that our best moments have a bittersweet hem. Life is a brilliant and messy ride, not unlike the best roller coaster ever, but with unexpected and terrifying explosions along the way.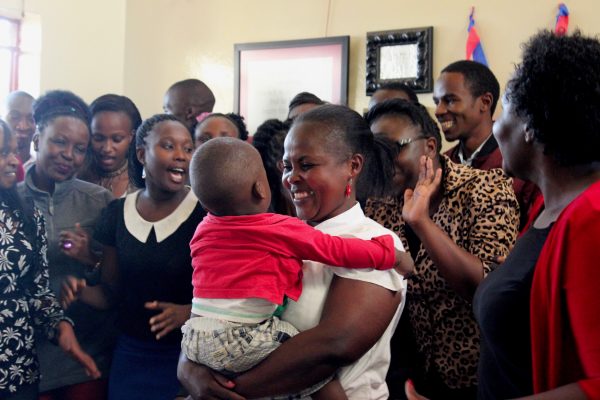 Finding Sam's cherubic face in a sea of others, I saw him for what he is, a gift of coming moments, days, weeks, marked by both joy and sadness – a gift of life and love and uncertainty…a gift of God.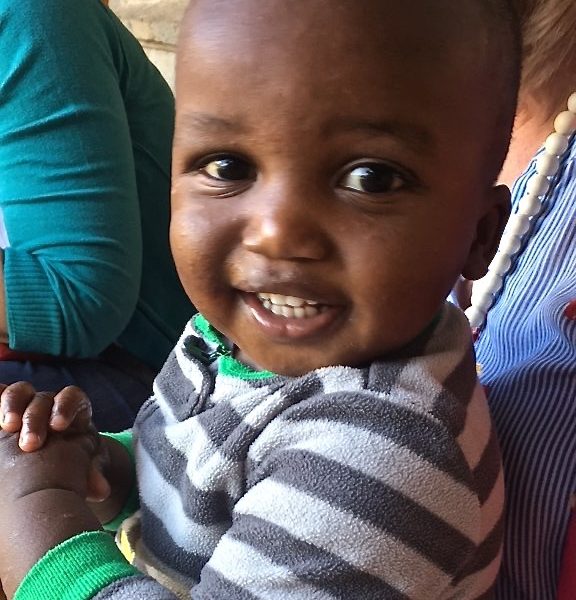 The Lord gives both death and life;
he brings some down to the grave but raises others up. – 1 Sam 2:6
For Samuel James Baisden
Dec 26, 1992 – Feb 25, 2018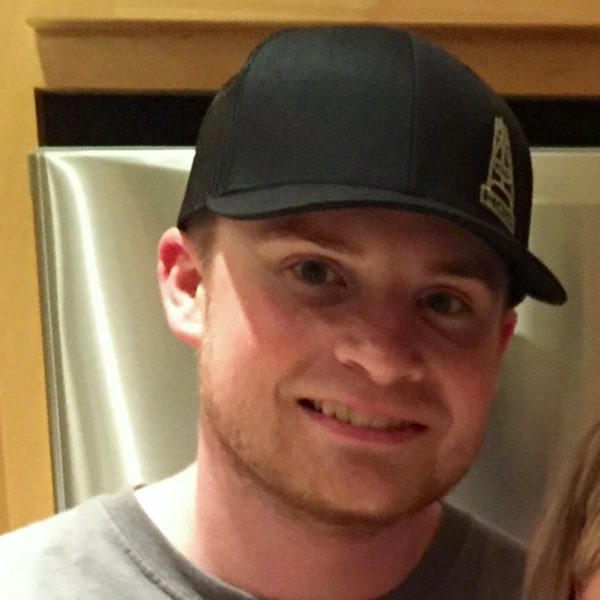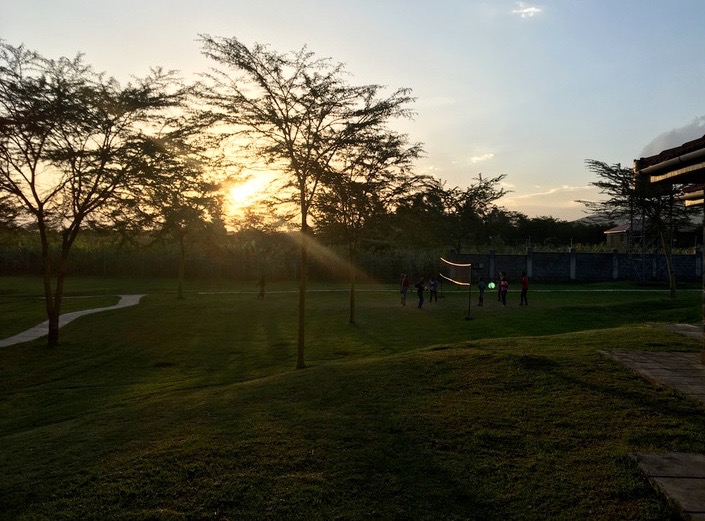 If anyone serves, they should do so with the strength God provides, so that in all things God may be praised through Jesus Christ.
1 Peter 4:11
The birds sent up a chorus of twittering, the only noise that broke the silence of the morning other than the sound of gravel crunching under my feet as I trekked up the walkway from the Naomi's Village guesthouse to the main house, where I would meet the Land Cruiser that would take me, Nurse Ann, and 15-year-old Joel to an eye surgery in Nairobi.
Joel and I have bonded over our shared love of art. Because of Joel's eye problems, he's prohibited from playing soccer with the other kids during free time because of the risks posed by rapidly flying projectiles of mud, elbows, and black-and-white soccer balls. So, instead, he and I spend time drawing. He has a "how to draw" book that teaches step-by-step methods for drawing pirate ships, monsters, animals, and we take turns pushing a sketchbook back and forth as we complete each consecutive step, finishing a clomping Frankenstein and a fire-spitting dragon together.
We also share a love of books. Joel tells me his favorite books are Tom Sawyer and Oliver Twist, which of course prompts me to recommend Huckleberry Finn and A Tale of Two Cities. He's reading the Harry Potter series for the first time and is starting the second book, laughing at Dobby's antics. He tells me he loves school.
Joel has been having serious problems with his left eye for years, to the point where he has to squint to see anything but blaring white light out of it. He had two surgeries before I came to Naomi's Village. On Tuesday, he had his third.
When Joel asked me after an evening of working through his 8th-grade math homework if I would come to the surgery with him, of course I said yes.
We bundled ourselves into the Land Cruiser and bumped and jostled and wove our way through the traffic-packed roads to the eye hospital, a blue and white box with sterile fluorescent lighting, and sat on one of the navy couches. Joel was matching his fingertips together, wringing his hands, cracking his knuckles. I asked him how he was feeling.
"Nervous."
The surgery itself only took thirty minutes, but we waited in the office for hours. When Joel came out, his eye was still affected by the localized anaesthesia the doctor used, but the consciousness of the pain soon to come already crumpled his features, as much as he tried to hide his fear. On the drive back, a bumpy "shortcut" through the back roads of Kijabe where we were tossed around like popcorn kernels in the backseat, I read aloud to him from Harry Potter and the Chamber of Secrets as the letters on the page shook and the light of the day waned. His eyes were closed and every so often a tear trickled uncontrollably from his left eye.
I have put off writing this blog post for a while, long enough to break my resolution to try to write once per week, because I don't know if I have anything profound to say yet about my time at Naomi's Village. It's not for lack of profound material: every day I am dazzled and my expectations are subverted and I am filled with laughter and tears. I am walking around each day with my eyes wide open, noticing as much as I can, talking to as many people as I can, hugging as many gap-toothed kiddos and ruffling as many heads of hair as I can, but sometimes it feels like the staggering volume of data my eyes and ears and taste buds and brain are receiving is too big to synthesize.
I am learning. I'm learning that it's okay to admit when you don't know something. I'm learning to greet everyone I pass and to spend time talking with the staff, who know so many stories and can offer an incredibly unique perspective. I'm learning what it feels like to be a cultural outsider, and I'm learning what a blessing it is when the insiders welcome you in despite you having nothing in particular to offer. I'm learning names—hundreds of them!—and faces and favorite foods and birthdays and who's good at which sport and who likes which movie. I'm learning Naomi's Village isn't perfect, that there is still so much work to do. I'm learning that there are problems I can't fix. I'm learning to be patient and show grace to both myself and others. I'm learning to watch and to listen.
Above all, I'm learning that any change I make here must be in the smallest of ways. Many days, I feel unequipped, underqualified, unnecessary—not only in the face of the overwhelming tragedy that makes up so many of these kids' stories, but also in the face of the joy and plenty here. What can I, a mzungu who only knows a handful of Kiswahili, can't dance, and loses all the points in volleyball actually contribute to this well-oiled machine that seems to run just fine without my help? Anyone could have ridden to the hospital with Joel. Anyone can sit in a waiting room. Maybe not just anyone could have made out the bouncing print of Harry Potter at twilight on rutted roads, but I hardly think my near-memorization of Rowling's canon shines out as an outstanding quality for effective service.
But I am the widow from Luke, coming with two meager pennies clinking in the emptiness of my purse, and dropping them into the collection jar. I'm here to give what I have, not what I wish I had. That's what I've been learning this past week and a half. I can't solve all the problems or revolutionize already well-working systems or fund all the initiatives. I can't even be the best friend of every kid.
But I can wake up each morning and pray for God's will to be made manifest in small ways. I can shake each auntie's hand and remember their names and ask them about their families. I can draw pictures for the little ones and read Bible stories during evening devotions and paint decorations. I can fail at volleyball and give everyone a good laugh. I can have patience with visitors and dig deep for the energy to answer the day's hundredth cry of "Auntie!" I can ask kids about their lives and care enough to remember the answers. I can help grade English compositions and encourage my fellow interns and dust off kids' knees after they trip on the playground. I can keep my eyes open, learning and empathizing and caring, even when the seeing is uncomfortable.
After all, that's why I'm here.
By Erika Depalatis – Naomi's Village Intern, Summer 2018; Rising Senior at Stanford University
"The true soldier fights not because he hates what is in front of him, but because he loves what is behind him." -G.K. Chesterton
We wage daily battles in the Great Rift Valley against two formidable barriers to lasting change – generational poverty and widespread corruption. While doing so, we are surrounded by a beloved group of babies, orphans, and impoverished community children who have been set apart as a growing army to carry out the main work of transforming Kenya one day. This fact bears remembering lest we waste energy "hating" those whose actions serve to obstruct our forward progress. After all, many in Kenya's current population of adults also came from backgrounds tainted by poverty and corruption. Peeking through the baby room window during another day of challenges, our hearts fill with love again for the objects of our labor. Losing is not an option.
In 2018, our army determined to fight hopelessness with the power of God's love grew larger. Over 100 Kenyans, 13 missionaries, and 2 U.S. staff now work in our ministries, infused with living hope and the resources you help provide. Together we symbolize His redemption to a struggling community, built on the confidence of a strong vision and buoyed by eight years of steady progress.
That community around us has noticed the impact of our love. True and lasting changes now stem from positive outlooks, right attitudes, and better choices in hundreds of nearby homes. Real resources are now available for families, like quality education, clean water, proper nutrition, solar lighting, table banking, social work and nursing programs, and community facilities to provide trainings for adults who never went to school. The Maendeleo Initiative and MTOTO Early Childhood Program we founded are helping to comprehensively develop the resources of parents, families, businesses, and the Rift Valley region.


At Naomi's Village, 85 kids live on one of the most beautiful children's home campuses in Africa, where they continue to lovingly welcome new abandoned babies and serve their neighbors on weekends. Their redemption stories shout the glory of Jesus so loudly that visitors to our home can't possibly miss Him. Almost 300 of you, including a dozen interns, came to visit us in the past year alone.
LEAP Preschool and Cornerstone Preparatory Academy currently educate 227 students, providing 12 nutritious meals and snacks per week, outings, PE, spiritual care, healthcare, counseling, and extra tutoring.
To complete the vision God gave us, we must go forward in 2019, continuing to fight with the people of rural Kenya for lasting change. In January, we add 50 community pupils to our schools, each needing sponsors. By the middle of 2019, we will begin mobilizing resources to construct a high school at Cornerstone.
Thank you for serving faithfully with us this past year! You may not know, unless you visited, just how much your contributions have spoken love to the unwanted, hope to the hopeless, and courage to the fearful. May God richly bless you this Christmas!
With love,
Bob and Julie Mendonsa
To Make A Year End Gift:
1. Click here to donate using a credit card or checking information. 
2. Mail a check to Naomi's Village, P.O. Box 270057, Flower Mound, TX 75027 
3. Click here to begin a child sponsorship.
Child of God
We drove 6 miles down the steep muddy hillside, having just returned from three long but fruitful months abroad, away from our "other" 82 kids at Naomi's Village. This had been our lengthiest separation ever, during which over 30 inches of rain had fallen in the Maai Mahiu area, leaving its roads a rutted and treacherous mess. Despite the jarring transition from smooth American highways to these challenging conditions, we had missed our Kenyan children badly enough to banish any thoughts of ever pulling up stakes and moving back to the US.
Once, during one of our many euphoric moments at Naomi's Village on a day long past, Julie expressed her love for them to me with a term of motherly endearment – the Adorables. This kind of love, which is also shared for and by Emily and Will, is a given love, and one worth more than any treasure. If you know it, surely your neck hairs stand on end when you feel it, as mine do simply composing these words. Since January 2011 when the magic of Naomi's Village began, this group of beloved redeemed have hugged, laughed, and cried their way into our hearts. Inside the two of us, colorful bits of each child now help substantiate who we are, as thin threads combine to make a quilt, if woven together deeply and intentionally.
The cypress dining hall ceiling resonated with the soaring voices of children on Sunday morning, spilling from open windows as I parked our mud spackled Land Cruiser by the gate. My favorite church service on Earth had begun. We hurried in, our small voices joining a multitude of others as the Great Rift Valley filled again with the worship of God. Disparate choruses emanating from community churches, rescue centers, and children's homes echoed off the rock facing of the escarpment, reverberating back with a peaceful hum over thousands of struggling homesteads dotting the rain soaked landscape.
Crippling worries and burdensome traumas, some the fresh results of a difficult week gone by, were forgotten for a while in order to give glory to the One who alone is worthy of praise.
Our kids sang wholeheartedly, knowing they belong to Him now, no matter their pasts. No more glorious sound exists than a chorus of those set free, every heart in consonance with the pleasure of true Hope. Such holy moments give me a divine inkling of the eternal worship already happening in the throne room of Heaven, into which I will one day enter.
My names are Robert Eugene Mendonsa, Jr., Dr. Mendonsa, Bob, Dad, Uncle Bob, and a few other nicknames that Julie calls me. I am a married man whose heritage originated on a Portugese island called Madeira. I have two children, Emily and Will. My vocations include orthopedic surgeon, executive director of a nonprofit, and overseas field worker. My calling is to see that an army of once broken children are raised to be redemptive leaders who will take up the cause of their suffering peers in Kenya, for the glory of Jesus Christ.
But my identity, so easily forgotten at my own peril, is that I am a child of God. That name really counts. Surely the health of His church, the work of our hands, and the joy carried in our spirits, must rest on this understanding.
I was a slave to sin, an orphan, alone and adrift in the world. He chose to ransom me, setting me free to live the life that was always written on my heart. To be awakened from years of torment, given sight from blindness, told to stand and walk, to go in peace…these parable endings exemplify but do not fully capture the fullness of the salvation I received in 1998. Twenty years have passed and there are still no adequate words for what happened to me.
We are not different from the 82 at Naomi's Village in any meaningful way, oh Children of God. We all stand beside them and feel our brokenness and the joy of being brought in to the Father's house, swept there by his warm and forgiving grace. With Him, all fear is gone and we may join in with their unbridled worship, should we accept our identities.
We could have our spiritual eyes opened today. We'd have to choose and would need His help to lay our false selves on the altar and accept His mantle, given by the very words of Scripture to us:
Rom 8:16 The Spirit Himself testifies with our spirit that we are children of God.
Gal 3:26 For you are all sons of God through faith in Christ Jesus.
John 1:12 But as many as received Him, to them He gave the right to become children of God, even to those who believe in His name.
2 Cor 6:18 "And I will be a father to you, And you shall be sons and daughters to Me," says the Lord Almighty.
1 John 3:1 See how great a love the Father has bestowed on us, that we would be called children of God; and such we are. For this reason the world does not know us, because it did not know Him.
John 11:52…and not for the nation only, but in order that He might also gather together into one the children of God who are scattered abroad.
You are a Child of God, chosen, gathered together with others, and loved by the Father, through faith in Christ Jesus. Truth carries within it great power to heal.
Now imagine yourself in a room of the once broken, raised again to life. Look left and right at your siblings, other orphans made whole, scars and all, and accept them as your equals. Close your eyes and join the imperfect hymn they are singing to our Father. Listen for hints of the perfect home that awaits you. Let go of measuring yourself by this world's fading standards. Instead, carrying your own precious gift of freedom, go forth and live today, tomorrow and all of your days in light of your true identity – the one He has given to you forevermore.
Who am I that the highest King
Would welcome me
I was lost but He brought me in
Oh His love for me
Who the Son sets free
Oh is free indeed
I'm a child of God
Yes I am
Free at last He has ransomed me
His grace runs deep
While I was a slave to sin
Jesus died for me
Yes He died for me
Who the Son sets free
Oh is free indeed
I'm a child of God
Yes I am
In my Father's house
There's a place for me
I'm a child of God
Yes I am
[Bridge]
I am chosen, not forsaken
I am who You say I am
You are for me, not against me
I am who You say I am
I am chosen, not forsaken
I am who You say I am
You are for me, not against me
I am who You say I am
I am who You say I am
Who the Son sets free
Oh is free indeed
I'm a child of God
Yes I am
In my Father's house
There's a place for me
I'm a child of God
Yes I am
I'm a child of God
Yes I am
By Bob Mendonsa
Click below for a short video of a recent Sunday worship with the NV children singing Beautiful Name.

http://https://vimeo.com/274435248