These are the days of miracle and wonder. And don't cry baby, don't cry, don't cry.
– Paul Simon, The Boy in The Bubble (Graceland, Warner Bros. Records, 1986)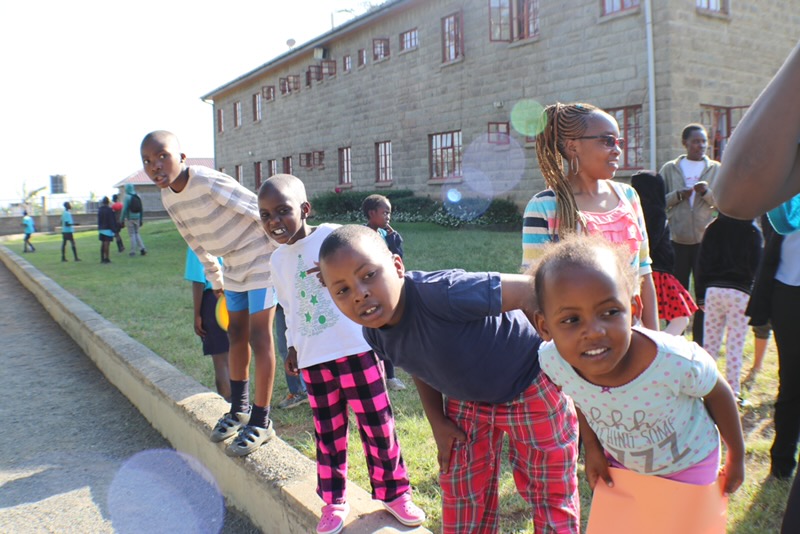 Our memorable and dichotomous day began on the winding mountain road up to Eburru, a remote town perched above Kenya's Great Rift Valley. Potholes and dust, ruts and rocks, and the occasional darting wild animal made driving seem more like an arcade game. My Land Cruiser lurched and roared, swerving around obstacles and bouncing its passengers like popcorn in a pan. Despite that, happy chatter filtered forward from the back. Our son Will had arrived home in Kenya just 3 days before, fresh from an internship with the Hudson Institute in Washington, D.C. Naomi's Village administrator Veronica and boys' teen house parent Patrick had also joined us, adding to the fun. They were all catching up after a year apart.
Yet uncertainty dampened our mood, mixed with a tinge of heaviness and fear. We felt uneasy about what was coming, as when distant rumbles sometimes portend a gathering storm.
We were headed to two of our boys' grandmother's home to visit, unsure of how we'd be received. The younger of the two had been relocated there in June because of some unhealthy behavior dynamics between him and some other Naomi's Village children. His older brother, now 18, left in anger and hurt a week after his brother. The whole matter had been heartbreaking, because these two had been living at Naomi's Village since 2011. Our family seemed incomplete with them gone. We were still trying to pick up the pieces and ensure that all our beloved children were being cared for properly. It felt at times like sifting through the aftermath of a sudden accident, trying to salvage what had been shattered.
After miles of climbing and a few missed turns, we finally located the boys' rural family homestead, a cluster of modestly built wood and metal houses set in the verdant hills near Eburru's iconic peak. Sadly, we discovered the older boy had absconded the day before. The younger one and his relatives were more receptive than expected. We hugged the 16-year-old boy, greeted the others, then sat and took turns sharing our news. He had been doing chores, herding livestock, and helping harvest his family's crops. Humorously, he casually mentioned toting a large machete around to defend himself against lions and cheetahs in the surrounding forest. This typified our young man, who had always been strong and unbowed in the face of danger. We chuckled, imagining lions would be no match for him.
His older brother, however, had been taking actions that indicated he was running away from his issues and reacting out of fear and pain. After talking with his family, Patrick learned that he had been getting some unwise counsel from a disgruntled former NV employee and his wife, who had even come there recently to visit.
Over a hearty bowl of rice and potatoes and a hot cup of chai, we encouraged the younger boy with the news that we were considering building some housing for him closer to NV so that he could come back to school soon. His countenance brightened even further at hearing this. We also passed off some new athletic shoes for him and his brother, gifts from some dear friends in Wilmington, NC. Rebuilding trust with him after the tough decision we had to make will be like this – one crucial stone at a time, laid in love.
After promising to return in a week and leaving a phone number for the older boy to call us, we said our goodbyes. We left in a hurry, because we had a second major purpose to fulfill by day's end.
Reversing course, I dropped the nose of the Toyota hardtop downhill, reaching almost twice the speed at which we had ascended. Navigating consisted of mostly controlling its momentum on turns and harnessing gravity's power on straightaways. Julie held on for dear life and lobbed her usual warnings, but they went hopelessly unheeded. I had a glimmer in my heart's eye for what lay ahead. Less than an hour later, I practically skidded the truck sideways into the dirt lot outside the Safe House, a festively painted transition home for abandoned children in central Naivasha.
Everyone piled out and the fun began. Violet Najuma (meaning "flower" and "abounding in joy"), a pinch sweet, undersized 2-year old came first. A team of housemothers and our social worker Peris had already arrived, beating us to her. She got plenty of kisses and passing around, despite her sleepiness. We heard how she had been abandoned near Mount Suswa, and was battling tuberculosis. Having been on anti-TB meds for 2 months already, she was not contagious.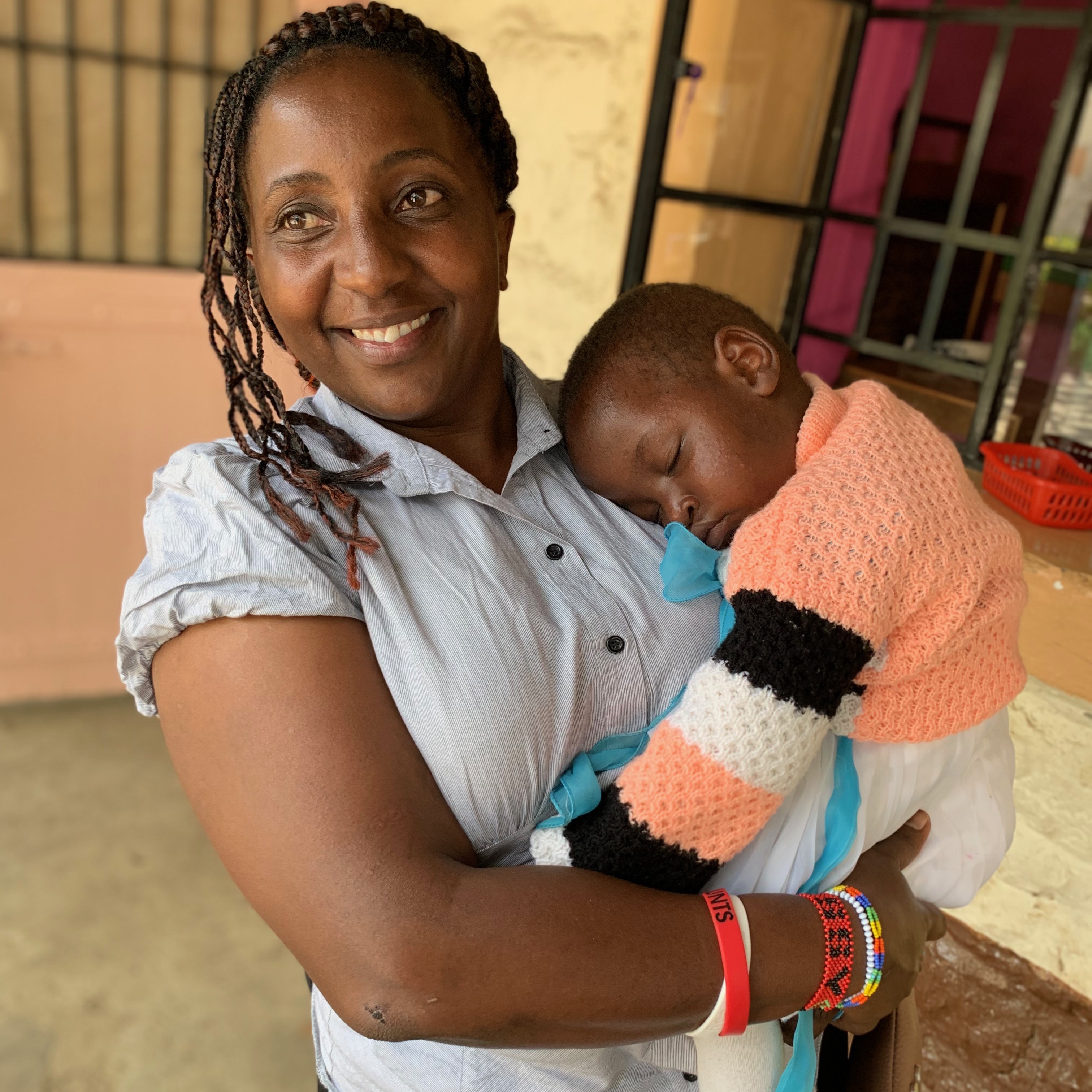 Kim Ramsey had sent us a photo the night before of a 3-year-old girl named Stella (meaning "star"), left by her aunt at the Safe House 6 months back. We were told that Stella's mentally incapacitated mother kept dropping her off at her sister's, then returning later to reclaim her for short periods. After dealing with this disruptive pattern for almost 3 years, Stella's aunt finally brought her to the Safe House, hoping that a more stable home could be found.
After inquiring, not only did we get to meet and spend time with Stella, but we were offered the opportunity to take her home to Naomi's Village too. Nobody batted an eye about saying yes after spending a minute with her, marveling at her sparkling eyes, soft features, and tender personality. Whoever characterized love as something you fall into had it dead right.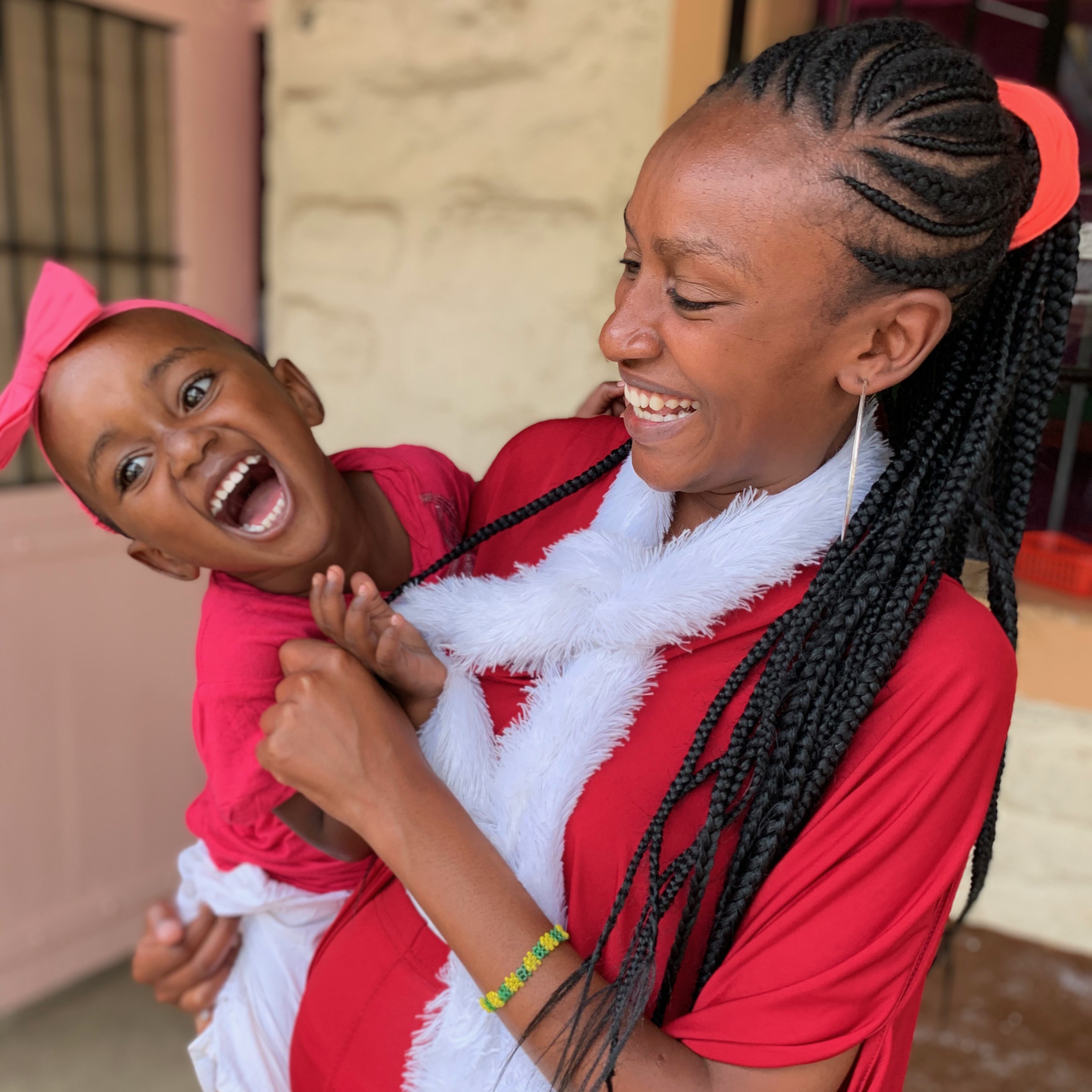 As we stood there marveling at this blessing, a caregiver walked by carrying a sad faced baby boy with a big chubby head. As a chorus of "awwww's" filled the courtyard, we began to murmur the same questions simultaneously. "How old is he?" "What is his story?" "Do we have enough cribs in the baby room?"
We were informed that his name was Leon Taji (meaning "Lion" and "Crown"). Leon was 18 months old and had been abandoned by both his mother and father in a nearby rental apartment. The landlord found him alone and crying in an empty room, with no clues as to the whereabouts of either parent. After a month of fruitless attempts to reach both parents' cell phones, Leon had been officially declared an orphan.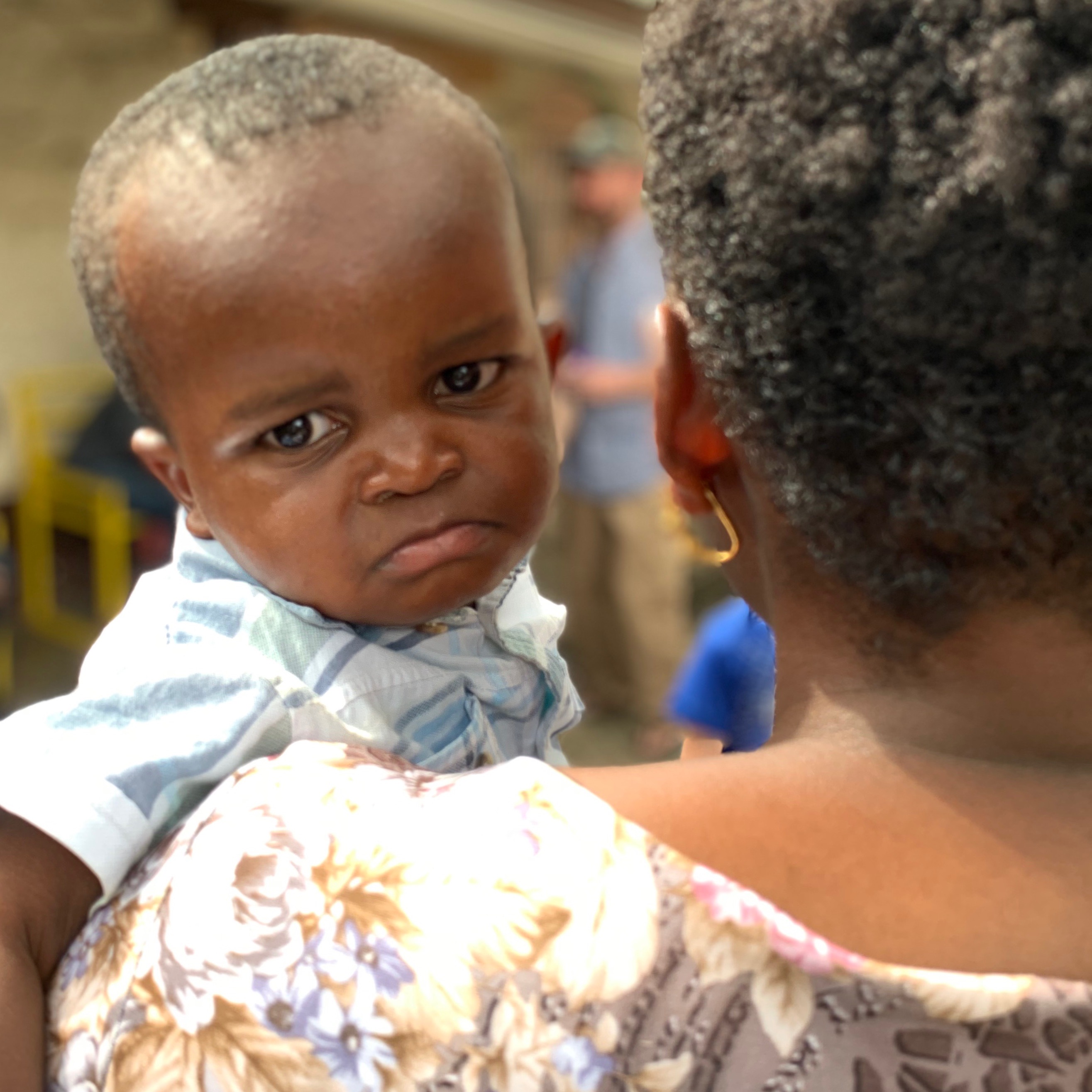 I know right then that God spoke to me, because the day's date suddenly entered my mind – August 8. Taking all three children home that day meant we would have 88 kids living at Naomi's Village. God isn't random, and the Bible contains numerous examples of Him giving incredibly specific instructions to His children. But I rarely get to understand His will quite so clearly. When I do, obedience follows with much more confidence and joy. Secondary confirmation came from the fact that the Bedwell family from Grace Community had been praying for months for a baby to arrive during their trip. All three Bedwells were standing there in that courtyard at the Safe House as God fulfilled their prayers in triplicate – a baby for each Bedwell!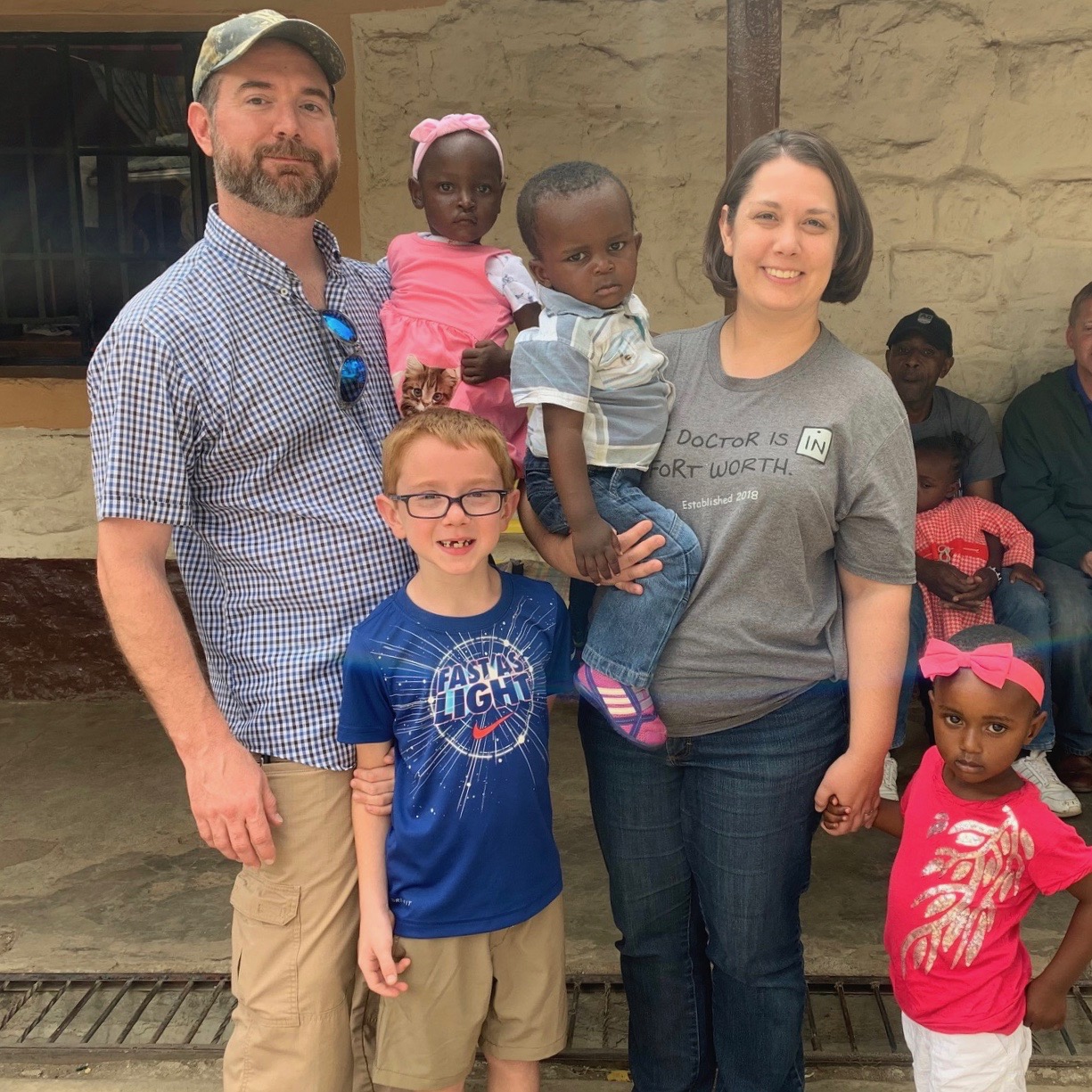 Passing these simple little nudges from God on to the rest only validated their collective desires. Everyone wanted Leon Taji with a holy kind of ache that didn't need but a whiff of confirmation to fan it into action. After that the excitement became even more palpable, because we all knew the surprise the other 85 were in for. They had been preparing fervently for Violet Najuma all afternoon, and we were about to roll in with triple the blessing.
However, once again the reality of this perfectly beautiful and terribly violent world came crisply into focus again, catching us all by surprise. In retrospect, we should have expected a reminder that this isn't Heaven and the work of love will never be enough to shed the undercurrent of pain and death here on Earth.
She came wandering up, all of 3 years old, broken. Her mother had only departed from a short visit a few hours ago, and her face told us she had been hurt deeply. She wore a vibrant red dress and her sad frown did a poor job of hiding her innocent beauty. Jane, the administrator, recounted her story, filling our eyes with bitter, even angry tears. We heard that the little girl could never safely return home to her family again after what had happened. A court case loomed, limiting her release from the Safe House for the meantime. We hugged her, held her, and gave her some candy. Nothing we did melted that pain mask she wore.
As we filed out with our 3 new children a half hour later, she began to wail. Jane said that her tears were over seeing her friend Stella leaving. All of us vowed to come back for her, to take her hand and her heart, to make her life and ours one. Scanning the fields flanking the Children's Department Office, the Judicial Law Courts, and the Safe House, I remarked that this section of Naivasha always reminded me of the word "bittersweet". Several of our babies had been abandoned within a mile of this lot over the last 6 years. Each one had been both a sad reminder of the fallen state of this planet and a joyous gift that alluded to a better Place beyond the pale. Daniel had been plucked near nightfall from the field across the road last year, his placenta still attached. His name means "justice", a reminder to press on with this work that is so near to God's heart. As St. Augustine once said, "Charity is no substitute for justice withheld."
The crowd of 15, new tots included, began celebrating early as we streaked across the floor of the Great Rift Valley on the Trans-African Highway back to Naomi's Village. Thirty minutes later our gates swung wide in welcome and the three little ones trickled down that long and scenic driveway for the first time. Under a serenade of horns, drums, and cheers, they fell into the arms of a loving new family, never to be unwanted again. We could not have been prepared for the eruption of joyful worship triggered by the arrival of three children when just one had been expected.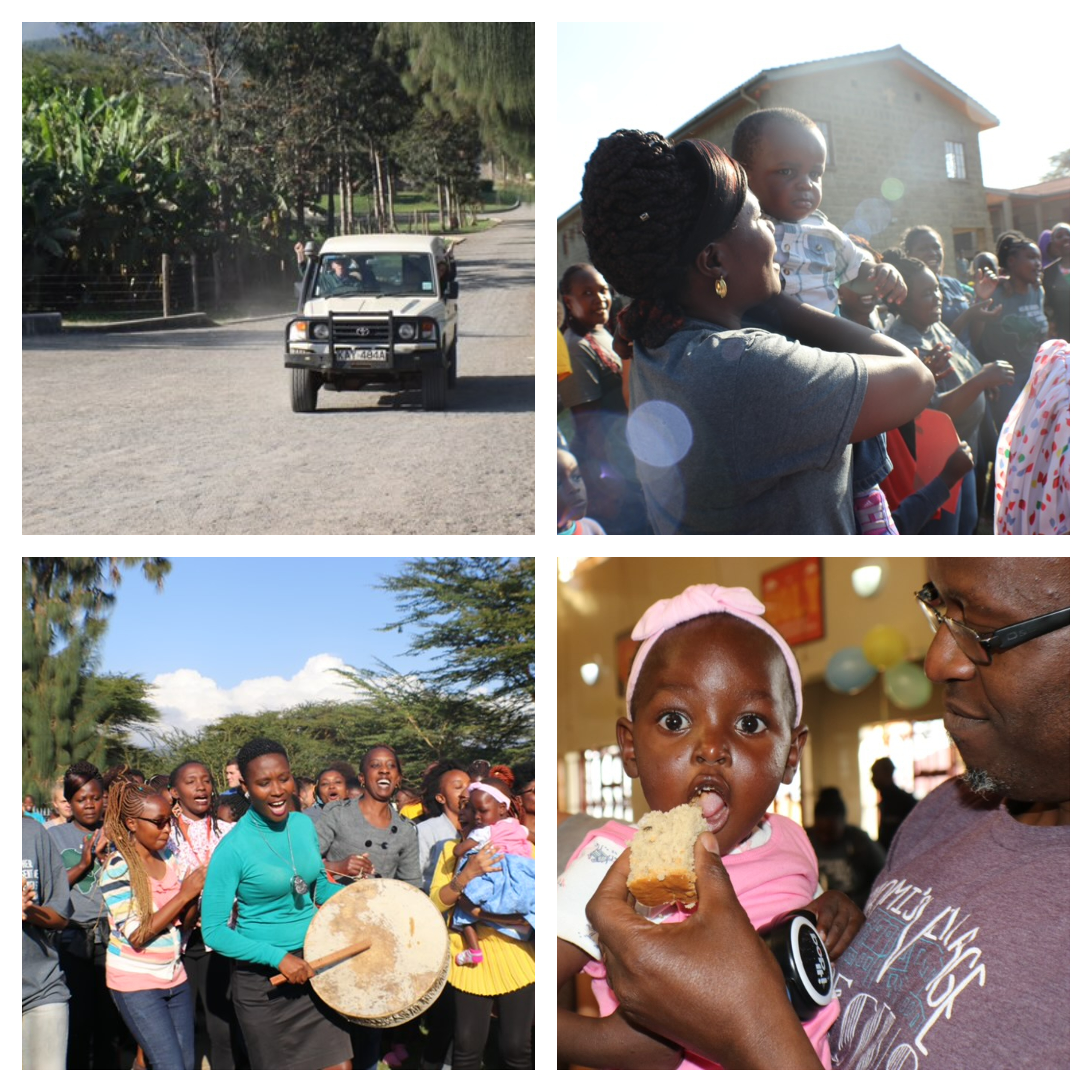 The party went on for over an hour – singing in Swahili and English, jumping, dancing, high fives, hugs, cake, prayers, and blessings spoken over the three. Standing in the din of the assembly hall, with all five of my senses set on happy, I looked up again at that cypress ceiling, imagining God in the heavens beyond. Was He speaking to us, drawing back the curtain slightly to give us a glimpse of our own arrival day in the Place He has prepared for us? I can say for sure that after 53 years of vibrant living – including visiting 30 countries on 5 continents – being in that room on homecoming days has no comparison.

Abounding in Joy, Star, and Lion now belong in our family, each made in the image of God. The meaning of each child's name reminds us of the Savior and His coming for them and for us. God loves them, loves me, and loves you. Despite our hurts and our failures, he isn't finished yet. He is a God who chases the lost, changes sad tales to fairy tales, and allows both joy and sorrow to weave a brilliant fabric all around us. We might wish it otherwise, but He hasn't ordained another plan. The Gospel is about redeeming what is broken, and we all qualify. Until every hill is climbed (or descended), the last child comes home, or we take in our final breath, there will be love to give and work to do. Let us not be discouraged.
Oh, and little girl. We are coming for you too, very soon. Count on it, sweetheart.
By Bob Mendonsa