Hope Begins When A Child Belongs
For those who haven't visited us in rural Kenya lately, this post is the second of a six-part series that will update and inform you about our ministry's incredible expansion over the last few years. Please tune in daily as we highlight our work in Kenya. Today's focus is Naomi's Village Home.
Naomi's Village Home is the foundation of our community – providing complete care for almost 100 Kenyan children left parentless by terrorism, AIDS, disasters, and domestic violence.
But sadly, our kids are not alone. According to UNICEF, Kenya has over 2.6 million orphans. Our vision is to lovingly raise a group of children as leaders to help end this orphan crisis through similar work of their own one day, creating a compassionate ripple effect. To do so, we must give each of them the intentional nurturing and care needed to develop fully and dream unhindered by limits.
Our Home provides more than just basics – we give great healthcare, balanced nutrition, a rich education at LEAP Preschool and Cornerstone Preparatory Academy, leadership training, spiritual care, and counseling to every child. We've made Naomi's Village a love-filled place, the kind where broken children heal and thrive. Our team immerses older children in community outreach to the needy, shaping leaders who value both empathy and planning. We do all this believing our kids will one day rise up and multiply the power of active love for Kenya's marginalized, and help bring lasting solutions to its orphan and education crises.
Hope Begins When A Child Belongs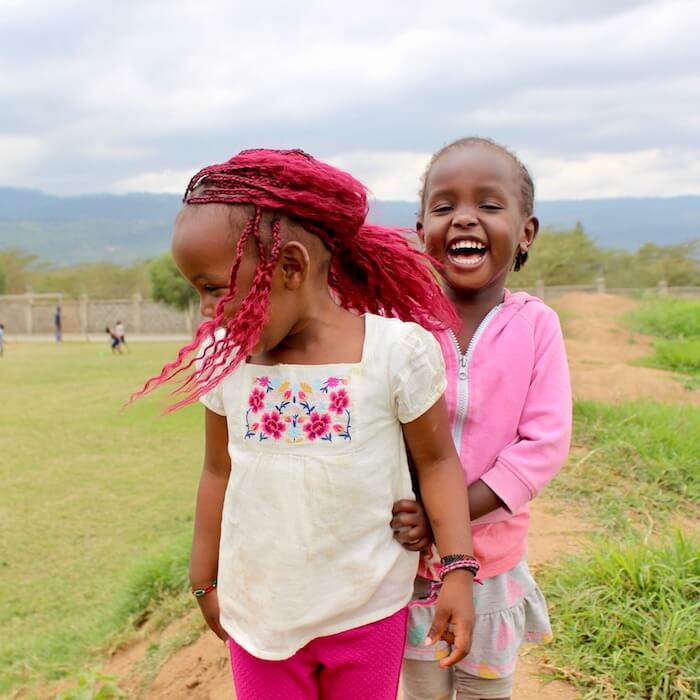 Hope Begins With Each New Life

For those who haven't visited us in rural Kenya lately, this post is the third of a six-part series that will update and inform you about our ministry's incredible expansion over the last few years. Please tune in daily as we highlight our work in Kenya. Today's focus is our MTOTO Early Childhood Program.
mtoto /m'tō tō / (noun); Swahili – baby, child
For real change to take root in Kenya, we must target ample resources at the early development of its most vulnerable citizens. Our MTOTO (Mother-Toddler-One-To-One) program links a trained nurse to newly pregnant mothers, helping to shepherd them successfully through this period via routine home visits until the baby is 2. This nurse provides valuable counsel and resources for prenatal care, normal birthing, healthy breastfeeding, infant nutrition, child developmental stages, optimal parenting, and the importance of a language-rich environment. We also include a 12-week training for new parents that covers other key childcare topics in a community group setting. Finally, our home early reading program brings literacy training and age- appropriate books to families.
In short, we believe that building leaders starts on day one, by empowering mothers with the knowledge and resources to raise healthy babies and toddlers.
"Early childhood development is one of the most cost- effective investments a country can make to build human capital and promote sustainable development." – UNICEF
Hope Begins With A Head Start
For those who haven't visited us in rural Kenya lately, this post is the fourth of a six-part series that will update and inform you about our ministry's incredible expansion over the last few years. Please tune in daily as we highlight our work in Kenya. Today's focus is LEAP Preschool.
At age 3, thriving toddlers from Naomi's Village Home and the community merge at LEAP Preschool, where they enter into a literacy-rich, play-focused environment daily for the next two years.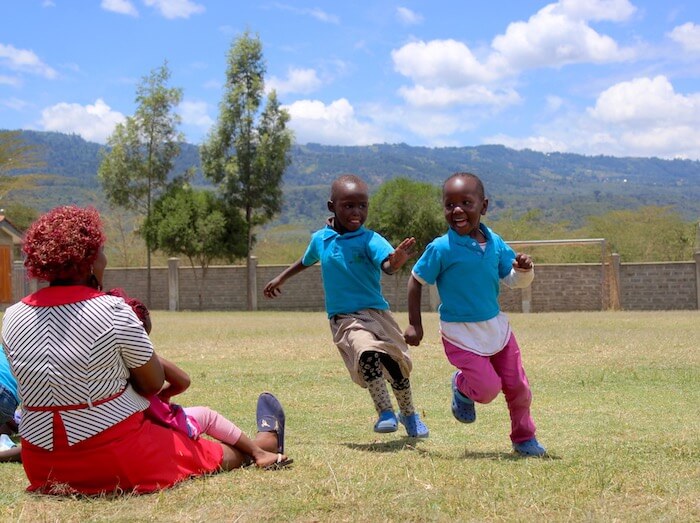 We believe every moment of early childhood is a precious opportunity to grow and develop life skills, whether spent in healthy play, reading circles, academics, or excursions to zoos and museums. Our approaches to preschool education are modeled after numerous successful outcomes-based programs that prepare kids to learn optimally when they advance to the kindergarten level and beyond.
"The first 5 years have so much to do with how the next 80 turn out."  – Bill Gates
Hope Begins With A Cultivated Mind
For those who haven't visited us in rural Kenya lately, this post is the fifth of a six-part series that will update and inform you about our ministry's incredible expansion over the last few years. Please tune in daily as we highlight our work in Kenya. Today's focus is Cornerstone Preparatory Academy.
Cornerstone Preparatory Academy was founded in 2013 to help end Kenya's education crisis, beginning with an innovative, research-based school strategically located in the Great Rift Valley.
We believe that provided with a transformational education, young Kenyans will learn, grow, and become the agents of necessary change in their country.
Our incredible Kenyan teachers and staff help children find their great worth and discover their own unique gifts. With state-of-the-art facilities, engaging curriculum, character training programs, and built-in community outreach initiatives, our children will emerge hopeful, confident, and equipped to impact their community and nation for good.
CORNERSTONE HIGHLIGHTS:
25:1 student to teacher ratio
Large, well-lit classrooms
Computer lab
Science lab
Library
Fully equipped kitchen provides 12 nutritious meals/week
Well-equipped health center staffed by RN
Multipurpose auditorium/gymnasium
Covenant relationship with community students' parents
Cornerstone Endowment Fund established for future university tuitions, vocational school fees, and seed capital for graduates to start similar social impact ministries throughout Kenya
Hope Begins With An Empowered Community
For those who haven't visited us in rural Kenya lately, this post is the final piece of a six-part series that will update and inform you about our ministry's incredible expansion over the last few years. Please tune in daily as we highlight our work in Kenya. Today's focus is our community development program called Maendeleo Initiative.
maendeleo /ma en de 'le ō/ (noun); Swahili – progress, development, advancement, community
Every child served by the ministries of Naomi's Village has a story, and that story ties them to a community. Maendeleo is our initiative to join with these communities to help further their development and enhance their vitality through programs addressing five domains:
1. PHYSICAL
We partner with families to provide affordable solutions for everyday living needs such as solar lighting, rain collection and storage equipment, appropriate sleeping arrangements for kids, and water purification units.
2. SPIRITUAL
Working closely with Cornerstone's spiritual development team, we minister to the needs of our community families through evangelism, discipleship, prayer, and community worship.
3. EMOTIONAL
By building relationships with the marginalized
in our community, Maendeleo's social workers and counselors seek to understand and meet the unique emotional needs of single mothers, victims of abuse, and addicts.
4. CAPACITY BUILDING
Maendeleo equips community members to become more self-sufficient through our skills- training programs in agriculture and business, while also providing access to funding through guided table banking groups and microfinancing.
5. HEALTH
Through educational forums and seminars covering topics such as gender-based violence, feminine health issues, and general hygiene, we raise awareness of and assist with solutions for relevant health concerns.
We are not snapshots, or a mix of grainy impressions strung together in anyone's mind, not even our own. We were not formed here in flesh primarily to convey cultural messages, create responses, or sell our images. God never intended for any of us to be understood as a collection of dates, facts, specs, achievements, and actions, good or bad. Social media profiles, scrapbooks, videos, and even vivid memories cannot capture or hold onto the precious essence of a life.
Because of that, we ought not reckon ourselves as more or less than we truly are during these few and precious days He gives us topside on this Earth. We should also dispense with trying to oversimplify the complex and divine. For instance, the words I write about our Naomi's Village story could never stand in place of us or of what God really did. They are merely derivative attempts to chronicle a far greater whole, like whispers uttered into the vastness of eternity's narrative. God has done so much more than I, than we, have ways to describe. I simply could not do His work justice with my feeble attempts, because that task is a divine one, the accounting of us and all this glory.
We are much more significant, and less significant at the same time.
How can that be true? The basis for accepting both antithetical ideas is simple – without The Story, our stories lack vital context. With it, our stories swell in worth, each one distinct and glimmering with eternal significance. But in proper context, our ballads are mere flashes that shine briefly, before fading into the greater and lasting brilliance that surrounds and incorporates them.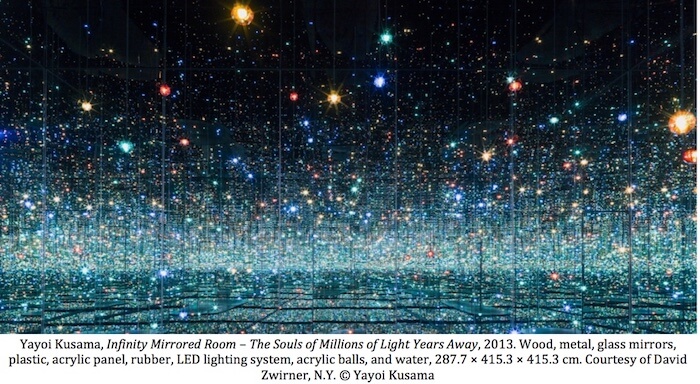 We are only a few of the billions of children He wonderfully and fearfully created, each unique but infinitely small and fleeting. Echoing hints of His divinity in our images, our bit characters play a tiny part in a complex and glorious epic that defies human understanding. Even individual distinctives do not define our worth. I am and we are, because God is. He is The Story, and within the context of Him and His glory, our lives hold incredible value.
Yet we – easily distracted, even awed by the smaller sparks – miss the magnificent aurora of an ongoing festival of lights that defines in love the value of us all. In doing this, we manifest our spiritual blindness. Perhaps, and rightly so, we focus on the inevitable explosions that accompany such a messy and glorious display, allowing fear and a lingering mistrust in His goodness to displace faith.
God first breathed life into me in late 1965, when I began to form in my mother Sheila's womb, and He ordained from that zygote a small part in His cosmic cinema. He did the same for you, though perhaps you've never slowed down to consider your life in that way before. He did not offer either of us the lead role, nor the stage itself. The primary scene when the curtain opened, playing out with minor variations day after day, is a celebration of something greater than us going on in the middle of a bloody battlefield.
John Forman of the band Switchfoot put it this way, "Maybe Redemption has stories to tell."
I am constantly aware these days that I am alive and living out my redemption story. When its narrative once lay bloated with the boring clichés of self-focus and suffering the fatal plot error of unedited sin, God saw fit to take up the pen and re-author its course. Ever since, I have been relishing what will come next, what I will find on each page. There is great joy living beyond the unfilled margins with Him.
Over 2000 years have passed since Jesus Christ came to Earth wrapped in flesh as a helpless baby. He lived His incarnation story here among us. In roughly one-third of a century, His sinless life and its divine significance split human history. As you finish 2018 and look forward to 2019, consider whether it is time to surrender your efforts to shine without purpose. After all, you were never meant to be the producer, the director, the writer, or the star of your story. Instead, you were born to join in, to love Him and to love your neighbor. You were lit to make the night sky brighter for Him, if only for a moment on the vast surface of time. Choose to find your significance in Him and to live for what you cannot yet see – a coming Day when every question fades and you are finally home.
By Bob Mendonsa
Each of us is born with 100 billion relatively unconnected brain cells, all that we will ever possess. These separate during fetal development into different domains in the brain, areas that later specialize for receiving inputs from our 5 senses, controlling automatic functions like our heartbeat and breathing, processing emotions, formulating speech, and a host of other critical functions. By adulthood the average human brain has wired itself, with 100 billion living neurons connecting through a quadrillion chemical synapses. This entire complex process is tied to a carefully scripted DNA code found at the microcellular level, too small for an eye to see. That script, a 20th century discovery, only further betrays the identity of a Writer, as does the glorious complexity of His ongoing work inside every hardened skull.
I have often found divinity in the simple exercise of slowing down to marvel, to wonder at how it all comes together in magical experiences that make life more than Darwin's hollow arguments. And when the worship center in my cerebrum lights up in vivid yellow, His loving thoughts endow mine once again. Perhaps that is the physiological expression of salvation, a thing just below the surface, ready to well up at any time in tears and longing and song.
Hearing his name at the same instant that it escaped my mouth triggered a mental connection that aroused pangs of dormant grief. I knew immediately to look across the table at her, expecting she would mirror my emotions. Fathers share inexplicable emotional bonds with their children. Synapses connect over space and time, neurochemicals mingling with each other despite the laws of science. Sure enough, Emily's face was twisted by a bittersweet expression, her skin flushed red and eyes brimming with tears.
In February 2018, Sam Baisden, my dear nephew and Emily's cousin, died suddenly from the catastrophic effects of an accidental gunshot injury at age 25 in Kingwood, TX. When my sister Leslie came to my med school graduation in Galveston in June 1992, she was so excited that he was growing inside her. Sam came into the world the day after Christmas that same year, the first grandchild on my side of the family. He grew up strong and rambunctious, an athlete with a soft heart. Sam ran track and starred in baseball at Kingwood High School. When Hurricane Harvey devastated his community, he and his father Barry spent weeks together as a two man volunteer team doing demolition and restoration work for friends and neighbors in Kingwood. Sam bought his own home in late 2017, only a few miles from his parents.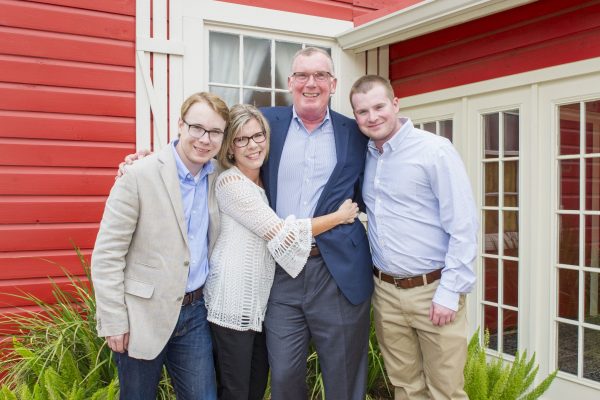 Just a few months later, he was gone forever. We didn't get to tell him goodbye. The void Sam left has not been filled, and may remain as an ache for years to come. Pictures of him and the things he once possessed do him no justice. We want to be with him again, but cannot. He has been taken away for now, his death a jarring reminder of life's impermanence.
I, like the cheerful Stanford team members and a collection of Naomi's Village and Cornerstone staff, had been listening to Julie deliver some wonderful news over lunch at Ubuntu Café in Maai Mahiu, Kenya. She recounted how Susan Brown, a Christian Union leader on this Stanford team, prayed for a baby to come to Naomi's Village long before her trip. Then, just that morning, Julie had heard from social worker Flo about an abandoned 15-month-old baby boy named Samuel at the Safe House in Naivasha. We were asked to consider taking him at Naomi's Village, and our leadership team agreed to do so.
As she mentioned his name, Julie added that she felt Samuel didn't sound right for a baby, but we already had a toddler named Sammy. The obvious next choice then popped into my head and out of my mouth – "Sam".
And that is when I knew God had done this. Choking back my emotions, I stepped away and called Leslie, waking her up at 5:30 a.m. in Texas to tell her the news. God had brought us a little Sam, by His grace, as a blessing. Our loving Father, always intentional and perfect, does not leave us alone and hopeless in our brokenness. He intended for us to know through this act that life was not over, though mourning may last for a time.
The rest is mere icing on a joy cake, the usual stuff of Naomi's Village fairy tales. Sam turned out to be a chunky, warm, lovable boy who fit right into our family. In all the days since Jan 27, 2011 when the dream began, I can scarcely remember a happier one than his arrival day, when our 84 kids and a dancing crowd of adults paraded Sam across the lawn and into the great room. He seemed to love every minute of the revelry, showing no signs at all of stranger anxiety, despite his age.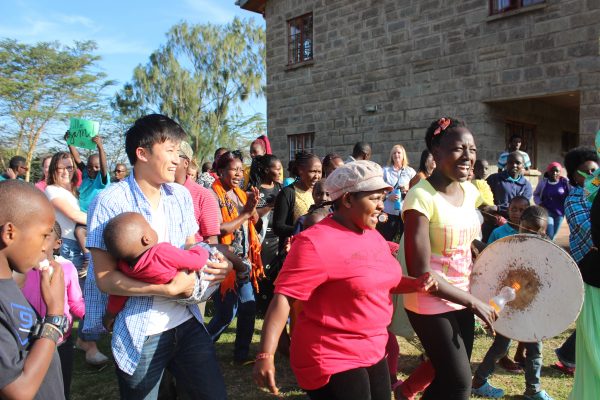 Yet beneath all that newfound joy was an undercurrent of melancholy, a reminder that life's losses can never fully be swallowed up by these triumphs. I tried hard to hold them back, but tears still fell for Sam Baisden, a boy I missed every bit as much as the day I last hugged him in November 2017.
Standing there in a room swirling with frenzied excitement and colors, I realized anew that our best moments have a bittersweet hem. Life is a brilliant and messy ride, not unlike the best roller coaster ever, but with unexpected and terrifying explosions along the way.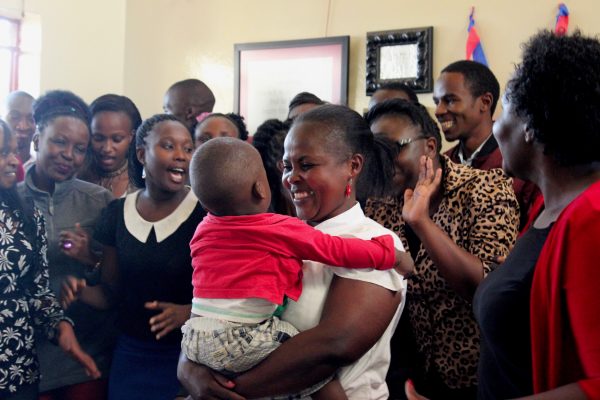 Finding Sam's cherubic face in a sea of others, I saw him for what he is, a gift of coming moments, days, weeks, marked by both joy and sadness – a gift of life and love and uncertainty…a gift of God.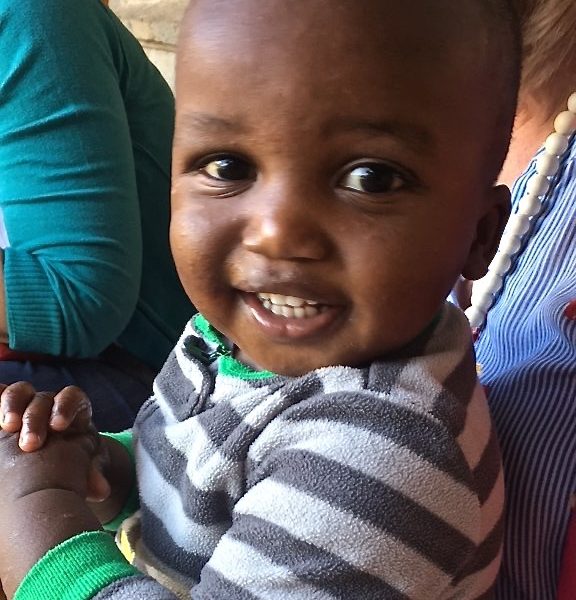 The Lord gives both death and life;
he brings some down to the grave but raises others up. – 1 Sam 2:6
For Samuel James Baisden
Dec 26, 1992 – Feb 25, 2018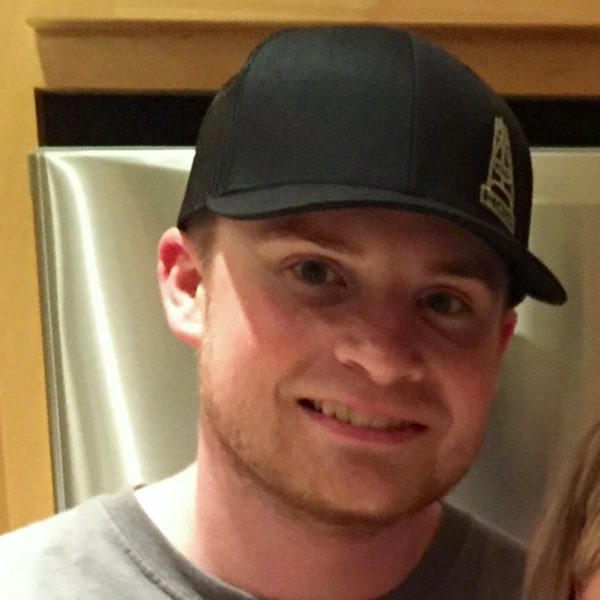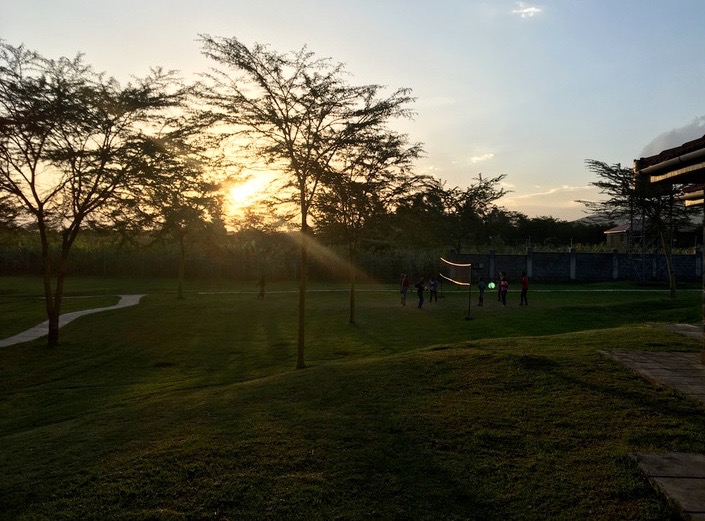 If anyone serves, they should do so with the strength God provides, so that in all things God may be praised through Jesus Christ.
1 Peter 4:11
The birds sent up a chorus of twittering, the only noise that broke the silence of the morning other than the sound of gravel crunching under my feet as I trekked up the walkway from the Naomi's Village guesthouse to the main house, where I would meet the Land Cruiser that would take me, Nurse Ann, and 15-year-old Joel to an eye surgery in Nairobi.
Joel and I have bonded over our shared love of art. Because of Joel's eye problems, he's prohibited from playing soccer with the other kids during free time because of the risks posed by rapidly flying projectiles of mud, elbows, and black-and-white soccer balls. So, instead, he and I spend time drawing. He has a "how to draw" book that teaches step-by-step methods for drawing pirate ships, monsters, animals, and we take turns pushing a sketchbook back and forth as we complete each consecutive step, finishing a clomping Frankenstein and a fire-spitting dragon together.
We also share a love of books. Joel tells me his favorite books are Tom Sawyer and Oliver Twist, which of course prompts me to recommend Huckleberry Finn and A Tale of Two Cities. He's reading the Harry Potter series for the first time and is starting the second book, laughing at Dobby's antics. He tells me he loves school.
Joel has been having serious problems with his left eye for years, to the point where he has to squint to see anything but blaring white light out of it. He had two surgeries before I came to Naomi's Village. On Tuesday, he had his third.
When Joel asked me after an evening of working through his 8th-grade math homework if I would come to the surgery with him, of course I said yes.
We bundled ourselves into the Land Cruiser and bumped and jostled and wove our way through the traffic-packed roads to the eye hospital, a blue and white box with sterile fluorescent lighting, and sat on one of the navy couches. Joel was matching his fingertips together, wringing his hands, cracking his knuckles. I asked him how he was feeling.
"Nervous."
The surgery itself only took thirty minutes, but we waited in the office for hours. When Joel came out, his eye was still affected by the localized anaesthesia the doctor used, but the consciousness of the pain soon to come already crumpled his features, as much as he tried to hide his fear. On the drive back, a bumpy "shortcut" through the back roads of Kijabe where we were tossed around like popcorn kernels in the backseat, I read aloud to him from Harry Potter and the Chamber of Secrets as the letters on the page shook and the light of the day waned. His eyes were closed and every so often a tear trickled uncontrollably from his left eye.
I have put off writing this blog post for a while, long enough to break my resolution to try to write once per week, because I don't know if I have anything profound to say yet about my time at Naomi's Village. It's not for lack of profound material: every day I am dazzled and my expectations are subverted and I am filled with laughter and tears. I am walking around each day with my eyes wide open, noticing as much as I can, talking to as many people as I can, hugging as many gap-toothed kiddos and ruffling as many heads of hair as I can, but sometimes it feels like the staggering volume of data my eyes and ears and taste buds and brain are receiving is too big to synthesize.
I am learning. I'm learning that it's okay to admit when you don't know something. I'm learning to greet everyone I pass and to spend time talking with the staff, who know so many stories and can offer an incredibly unique perspective. I'm learning what it feels like to be a cultural outsider, and I'm learning what a blessing it is when the insiders welcome you in despite you having nothing in particular to offer. I'm learning names—hundreds of them!—and faces and favorite foods and birthdays and who's good at which sport and who likes which movie. I'm learning Naomi's Village isn't perfect, that there is still so much work to do. I'm learning that there are problems I can't fix. I'm learning to be patient and show grace to both myself and others. I'm learning to watch and to listen.
Above all, I'm learning that any change I make here must be in the smallest of ways. Many days, I feel unequipped, underqualified, unnecessary—not only in the face of the overwhelming tragedy that makes up so many of these kids' stories, but also in the face of the joy and plenty here. What can I, a mzungu who only knows a handful of Kiswahili, can't dance, and loses all the points in volleyball actually contribute to this well-oiled machine that seems to run just fine without my help? Anyone could have ridden to the hospital with Joel. Anyone can sit in a waiting room. Maybe not just anyone could have made out the bouncing print of Harry Potter at twilight on rutted roads, but I hardly think my near-memorization of Rowling's canon shines out as an outstanding quality for effective service.
But I am the widow from Luke, coming with two meager pennies clinking in the emptiness of my purse, and dropping them into the collection jar. I'm here to give what I have, not what I wish I had. That's what I've been learning this past week and a half. I can't solve all the problems or revolutionize already well-working systems or fund all the initiatives. I can't even be the best friend of every kid.
But I can wake up each morning and pray for God's will to be made manifest in small ways. I can shake each auntie's hand and remember their names and ask them about their families. I can draw pictures for the little ones and read Bible stories during evening devotions and paint decorations. I can fail at volleyball and give everyone a good laugh. I can have patience with visitors and dig deep for the energy to answer the day's hundredth cry of "Auntie!" I can ask kids about their lives and care enough to remember the answers. I can help grade English compositions and encourage my fellow interns and dust off kids' knees after they trip on the playground. I can keep my eyes open, learning and empathizing and caring, even when the seeing is uncomfortable.
After all, that's why I'm here.
By Erika Depalatis – Naomi's Village Intern, Summer 2018; Rising Senior at Stanford University
"The true soldier fights not because he hates what is in front of him, but because he loves what is behind him." -G.K. Chesterton
We wage daily battles in the Great Rift Valley against two formidable barriers to lasting change – generational poverty and widespread corruption. While doing so, we are surrounded by a beloved group of babies, orphans, and impoverished community children who have been set apart as a growing army to carry out the main work of transforming Kenya one day. This fact bears remembering lest we waste energy "hating" those whose actions serve to obstruct our forward progress. After all, many in Kenya's current population of adults also came from backgrounds tainted by poverty and corruption. Peeking through the baby room window during another day of challenges, our hearts fill with love again for the objects of our labor. Losing is not an option.
In 2018, our army determined to fight hopelessness with the power of God's love grew larger. Over 100 Kenyans, 13 missionaries, and 2 U.S. staff now work in our ministries, infused with living hope and the resources you help provide. Together we symbolize His redemption to a struggling community, built on the confidence of a strong vision and buoyed by eight years of steady progress.
That community around us has noticed the impact of our love. True and lasting changes now stem from positive outlooks, right attitudes, and better choices in hundreds of nearby homes. Real resources are now available for families, like quality education, clean water, proper nutrition, solar lighting, table banking, social work and nursing programs, and community facilities to provide trainings for adults who never went to school. The Maendeleo Initiative and MTOTO Early Childhood Program we founded are helping to comprehensively develop the resources of parents, families, businesses, and the Rift Valley region.


At Naomi's Village, 85 kids live on one of the most beautiful children's home campuses in Africa, where they continue to lovingly welcome new abandoned babies and serve their neighbors on weekends. Their redemption stories shout the glory of Jesus so loudly that visitors to our home can't possibly miss Him. Almost 300 of you, including a dozen interns, came to visit us in the past year alone.
LEAP Preschool and Cornerstone Preparatory Academy currently educate 227 students, providing 12 nutritious meals and snacks per week, outings, PE, spiritual care, healthcare, counseling, and extra tutoring.
To complete the vision God gave us, we must go forward in 2019, continuing to fight with the people of rural Kenya for lasting change. In January, we add 50 community pupils to our schools, each needing sponsors. By the middle of 2019, we will begin mobilizing resources to construct a high school at Cornerstone.
Thank you for serving faithfully with us this past year! You may not know, unless you visited, just how much your contributions have spoken love to the unwanted, hope to the hopeless, and courage to the fearful. May God richly bless you this Christmas!
With love,
Bob and Julie Mendonsa
To Make A Year End Gift:
1. Click here to donate using a credit card or checking information. 
2. Mail a check to Naomi's Village, P.O. Box 270057, Flower Mound, TX 75027 
3. Click here to begin a child sponsorship.
Child of God
We drove 6 miles down the steep muddy hillside, having just returned from three long but fruitful months abroad, away from our "other" 82 kids at Naomi's Village. This had been our lengthiest separation ever, during which over 30 inches of rain had fallen in the Maai Mahiu area, leaving its roads a rutted and treacherous mess. Despite the jarring transition from smooth American highways to these challenging conditions, we had missed our Kenyan children badly enough to banish any thoughts of ever pulling up stakes and moving back to the US.
Once, during one of our many euphoric moments at Naomi's Village on a day long past, Julie expressed her love for them to me with a term of motherly endearment – the Adorables. This kind of love, which is also shared for and by Emily and Will, is a given love, and one worth more than any treasure. If you know it, surely your neck hairs stand on end when you feel it, as mine do simply composing these words. Since January 2011 when the magic of Naomi's Village began, this group of beloved redeemed have hugged, laughed, and cried their way into our hearts. Inside the two of us, colorful bits of each child now help substantiate who we are, as thin threads combine to make a quilt, if woven together deeply and intentionally.
The cypress dining hall ceiling resonated with the soaring voices of children on Sunday morning, spilling from open windows as I parked our mud spackled Land Cruiser by the gate. My favorite church service on Earth had begun. We hurried in, our small voices joining a multitude of others as the Great Rift Valley filled again with the worship of God. Disparate choruses emanating from community churches, rescue centers, and children's homes echoed off the rock facing of the escarpment, reverberating back with a peaceful hum over thousands of struggling homesteads dotting the rain soaked landscape.
Crippling worries and burdensome traumas, some the fresh results of a difficult week gone by, were forgotten for a while in order to give glory to the One who alone is worthy of praise.
Our kids sang wholeheartedly, knowing they belong to Him now, no matter their pasts. No more glorious sound exists than a chorus of those set free, every heart in consonance with the pleasure of true Hope. Such holy moments give me a divine inkling of the eternal worship already happening in the throne room of Heaven, into which I will one day enter.
My names are Robert Eugene Mendonsa, Jr., Dr. Mendonsa, Bob, Dad, Uncle Bob, and a few other nicknames that Julie calls me. I am a married man whose heritage originated on a Portugese island called Madeira. I have two children, Emily and Will. My vocations include orthopedic surgeon, executive director of a nonprofit, and overseas field worker. My calling is to see that an army of once broken children are raised to be redemptive leaders who will take up the cause of their suffering peers in Kenya, for the glory of Jesus Christ.
But my identity, so easily forgotten at my own peril, is that I am a child of God. That name really counts. Surely the health of His church, the work of our hands, and the joy carried in our spirits, must rest on this understanding.
I was a slave to sin, an orphan, alone and adrift in the world. He chose to ransom me, setting me free to live the life that was always written on my heart. To be awakened from years of torment, given sight from blindness, told to stand and walk, to go in peace…these parable endings exemplify but do not fully capture the fullness of the salvation I received in 1998. Twenty years have passed and there are still no adequate words for what happened to me.
We are not different from the 82 at Naomi's Village in any meaningful way, oh Children of God. We all stand beside them and feel our brokenness and the joy of being brought in to the Father's house, swept there by his warm and forgiving grace. With Him, all fear is gone and we may join in with their unbridled worship, should we accept our identities.
We could have our spiritual eyes opened today. We'd have to choose and would need His help to lay our false selves on the altar and accept His mantle, given by the very words of Scripture to us:
Rom 8:16 The Spirit Himself testifies with our spirit that we are children of God.
Gal 3:26 For you are all sons of God through faith in Christ Jesus.
John 1:12 But as many as received Him, to them He gave the right to become children of God, even to those who believe in His name.
2 Cor 6:18 "And I will be a father to you, And you shall be sons and daughters to Me," says the Lord Almighty.
1 John 3:1 See how great a love the Father has bestowed on us, that we would be called children of God; and such we are. For this reason the world does not know us, because it did not know Him.
John 11:52…and not for the nation only, but in order that He might also gather together into one the children of God who are scattered abroad.
You are a Child of God, chosen, gathered together with others, and loved by the Father, through faith in Christ Jesus. Truth carries within it great power to heal.
Now imagine yourself in a room of the once broken, raised again to life. Look left and right at your siblings, other orphans made whole, scars and all, and accept them as your equals. Close your eyes and join the imperfect hymn they are singing to our Father. Listen for hints of the perfect home that awaits you. Let go of measuring yourself by this world's fading standards. Instead, carrying your own precious gift of freedom, go forth and live today, tomorrow and all of your days in light of your true identity – the one He has given to you forevermore.
Who am I that the highest King
Would welcome me
I was lost but He brought me in
Oh His love for me
Who the Son sets free
Oh is free indeed
I'm a child of God
Yes I am
Free at last He has ransomed me
His grace runs deep
While I was a slave to sin
Jesus died for me
Yes He died for me
Who the Son sets free
Oh is free indeed
I'm a child of God
Yes I am
In my Father's house
There's a place for me
I'm a child of God
Yes I am
[Bridge]
I am chosen, not forsaken
I am who You say I am
You are for me, not against me
I am who You say I am
I am chosen, not forsaken
I am who You say I am
You are for me, not against me
I am who You say I am
I am who You say I am
Who the Son sets free
Oh is free indeed
I'm a child of God
Yes I am
In my Father's house
There's a place for me
I'm a child of God
Yes I am
I'm a child of God
Yes I am
By Bob Mendonsa
Click below for a short video of a recent Sunday worship with the NV children singing Beautiful Name.

http://https://vimeo.com/274435248